Paul Phua Not 14K Triad, Says Malaysian Government
Posted on: January 1, 2015, 12:00h.
Last updated on: January 1, 2015, 12:01h.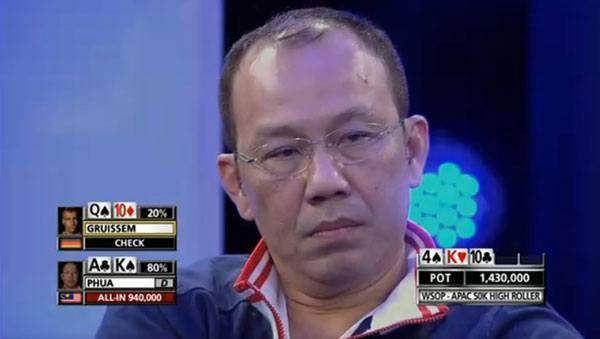 Paul Phua, the Malaysian high-stakes poker player and businessman accused by the FBI of operating an illegal World Cup sports betting ring out of three luxury villas at Caesars Palace this past summer, is not a 14K Triad member, as has been alleged.
That's according to Malaysia's Minister of Home Affairs Ahmad Zahid Hamidi, who wrote to Mark Giuliano, deputy director of the FBI, to deny the accusation of links with Hong Kong's notorious 14k Triads, and requested Phua's return to Malaysia.
Hamadi also said that Phua has assisted the government in matters of national security, although he declined to elaborate.
The defendant and his legal team have strenuously denied the accusations since he was arrested in July along with eight other people following an FBI sting on the Caesars properties. While Phua and his son Darren are pleading not guilty to the charges, five other members of the group have already plead guilty.
"Mr. Phua is neither a member nor is he associated with the '14k Triad,' " wrote Hamidi in the letter, dated December 18, that has now been submitted to the court by the defense. "Mr. Phua has, on numerous occassions [sic], assisted the Government of Malaysia on projects affecting our national security and accordingly we continue to call upon him to assist us from time to time and as such we are eager for him to return to Malaysia."
Malaysian Police Source of "Triad" Allegation
The source of the Triad allegation was based on information supplied by Malaysian police to the FBI, a document that has also been submitted to the court.
"The RMP (Royal Malaysian Police) has identified the 14K Triads as a local organised crime syndicate involved in illegal drugs, illegal gambling and money laundering activities in Malaysia," states the document, dated July 17, 2008. "The RMP has also identified Malaysian Phua Wei Seng as a 14K Triad member."
Phua was Macau's highest-earning junket operator 10 years ago, before he gave it up to become a high-stakes poker player. A popular figure among the nosebleed game poker community, his bail was posted by none other than Phil Ivey and Tom Dwan.
He also happens to be the Ambassador to Montenegro for the tiny European state of San Marino.
Trial Delayed
The trial is currently postponed, pending a federal judge's ruling on whether the FBI improperly entered the Las Vegas Strip hotel suites without a warrant before arresting the group.
Phua's defense team has moved to have the video evidence obtained during the FBI's undercover operation dismissed because, they say, it was gathered illegally. Agents first switched off Internet access to the villas before posing as repairmen in order to gain access to the rooms. According to US law, authorities must either obtain a search warrant or suspects must waive their constitutional protections against unreasonable searches.
The defense team of Richard Schonfeld and David Chesnoff, which has represented numerous celebrities, is building a case around the premise that its clients' Fourth Amendment rights were breached. A new trial date has yet to be set.