First GOP Debate Roster to Feature Donald Trump Front and Center
Posted on: August 5, 2015, 12:40h.
Last updated on: August 5, 2015, 01:00h.
The inaugural GOP debate featuring the ten top-ranked Republican candidates has chosen its participants, Fox News has announced, and Donald Trump will once again be getting prime time airtime to express his forthright views.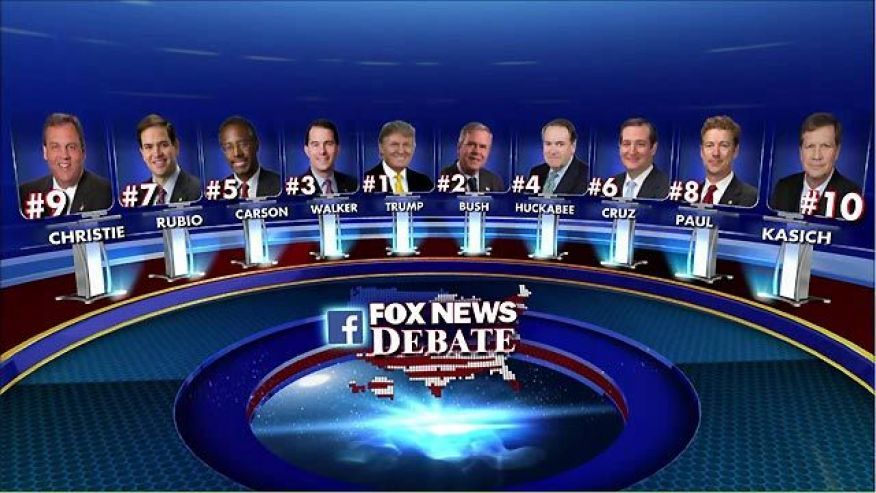 After weeks of tense poll-watching by candidates who were on the bubble to be a part of the first televised debate of the 2016 presidential campaign season, Fox News has named the 10 GOP contenders who will be participating in the cable news network's debate on Thursday night.
The news was a big win for those who just barely made the cut, but provoked anger from some who found themselves on the outside looking in.
While eight candidates were pretty much assured of their spots in the debate, there was a bit drama in the race for the final two spots heading into this week. That drama was stirred by the Fox News pronouncement that the first debate participants would be determined based on the average of the last five national polls released by Tuesday, August 4th.
Last-Minute Polling Fails to Change Results
Perhaps as a result of that deadline, many polling firms had tallies scheduled to release on Monday or Tuesday after concluding polling over the past weekend. That meant that the potential was there for a surprise move by one or two candidates, and those on the bubble couldn't be certain they would make it into the debate until the final count was unveiled.
New Jersey Governor Chris Christie and Ohio Governor John Kasich seemed to be the most vulnerable, sitting in ninth and tenth positions respectively. Former Texas Governor Rick Perry seemed the most likely to overtake one or both of them, but this week's polls were fairly consistent with other recent results: Christie pulled in an average of 3.4 percent from voters, Kasich came in at 2.8 percent, and Perry was relatively far behind at 2.0 percent.
Along with Christie and Kasich, eight candidates who have consistently polled safely within the top ten are also in. That includes current polling frontrunner Donald Trump, the two candidates considered most likely to win the nomination in former Florida Governor Jeb Bush and Wisconsin Governor Scott Walker, along with former Arkansas Governor Mike Huckabee, retired neurosurgeon Ben Carson, Texas Senator Ted Cruz, Florida Senator Marco Rubio, and Kentucky Senator Rand Paul, all of whom are regularly polling at around five percent or higher.
Other Candidates Will Take Part in Earlier Debate
For Perry and other candidates who did not make the debate field, Fox News has set up a secondary debate that will take place earlier in the same evening. That group includes former Pennsylvania Senator Rick Santorum, Louisiana Governor Bobby Jindal, business executive Carly Fiorina, South Carolina Senator Lindsey Graham, former New York Governor George Pataki, and former Virginia Governor Jim Gilmore.
While the move was made to accommodate the unusually high number of candidates with serious aspirations for the presidency, some of the candidates who did not make the prime time debate were still unhappy with the decision to limit the field.
"The idea that they have left out the runner-up for the 2012 nomination, the former four-term governor of Texas, the governor of Louisiana, the first female Fortune 50 CEO, and the three-term Senator from South Carolina due to polling seven months before a single vote is cast is preposterous," said Santorum communications manager Matt Beynon in an issued statement.
Where GOP Candidates Stand on Gambling
While Graham, the man who introduced the Restoration of America's Wire Act (RAWA) to the Senate, has been relegated to the secondary debate, there is still a wide diversity of views on gambling in the "main event". Here is a quick rundown of what some of the top GOP candidates have said about gambling in the past, in order of their current polling averages:
• Donald Trump: Trump famously lent his name to two Atlantic City casinos, and once told Forbes that online gambling should be regulated "because many other countries are doing it and like usual the US is just missing out."
• Jeb Bush: As the Florida Governor, Bush was strongly opposed to casino expansion, fighting against allowing slot machines at race tracks in the Miami area.
• Scott Walker: Walker recently rejected a Native American tribal group's bid to build a casino in Kenosha, Wisconsin, but hasn't had much to say on the subject of online gambling.
• Mike Huckabee: Mike Huckabee talked about online gambling on his Fox News show last year, speaking with former Arkansas Senator Blanche Lincoln, coming out strongly in favor of an online gambling ban.
• Ben Carson: To the best of our knowledge, Dr. Carson has not yet made any definitive statements about his opinions on gambling, live or online.
• Ted Cruz: Cruz hasn't made many statements about gambling, though he has sought the support of Las Vegas Sands CEO Sheldon Adelson, perhaps the most prominent opponent of online gambling in America.
• Marco Rubio: Rubio has come out against online gambling in the past, supporting RAWA and opposing gambling expansion in his home state of Florida.
• Rand Paul: A staunch supporter of states' rights, Paul has said that he is against restrictions on Internet gambling.
• Chris Christie: Christie signed the law that allowed for online gambling in New Jersey, saying that proper regulation made for a safe expansion of legal Internet gaming in his state.
• John Kasich: Kasich has generally been a supporter of casino gambling, provided operators share their revenue with the state.