Macau Rides Golden Week Wave Again As Casinos Expect Healthy Wins In October
Posted on: October 23, 2018, 02:30h.
Last updated on: October 23, 2018, 02:52h.
Gross gaming revenue in Macau for the month of October is expected to surpass the monthly total from last year, in which October was the most fruitful month of revenue for Macau casinos in 2017.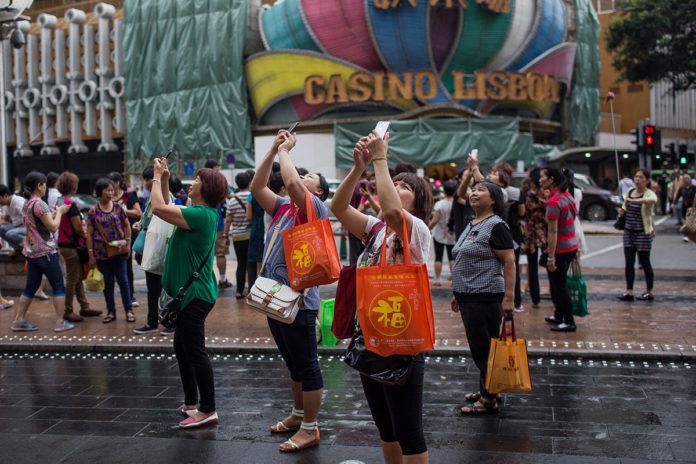 It's a sign that the Chinese territory known for its casino industry is well on its way to recovery after Typhoon Mangkhut hit earlier this year.
Japanese financial firm Nomura Group is expecting that gross gaming revenue (GGR) in Macau in October will be around $3.34 billion, and could even exceed that with up to as much as a five percent increase over October 2017. Nomura predicts that Macau casinos will make roughly $92.8 million per day for the rest of the month, according to a report from GGRAsia.
Similarly, Sanford C. Bernstein Ltd. predicted that this month's GGR will at least match what it was last October, when Macau posted its highest monthly GGR win in three years.
Bernstein forecasters, however, cautioned that the data used to formulate such outlooks isn't always rock solid.
"The devil remains largely in the details regarding the breakdown between VIP and mass and overall market share data (which is not clearly available) and, as such, the weight of the overall GGR number needs to be taken with a bit of skepticism, as weekly channel checks have proven to be less than accurate and volatile," Bernstein analysts Vitaly Umanksy, Eunice Lee, and Kelsey Zhu said, according to a GGRAsia news report.
A Repeat Performance
Macau's Gaming Inspection and Coordination Bureau reported $3.3 billion in GGR. That number was over 22 percent higher than the year before and was the highest monthly total since October 2014.
That performance last year was attributed to more customers taking advantage of China's Golden Week Holiday, taking place in the first month of October. This year's Golden Week was held from October 1 through October 7 and Macau's casinos were able to replicate last year's success.
The Macao Government Tourism Office reported that tourism to Macau rose by 11.8 percent during Golden Week this year.
A Much Needed Win?
When it comes to how much casinos are, or in this case are not making, you'll have a hard time garnering much sympathy among gamblers. But it has been a volatile year for Macau's casino industry.
Yearly revenue is expected to increase over last year, but by just how much remains to be seen. Some months have exceeded expectations, while others have fallen short.
Earlier this year, Nomura chilled their GGR expectations for Macau through 2020, reducing their outlook from 14 percent growth down to nine percent due to "recent flattening of volume growth from junkets."
The sometimes difficult year has led to Macau casino stocks dropping by a collective 29 percent so far in 2018. This year in Macau, Las Vegas Sands stock is down 17 percent, Wynn Resorts is down 16 percent, and MGM Resorts is down30 percent.
Melco Resorts and Entertainment recently listed and sold all $359 million worth of stock on the NASDAQ, seen by some as a sign that Macau's casinos have weathered the most difficult part of the 2018 storm.