Gibraltar Explosion Halts Online Betting Operations
Posted on: April 23, 2014, 05:30h.
Last updated on: April 22, 2014, 07:37h.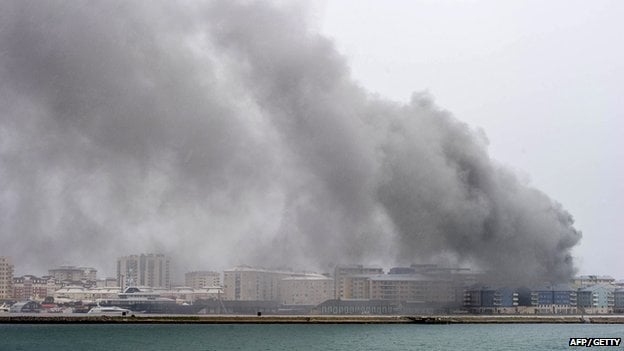 An explosion at a power station in Gibraltar temporarily wiped out a large portion of international online betting services earlier this week, including leading UK brands William Hill, Ladbrokes and Betfred, as the British outpost's telecoms systems were interrupted by fire, effectively cutting it off from the rest of the world. The blaze cut most of the power on the Rock, where many online gambling companies base their operations due to favorable tax laws.
Witnesses reported large plumes of black smoke hanging over the 2.3 square-mile peninsula on Sunday afternoon, as police and firefighters told residents to stay indoors and keep their windows closed. However, no one was injured in the explosion, which was said to be caused by mechanical problems in one of the power generators.
"Freak Event"
Twenty-six major online gaming operators are based on the British Overseas Territory, many having set up shop in the early nineties, lured by a regulated jurisdiction with a favorable corporate tax regime. However, in January 2011, Gibraltar abolished its "exempt status tax regime" in favor of a fixed 10 percent corporate tax levy for non-resident controlled companies.
William Hill said that its online betting arm was offline for about two and a half hours before being restored to full strength, while, according to spokesman Graham Sharpe, 50 staff at its nearby offices were evacuated by police.
"It is just one of those freak events nobody could have predicted," said Sharpe, as he apologized to William Hill's customers. "There will be those who will claim they would have backed a winner but there will be others who have been saved from backing a loser."
Ladbrokes also issued a statement. "We apologize to the customers who were affected by the loss of some of those services on Sunday afternoon and have been working hard and successfully to restore these," it said. "None of our staff were affected by the incident, and no customer data was compromised during that period."
Betfred's site was still down in the evening, however, some six hours after the explosion, which occurred at 1pm local time. "Please be aware that all services are currently down, we're working hard to resolve this issue & will update all customers once resolved," said the Betfred Twitter site.
"No Foul Play"
It could have been bad timing for the bookies – the following day was a national holiday in the UK, and traditionally a big day for betting. With a slew of Premier League football matches and the Irish Grand National horseracing meet to contest, a longer blackout would have hit them hard financially; however, it seems that by Monday the following day, all services had resumed as normal.
Gibraltar's History
Gibraltar has been the source of recent diplomatic tension between Spain and the UK. Spain ceded the territory in perpetuity in 1713 after the War of the Spanish Succession; however Spain still claims sovereignty. Gibraltarians rejected a 2002 referendum on the proposal of shared Spanish and British sovereignty by an overwhelming 98 percent, however. Relations became further strained last year when the Spanish authority accused Gibraltar of dropping 70 concrete blocks into the Mediterranean Sea. Gibraltar's government claimed it was trying to create an artificial reef, while the Spanish protested that it was an attempt to block Spanish fishing boats from operating in the area. Madrid responded by introducing tortuous border checks, which Gibraltar said is harming its economy. However, authorities have ruled out any foul play in relation to the explosion.