Gardena's Normandie Casino Likely to Close Following Anti-Money Laundering Violations 
Posted on: May 24, 2016, 07:21h.
Last updated on: January 19, 2022, 10:36h.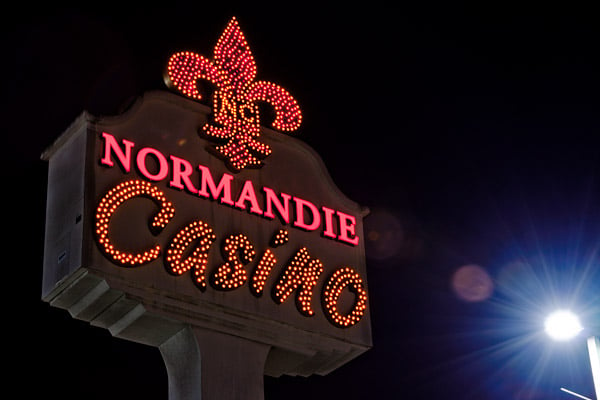 The Normandie Casino in Gardena, California, which has been dealing cards to gamblers for over 75 years, is about to bag up its chips and head for the exit unless a new buyer can be found.
The card club, California's oldest, began life as the Western Club in 1940 and was renamed the Normandie in 1947 when it was bought by gambling pioneer Russ Miller. It has been in the Miller family ever since, but in April the California Gambling Control Commission revoked the club's license after Russ Miller's four sons, Lee, Larry, Greg, and Steve, the current owners, were convicted of federal felony money laundering charges.
The operators admitted that they had contracted independent "promoters" to attract high-rollers to the casino and then deliberately avoided filing the requisite Currency Transaction Reports to the Treasury Department on valuable transactions. Instead, they would submit CTRs that named the promoter instead, while structuring transactions so they appeared to be under the $10,000 threshold.
They also admitted to conspiring to hide the identity of an individual who won over $1 million from another party at the casino.
Warning to Small Operators
At the recent Bank Secrecy Conference in Vegas, representatives from the casino industry and the legal profession met to discuss the importance of financial compliance and anti-money-laundering measures.
These were rules, one delegate warned the assembled party, that applied to all gaming establishments, whether you were Caesars Entertainment Corp or a California card club, a tip of a hat, maybe, to the brothers' plight.
But he may as well have been referencing the Palomar Card Club, or the Seven Mile Club, both in San Diego, and both of which were raided by the FBI late last year. They are accused of permitting an illegal Mafia gambling ring, whether knowingly or not, to launder money at their establishments.
Interest from Flynt 
While convicted felons are unable to be considered for licensing in California, the Miller brothers were granted a four-month grace period in the hope they might find a buyer for the Normandie.
One possible candidate could be Larry Flynt, whose Hustler Casino when it opened under a mile away in 2000, was more luxurious than the competition, and precipitated the demise of Gardena's once-thriving old card clubs.
The Normandie, the first to open and last of the original clubs still standing, might be of interest to Flynt, a source told local news, but he would want to turn it into a Vegas-style property with a hotel, restaurants, and shops, thus ushering in an end of an era for Gardena.
Most Read