Fremont Street Experience Ready to Unveil Renovated $32M Viva Vision Canopy With Las Vegas New Year's Eve Show
Posted on: December 11, 2019, 07:40h.
Last updated on: December 11, 2019, 10:12h.
When the calendar turns to 2020, the Fremont Street Experience won't just be celebrating a Happy New Year.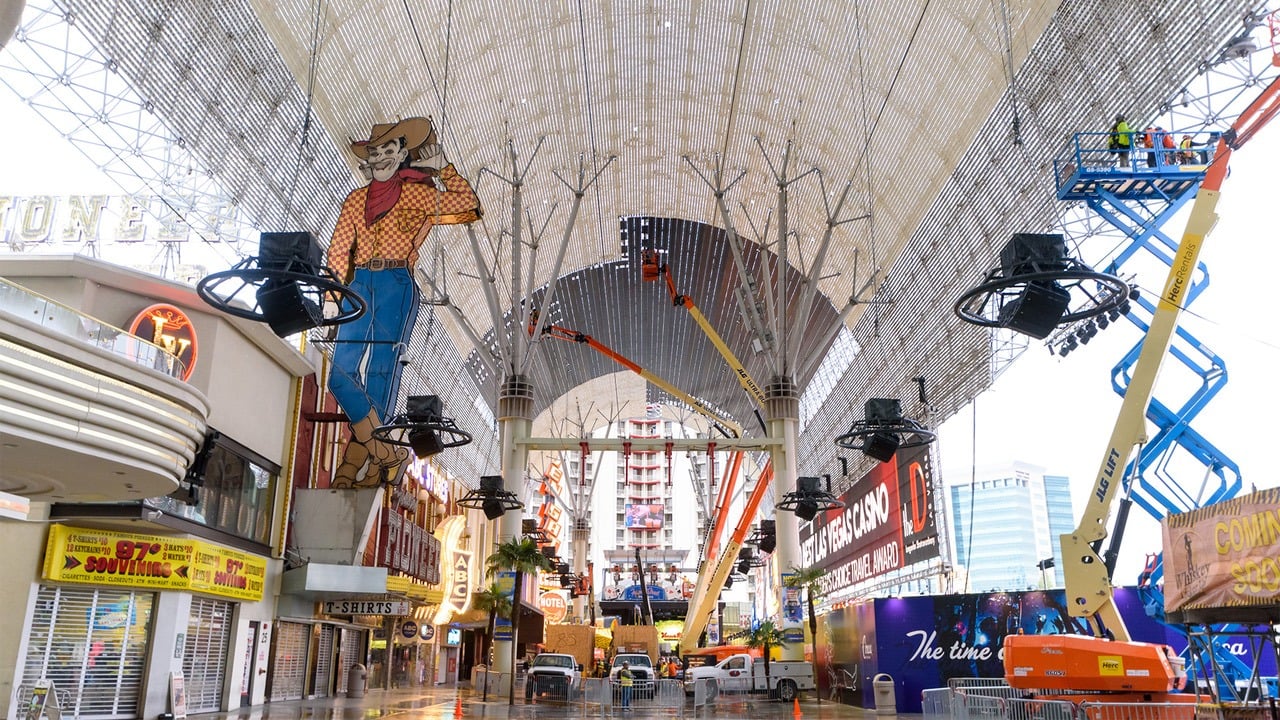 The entertainment district in downtown Las Vegas will use New Year's Eve to flip the switch on its renovated centerpiece attraction, Viva Vision. The 1,500-foot long arching video display, the world's largest, hangs above pedestrians and provides light shows daily.
It marks the first upgrade in 15 years for Viva Vision, which will celebrate its 25th anniversary next year. The cost of the project is $32 million.
In a city full of tourist attractions, the Fremont Street Experience annually attracts nearly 25 million visitors. That's more than half of the 43 million people who visit the Las Vegas area.
The new display will have nearly 50 million LED lights, nearly four times as many as the old panels. The end result will be a screen seven times brighter and four times sharper. The new screens will allow for shows to take place during the daytime.
Officials announced the project in August 2018, with work beginning about 10 months ago.
Tickets for the Las Vegas New Year's Eve event are $35 and are available at the Fremont Street Experience website.
Watchfire Got 'Creative' to Make Fremont Panels
The new digital screens were produced by Watchfire Signs, which is located in Danville, Ill. Last month, the last of the 59 truckloads of signs made their way to Vegas.
The company, in a press release, said it created a product based on the needs of the Fremont Street Experience that fit the site's existing 130,000-square-foot curved canopy.
In all, the company created 1,054 subframes, with each holding 64 modules containing LED lights. Each subframe was created for a specific spot on the canopy. That required Watchfire to develop a system that delivered the pieces and arranged them in order of where they need to be installed.
We had to get very creative to develop a unique product that met all the distinctive needs for Fremont Street, including trimmable modules that fit the canopy's shape and can handle the extreme desert conditions," said Steve Harriott, president and CEO of Watchfire Signs. "Interest in this product has been very high and we're looking forward to using it for other projects."
Each module, roughly 27 millimeters thick, also includes holes that not only filter in sunlight, but help disperse heat.
The company said it was chosen from 15 companies from around the world to perform the work.
Fremont Circa Casino Halfway Complete
The Viva Vision renovation is just one of the projects taking place around Fremont Street.
On Monday, developer Derek Stevens announced that construction for his Circa Resort and Casino has reached the halfway point.
When it opens a year from now, it will be the first newly built downtown Vegas casino resort in 40 years.
The amenities Circa will offer include a two-story casino, a rooftop pool amphitheater, and a signature sportsbook with a 78-million-pixel high-definition screen.
"I'm proud to deliver something completely new to the Las Vegas experience and can't wait to open our doors a year from now for everyone to enjoy it," Stevens said about his venture, estimated to cost about $1 billion.
Similar Guides On This Topic