Las Vegas Switches Gears for 2017 Marketing Strategies: Courting Millenials, Skirting Tragedy
Posted on: December 26, 2017, 02:00h.
Last updated on: December 19, 2017, 01:38h.
It was a changing year in 2017, as Dr. Phil would say, for Las Vegas and the city's tried-and-true iconic marketing strategies. Hoping to lure more millennials and ultimately to bounce back from one of the worst tragedies since the MGM fire in 1981 that killed 85 people, Sin City finished out the year still grappling with this Brave New World.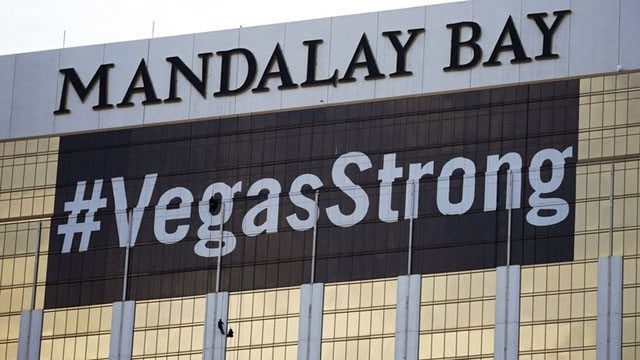 Virtual Reality Immersion
While the first commercially available virtual reality (VR) headsets were released mid-2016, with a slower than expected uptake, it was only this year that the marketing power of the medium truly began to be realised.
Zombie Survival is just one of the immersive VR experiences at Las Vegas' first ever free-roaming multi-player VR arena, which opened in September at MGM's palace of millennial skill-gaming, LEVEL UP.
But Caesars harnessed onto the power of virtual reality to really sell a city. Its VR experience at the Linq allows you to soar like an eagle above the "architectural wonders" of Las Vegas, or tightrope walk from one hotel tower to another "confronting your fear of heights without ever leaving the ground."
Expect many more compelling and creative experiences in the coming years from casino companies as this exciting new technology develops.
Sharknado Live
More traditional Vegas shows continued to be a big draw, but there was also talk of a new genre of entertainment, such as Sharknado Live, a musical send-up of the hammy sci-fi series which is set to open at a yet-unnamed Caesars property sometime in 2018.
But for all this new-fangled tech and talk of embracing the future and attracting millennials through arcade-style gaming and non-gaming amenities, the Las Vegas Convention and Visitors Authority (LVCVA) reverted to a tried-and-tested classic when it came to its overall marketing campaign in 2017.
What Happens Here, Continues to Air Here
The iconic slogan, "What happens here, stays here" was back on our screens in a new TV spot, and translated into three different languages in a bid to capture a wider global audience.
Because if it ain't broke, why fix it? The "What Happens Here" campaign has been one of the most successful advertising pushes of all time, encapsulating perfectly the city's promise of escapism and boundless adult freedom.
Created in 2003 by ad agency R&R Partners, it has inspired movies like The Hangover and What Happens in Vegas, which have helped to propel it into the pop culture vernacular.
Meanwhile, MGM's Welcome to the Show ad-opic was a yawning, clichéd, and very pleased-with-itself social media and TV campaign, hellbent on asserting the company's perception of itself as an entertainment giant. It barely mentioned gambling.
"We are not in the hotel business, we are in the holy sh*t business," it claimed.  
"We invented MGM to entertain the human race, to blow the mind of all mankind," it added, even more preposterously, as it showed shots of real Roman coliseums, Viennese waltzes (that one was inexplicable), and other well-known events with which the company clearly wished to be associated.
Harvest Festival Horror
But on October 1, 2017, within 30 minutes of the worst mass shooting in modern American history, the LVCVA the campaign was pulled indefinitely. MGM's Show followed shortly afterwards, deemed "too festive" in the aftermath of the tragedy.
 "It would be completely insensitive to go out with a sort of carefree, have fun, let loose kind of message," R&R Partners CEO Billy Vassiliadis told the Las Vegas Review Journal about the LVCVA campaign.
More likely, the "holy sh*t" business suddenly took on a dark meaning that was never intended,  but that would forever be echoed after the Mandalay Bay shootout that took the lives on 58 and injured more than 500.
Suddenly, not only was Vegas under the spotlight, it was under it in both newly horrible and glorious ways. The city's first responders' speedy and selfless commitment to getting victims to care was broadcast everywhere, and a softer, more human face became indelibly etched on the Las Vegas Strip's previously daunting facade.
But how do you market a city so famous for being brash and glitzy and fun as it faces the most somber moment in its history? That was the conundrum now faced by Sin City's marketing gurus.
#VegasStrong
For most, the answer was, you don't. You can't market "adult fun" reverentially. Instead, it was a time to pause and reflect, before this resilient city and its people decided to get the party started again.
Meanwhile, #VegasStrong was trending organically on Twitter, as people from all over the world who loved the city offered support.
But it took MGM just two weeks to cobble together its own #VegasStrong TV ad spot, narrated by Andre Agassi. "Together we are one, together we rise, together we shine," was the message superimposed over an image of the Strip, before the spot cut away to the MGM logo.
Reactions were mixed, although many accused the company of attempting to commodify a major tragedy. Somehow, MGM had managed to replace an already tacky ad with something profoundly more distasteful, making the gaming conglomerate winner for "Worst All-Around Casino Marketing" in 2017 in our own informal poll.
A concurrent LVCVA Visit Las Vegas campaign looked like a compilation of Facebook images put to one of that social media's low-tech algorithm pseudo-videos. With nearly funereal music and a tone so boring and somber, it mostly put us to sleep, we can only hope that 2018 sees a renewed commitment to market Las Vegas for what it truly is about: gambling, drinking, dining, shopping, and getting no sleep.
Similar Guides On This Topic