Fremont Street Experience Gets Las Vegas Police Substation After Violent Crimes
Posted on: October 19, 2023, 10:10h.
Last updated on: October 19, 2023, 10:34h.
Las Vegas officials were on hand this week to cut the ribbon of a new police substation at the Fremont Street Experience (FSE). The opening comes after the popular pedestrian mall was the site of many violent crimes.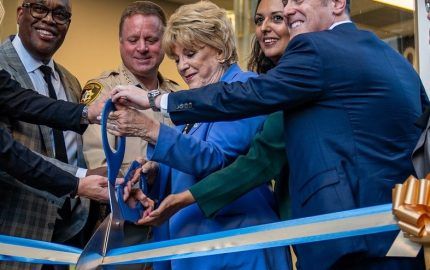 The substation will be staffed by Las Vegas Metropolitan Police Department (LVMPD) officers, Las Vegas marshals, and FSE security guards. It's the third downtown Las Vegas substation.
"We continue to make public safety our top priority with the opening of the new joint police station," Las Vegas Mayor Carolyn G. Goodman said during Tuesday's ceremony at Fremont Street's new 8,500-square-foot complex.
This has been a long time coming. We've had a spike in violence on the Fremont Street Experience, so we came together to figure out how we could get a handle on this," Clark County Sheriff Kevin McMahill was quoted by Las Vegas TV station KLAS.
Andrew Simon, president and CEO of FSE, said "We don't want people to feel nervous when they come to Fremont Street."
"You know the police are right here and no question about it," Simon added. "When you look around this substation, it is prominent and in your face."
Tourists Praise Police
Tourists this week told KLAS they feel safer in Las Vegas given the new substation and the police presence.
You hear all these nightmares about bad things happening, but I have never felt so safe in my entire life. Between the hotel and police and security on the street," Kim Bruce, a Canadian, said.
"In England, there are less police, so when we see police around here, it's the best way to be when you have all these top-end things on this main Strip," added Michael Davies, who resides in England.
Recent Crimes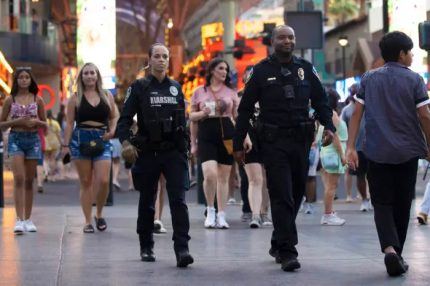 Among recent crimes, two people were shot near the FSE last December. Both were wounded in the leg.
The victims were transported to a local hospital for treatment.
In June 2022, Raymond Renova, 23, was killed during a shooting at FSE. He worked as a tattoo artist and lived in Las Vegas. A second victim was treated for non-life-threatening injuries. He was described as an "innocent bystander."
The incident began as an apparent dispute among several individuals. The situation escalated and one of the people pulled out a firearm. Bullets struck Renova and the second victim, KTNV, a local TV station, reported.
LVMPD officers later arrested Ruben Robles, then 16, for the shooting. He was charged with murder, attempted murder, and carrying a concealed weapon.
In July 2022, another suspect, Fabian Carmona, 22, was also arrested in connection with the June shootings. He was charged with murder with a deadly weapon, attempted murder with a deadly weapon, and conspiracy to commit murder, the Las Vegas Review-Journal reported.
He allegedly took part in the fight which led to the homicide and assault. Carmona "threw the first punch" and stomped on one of the victims, KLAS reported. He also got stabbed in the fight, the report added.
Both defendants have appeared in court on the charges. It's unclear how the cases were adjudicated.
In December 2022, a 16-year-old employee at the FSE McDonald's allegedly fired upon a crowd, which left two people injured.
The suspect, Na'quentin Norsworthy, finished his shift at McDonald's on December 29. He then made his way to the intersection of Third and Fremont and allegedly fired several rounds at the crowd. He was later apprehended.
It's unclear how his case was handled in the courts.