First New Jersey $1 Million Online Casino Prize Gets Paid Out
Posted on: November 19, 2014, 10:44h.
Last updated on: January 12, 2023, 11:17h.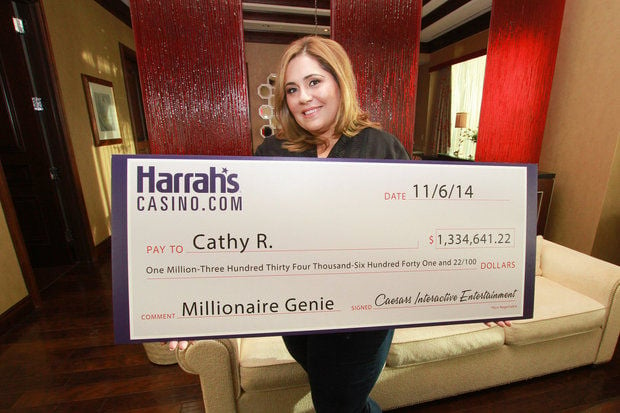 The very first New Jersey $1 million online casino prize has now made history, as a Garden State woman took home a prize of over $1.3 million, becoming the first person in the state to win a seven-figure payday in the New Jersey regulated online gambling market. Cathy Ruela, a 31-year-old from Morris Plains, won the money on an online slot machine game known as Millionaire Genie.
"I didn't know if I won $1 million or $1,000," Ruela told NJ Advance Media. "Only when I called the rep and confirmed the winning was I reassured."
Big Win Started With Free Spins in February
Ruela initially signed up for HarrahsCasino.com in February, when she took advantage of an offer for 20 free spins on the 50-cent game. During her first time playing, she was lucky enough to win $300, though that couldn't compare with the winnings that were set to come.
Ruela won the jackpot on November 6. According to a statement from HarrahsCasino.com, she won a prize of $1,334,641.22 "when the randomly awarded payout hit after her 15-line bet cracked open the Genie's Treasure Chest."
Ruela said that her reaction to the big win was a bit different from what it might have been had she won the same amount in a live casino, but ultimately felt the same.
"You know when I'm at Harrah's Atlantic City, there's bells ringing and people all come over and it gets verified by a staffer right there," Ruela was quoted as saying in a statement from the company. "So when it hit on HarrahsCasino.com I stared at the computer screen for a moment trying to digest it all. But I'm happy to report it indeed is the same as in the physical casino, and even better I got to celebrate in my pajamas at home."
According to Ruela, she and her husband plan to use the money to pay off debt, start a college fund for their son, and family vacations.
"This will be a great Christmas for us this year," she said.
The win came despite the fact that Ruela describes herself as "not much of a gambler."
"I'd always play $20 here, $20 there," she said. "I was betting and betting, and all of a sudden I hit the jackpot! It was pretty amazing."
One Year Anniversary Approaches for NJ Online Gambling
The jackpot comes as online gambling is about to hit its one-year anniversary in the state of New Jersey. Internet casinos and poker rooms were first launched on November 25, 2013 in the hopes of bringing new revenue streams for Atlantic City's struggling casinos. While this hasn't been a complete failure, the $103 million the online sites have brought in so far in 2013 is far below the billion dollar projections originally made by state officials. And in the meantime, four Atlantic City casinos have closed, with another set to shut its doors before the end of the year.
It's unclear exactly how such a big jackpot could impact the bottom line for New Jersey online gambling. In the short run, it's likely to kill the monthly numbers for Caesars, which owns the Harrah's site that Ruela won on; the company only made a little over $1.5 million in online casino revenues during October. Over the long term, however, major wins like these are critical for marketing efforts to encourage more players to sign up for online gambling accounts.
Latest Casino Stocks:
Retrieving stocks data...
Retrieving stocks data...
Retrieving stocks data...
Retrieving stocks data...
Retrieving stocks data...