Viktor Blom Scoops PokerStars SCOOP $10K Main Event for Over a Million
Posted on: May 29, 2013, 05:30h.
Last updated on: May 29, 2013, 04:41h.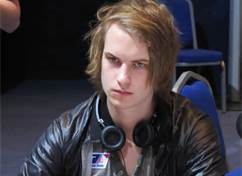 If there has ever been someone to speak for the "skill vs. luck" component in poker, it has to be Viktor Blom, aka "Isildur1" in online poker. The amazing 22-year-old Swede has done it again, taking down the $1,096,200 first place finish in the 2013 PokerStars Spring Championship of Online Poker (SCOOP) $10K Main Event.  That makes three SCOOP titles for the Nordic wunderkind, and certainly places him in a pantheon of online poker players whose skills seem to be almost unbeatable.
Strong Field
Talent aside, Blom still had to fight off a strong field of experienced high-stakes players, including four who hit the final table with him: Mike "munchenHB" Telker, Ravi "govshark2″ Raghavan, Sergio "zcedrick" Aido, and PokerStars Pro Team player Noah "Exclusive" Boeken. Put them altogether, and it sounds like a poker hit squad.
In the end, it was down to Boeken and Blom; like two worthy adversaries in a Greek myth, as Blom represents Full Tilt as a pro himself.  Blom entered the fray down by a 3-1 chip disadvantage to Boeken; but this is where sheer talent and a refusal to die on the fields of green felt worked in Blom's behalf. Small pot after small pot added up to more and more chip stacks, until finally patience brought him a huge pot, and control of the heads up match from that point forward.  Don't weep too much for Boeken though; second place earned him an $803,300 payday, so not too shabby. Depending on what kind of brutal tax structure he goes home to, anyway.
More Finishes
Rounding out the final table wins were cmontopdeck in third place for $591,600; Mike "munchenHB" Telker in fourth for $446,600; and Sergio "zcedrick" Aido and Ravi "govshark2" Raghavan, in fifth and sixth respectively, for $313,200 and $246,500.
For Blom, this is becoming a habit; just a year ago in May, he took down the SCOOP #2-Med No-Limit Hold 'em tournament, winning $247,200; then the next day, won the SCOOP #3-High No-Limit Hold 'em Rebuy event for $160,000.
Perhaps his handle should be Viktor "Victor" Blom; for certain, to the Viktor go the spoils.
Most Read