First Bitcoin ATM Arrives at Las Vegas Casino
Posted on: May 27, 2014, 05:30h.
Last updated on: May 25, 2014, 10:41h.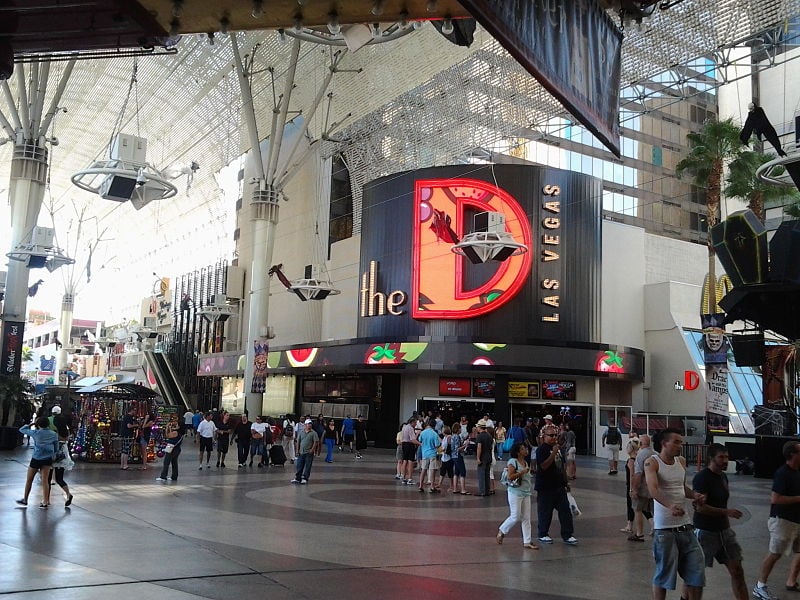 Because these days an increasing amount of Las Vegas businesses are accepting the online cryptocurrency known as Bitcoin – from coffee shops to a candy store, and even an escort agency (we kid you not) – it's only fitting that the city should have its own ATM, and that it should be installed in The D Las Vegas Casino Hotel, the first casino in Sin City to accept Bitcoin as payment for hotel rooms, meals at its restaurants, and even in its gift shop.
What it doesn't do, however, is accept the digital currency for wagering – yet – although many online gambling sites do, none of which, we should add, are licensed by the newly regulated US state markets.
The D has partnered with Robocoin, pioneers of Bitcoin ATMs, which launched the world's first such device in Canada last year. The company itself has main offices around the corner from The D in downtown Las Vegas, which is becoming a popular area for tech start-ups.
If, at this point, you're sitting there thinking, "What on earth is Bitcoin?" well, first of all, where have you been? And secondly, we'll tell you.
What is Bitcoin?
Bitcoin is a digital cryptocurrency with a global circulation of more than $1.4 billion that operates outside the central banking system and is traded via encrypted peer-to-peer networks. That means goods can be bought and sold beyond the watchful eye of financial regulators. Bitcoins can be bought via your computer or smartphone at an exchange service such as Bitinstant, and are then stored in an e-wallet.
So, while Bitcoin is starting to be embraced by mainstream business (more as a novelty than anything), as is evidenced by The D's ATM, it all started off a bit shadily and in many ways still is.
Because it circumvents the central banking system, some maverick online gambling operators have seen it as a way to facilitate online gambling in areas where financial institutions are forbidden from processing gambling transactions. And it looks like they're right. In 2012, two start-up Bitcoin online casinos, SatoshiDice and bitZino, posted May to December profits of $596,213 and $495,000, respectively.
Live Bitcoin Gaming?
Bitcoin was created as an anarchic, libertarian alternative to mainstream currency by a shadowy figure calling himself Satoshi Nakamoto who has now disappeared into the ether. In March, Newsweek excitedly believed it had tracked him down – it hadn't – they purportedly had the wrong guy, a completely bewildered Japanese-American man with a similar name. The truth is that Satoshi Nakamoto is just as likely to be the pseudonym of a group of programmers as of an individual. What is for sure, though, wherever and whoever he is, we don't think he intended his subversive invention to be used to buy trinkets in casino gift shops.
And, interestingly, on the subject of using Bitcoin for live gaming in Las Vegas, Robocoin's co-founder Sam Glaser had this to say: "The Nevada Gaming Control Board would have to approve [Bitcoins for gambling], which seems unlikely for the foreseeable future."
However, tantalizingly, D Casino Hotel's Derek Steven's told virtual currency magazine CoinDesk the following: "I don't think the [State] Gaming Control Board or [the Nevada] Gaming Commission would be prepared to deal with Bitcoin at this point. But I do know that the Gaming Commission and Gaming Control Board have Bitcoin on the radar, and are trying to evaluate what their future plans will be."