Final Republican Debate of the Year in Las Vegas Will See GOP Candidates Go Head-to-Head at Sheldon Adelson's Casino
Posted on: December 15, 2015, 10:28h.
Last updated on: December 15, 2015, 11:03h.
Republican presidential candidates have one last chance in 2015 to make their best case to voters as to why they should be the 2016 nominee. There's a lot at stake: whoever wins the GOP candidacy will likely challenge Democrat Hillary Clinton to become the 45th president of the United States.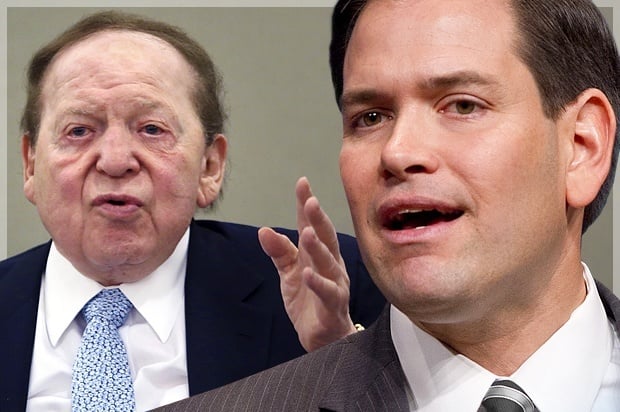 Tonight's debate, the fifth of the GOP primary season, will get cards in the air at 8:30 PM ET from the Venetian in Las Vegas.
Businessman Donald Trump has maintained his commanding lead in the national polls, the outspoken billionaire 27 percentage points clear of his nearest rival, Texas Senator Ted Cruz. But unlike the previous four debates, Cruz will have a target on his back this evening after the freshman senator surged to a 10-point lead in the all-important state of Iowa.
The rest of the field will try to make headwind and change their underdog statuses. That includes retired neurosurgeon Ben Carson, former Florida Governor Jeb Bush, Florida Senator Marco Rubio, New Jersey Governor Chris Christie, former CEO Carly Fiorina, Kentucky Senator Rand Paul, and Ohio Governor John Kasich.
All Hail Sheldon
The nine candidates on the main stage will be presenting their qualifications and displaying their political poise to the audience in attendance and the expected millions of viewers watching at home. And while your vote certainly counts and matters, just as important to those standing behind the podiums will be another person in the room: Sheldon Adelson.
The Vegas billionaire and owner of the Venetian has hinted that he's ready to move all-in when he determines which candidate he believes is best for the country, and best at potentially defeating Hillary Clinton.
Adelson isn't likely to favor Trump or Cruz, which is why Rubio has emerged as the favorite in the eyes of political experts. Rubio has reportedly met with Adelson on several occasions and is now the frontrunner in the "Sheldon Adelson primary."
Sheldon and his wife gave $93 million during the last presidential cycle, including $15 million to a super PAC supporting New Gingrich's unsuccessful campaign. The casino mogul is going to spend even more in 2016, if rumors prove to be true.
"Sheldon Adelson is looking to give big dollars to Rubio because he feels he can mold him into his perfect little puppet," Trump recently tweeted.
It doesn't hurt that Rubio co-signed Sen. Lindsey Graham's Restoration of America's Wire Act (RAWA) in June, a bill to block online gambling that is supported by Adelson.
Security Name of the Game
In a matter of hours, the leading Republican Party candidates for the White House will gather together for the first time since the December 2nd terrorist attack in San Bernardino, California that left 14 innocent people dead. So it seems likely that the issues of national security and gun control will receive the vast majority of airtime.
Internet gaming and daily fantasy sports will likely take a backseat to more dire issues.
Reaction to Trump's call for a "total and complete shutdown of Muslims entering the United States" for the time being will also be on the agenda, no doubt. In fact, many believe it will be the first question of the night.
As with previous debates by a variety of news outlets, CNN will surely be looking for a bit of confrontation and drama to spike ratings.