FIFA President Sepp Blatter Suspended 90 Days, Soccer's Governing Body in Complete Disarray
Posted on: October 10, 2015, 03:12h.
Last updated on: October 10, 2015, 03:12h.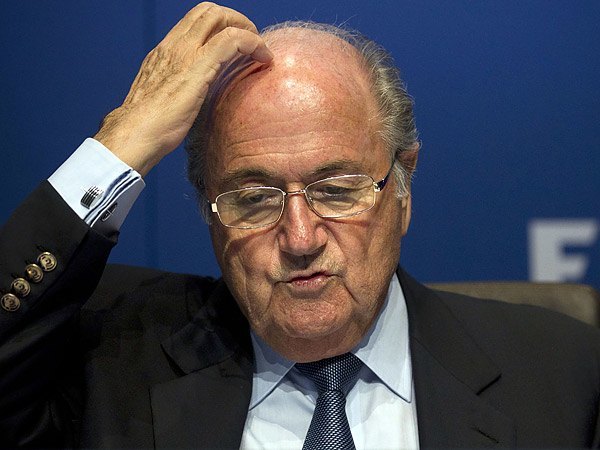 Sepp Blatter has worked with the Fédération Internationale de Football Association (FIFA) since 1975 and been its president for the last 17 years, but today the most powerful man in the sport has been stripped of his governing authority and been forced to relinquish all ties to the organization and the game of soccer.
Following months of turmoil at FIFA dating back to a May raid by Swiss authorities in Zurich, an independent ethics committee recommended suspending the 79-year-old president for 90 days, German judge Hans-Joachim Eckert approving the motion on Thursday.
"Joseph S. Blatter was relieved of all his duties as FIFA President following the decision of the Adjudicatory Chamber of the Independent Ethics Committee to provisionally ban him from all football activities on a national and international level," FIFA said in a statement.
FIFA added that during that timespan Blatter "is not allowed to represent FIFA in any capacity, act on the organization's behalf, or communicate to media or other stakeholders as a FIFA representative."
In addition to Blatter, Michael Platini, FIFA executive and president of the Union of European Football (UEFA), and Jerome Valcke, FIFA secretary general, were also dismissed for three months.
Pitch Not Perfect
With 3.5 billion fans and viewers, soccer is unquestionably the world's most popular sport. Its governing organization, FIFA, is also undisputedly in complete chaos.
"Corruption that is rampant, systemic, and deep-rooted," as United States Attorney Loretta Lynch called it at the time of the raid, the FIFA scandal involves elements of racketeering, money laundering, fraud, and bribery.
Blatter, Platini, and Valcke join nine other FIFA officials and five sports marketing executives that came under legal investigation last summer by Sweden and the US Department of Justice.
The trio of alleged offenders deny any wrongdoings, Platini releasing a statement through UEFA, a direct violation of the FIFA suspension, saying he rejects "all of the allegations." UEFA stated it will not adhere to the imposed ban and will allow Platini to continue in his role.
Blatter announced in June he would relinquish his throne once a suitable replacement could be found, a special election later scheduled for February 2016 to elect his successor.
Platini was a frontrunner for the job, but the discovery of the Euro football boss accepting two million Swiss francs ($2.1 million) from Blatter in 2011 has largely voided his candidacy.
Saving Sponsors
FIFA's decision to remove several of its most notorious executives isn't expected to receive much praise from the media or soccer fan community as the resolution isn't so much about cleaning the corrupt culture as it is about appeasing sponsors.
Visa, McDonald's, Coca-Cola, and Budweiser all called on the organization to oust Blatter in recent days.
"For the benefit of the game, the Coca-Cola Company is calling for FIFA President Joseph Blatter to step down," Coke said a statement. Visa reiterated those feelings by saying it would be in the best interest of soccer for "Blatter to step down immediately."
Blatter's ousting, many believing he'll never regain the title of president, has put Issa Hayatou in the role of interim boss. Hayatou admitted to the International Olympic Committee to receiving illegal payments in 2011, yet another not-so-surprising development in the ongoing FIFA scam.