Fashion Designer for Marc Nelson Denim Pleads Guilty to Operating Multimillion Dollar Gambling Ring
Posted on: December 1, 2015, 02:49h.
Last updated on: December 1, 2015, 03:06h.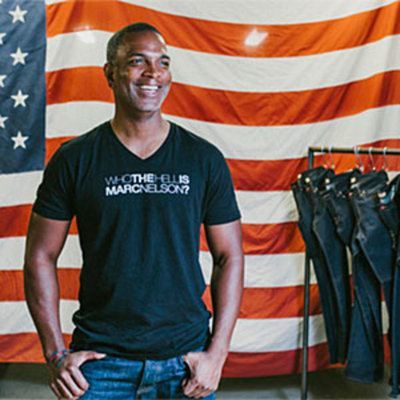 Marc Nelson Denim, a clothing wholesaler, is getting some free publicity, but probably not the kind the company would really want.
Business owner Marcus Hall, who is also its fashion designer and lives in Knoxville, Tennessee, has plead guilty to operating an illegal gambling ring that laundered millions of dollars in illicit funds.
According to court documents, Hall ran an illegal daily numbers racket, the proceeds of which, some $20 million, were laundered through various interests owned by Hall and his co-defendants, father and son Clarence McDowell and Maurece D. McDowell.
The operation began in January 2009 and ran until it was broken up by police in June 2015. It brought in gross revenues of at least $2,000 per day, the court heard.
Tennessee's action-starved gamblers would make bets based on the outcome of the Illinois state lottery draw, while Hall (who sometimes goes by the name Marc Hall Nelson) and his co-defendants employed runners to take bets and deliver receipts and cash in exchange for a quarter of the money. The rest went to the ringleaders.
$5 Million Forfeited
Hall, who only last May was awarded a Pinnacle Minority-Owned Business Excellence award, accepted a plea bargain earlier this month. Under the terms of the agreement, he must forfeit $5 million, which represents his share of the operation, as well over a dozen properties in the Knoxville area, a 2014 Porsche, a 2004 BMW, a 2009 Ford F150 pickup, and a 2009 Chrysler.
"I take responsibility for my actions and I apologize for any harm that I have caused," Hall told a local TV channel. "I am doing everything I can to resolve this matter and put it behind me."
Then, sensing a free publicity opportunity, he defiantly proclaimed that his designer clothing and lifestyle brand would remain operative. "Our employees will continue to furnish the world with high-end incredible quality denim and other clothing," he reassured the world, with a big dollop of chutzpah.
"We continue to supply jobs in the inner city and continue to show the world that the absolute finest denim can be produced not just in the US, but right here in Knoxville."
20 Years Unlikely
Be that as it may, the charge of illegal gambling carries a maximum sentence of five years in prison and a $250,000 fine, while money laundering carries up to 20 years and a $500,000 fine.
However, because of his previous spotless reputation, lack of any criminal convictions, and the guilty plea, he is unlikely to serve any longer than 41 months in prison.
"As you can see, he's certainly accepted responsibility for his past actions and he wants to get this behind him," said Hall's attorney Richard Gaines. "It's a shame and obviously it's never pleasant to have to come in and do this, but we're hoping for the best."
Hall will be sentenced in April.