F1 Gets 'FU' from Social Media for Blocking Vegas Race Views
Posted on: November 1, 2023, 08:31h.
Last updated on: November 2, 2023, 03:35h.
It wasn't just privacy screens that will block views of the upcoming Las Vegas Grand Prix from pedestrians crossing the bridges above the track. For fans hoping to get a peek at the big race or even a selfie of the Sphere two weeks before the race, the news just got a whole lot worse.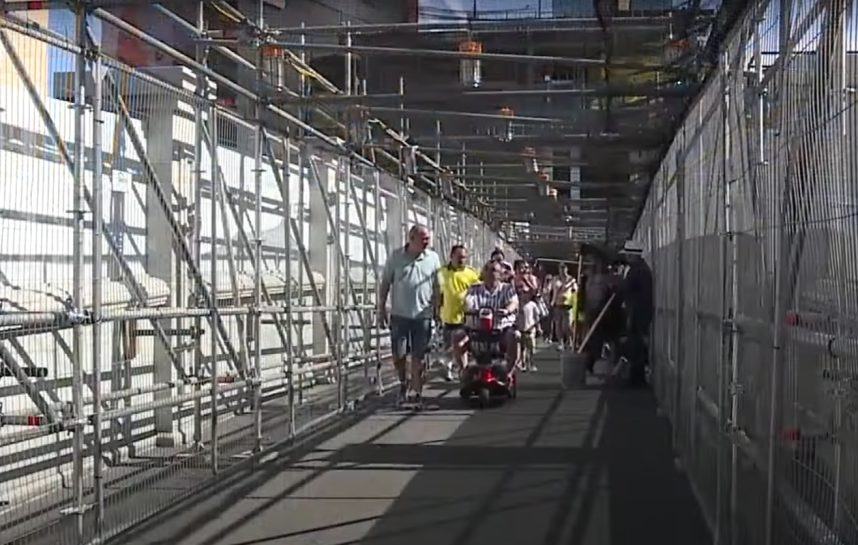 On Monday, we reported that someone was tearing off the privacy screens installed by F1 crews. Since that report, it has become clear that the screens are only one part of an elaborate view-blocking system being installed by Formula 1 crews.
The main part of the system is a giant metal cage that will line all bridges crossing the racetrack. The official function of the cage, which will eventually include a covering, is to prevent pedestrians from tossing anything onto the track that may threaten the safety of the drivers.
However, the cages also prevent pedestrians from reaching and tearing the privacy screens, or climbing over them, for a verboten peek at the race. There's an official function for this purpose, too, which is to keep pedestrian traffic flowing freely across the bridges.
Railing at the Railings
On Twitter, Las Vegas locals and tourists alike are seething at the indignity imposed by these devices on tourists who don't even care about the race.
"Awesome job by the Las Vegas Tourism Board, really making people feel welcome," commented @andy73690988. "Unbelievable."
That bridge looks like a pen for cattle and farm animals!" added @JordanXRP1985. "Get along now you slow moving tourists!!! Nothing to see here!"
"I understand why they do this, but why so early?" asked @alex_nassif. "Could've done it the week of the race."
"Destroying tourists trips, hurting tourists and destroying locals lives for 6 months… so .00000000002% people will actually make money for 3 days," commented @JasonSarcinelli. "GFY VEGAS."
No words," added @matteberhardt1. "To my knowledge, F1 doesn't bend over European cities like this … It's disgusting to me what's being done here. It's bad look for both F1 and Vegas."
"Cross the bridge and don't you dare look, you peasants," added @epalascianook.
One event that pretty much ruins the whole strip experience," wrote @flickrfumes. "I'm rooting for it to lose huge money."
In the YouTube video below, frequent Casino.org tipster Jacob Orth tours one of the bridges in the process of being built.