F1 Las Vegas Privacy Screens Torn Off Pedestrian Bridges
Posted on: October 31, 2023, 11:22h.
Last updated on: October 31, 2023, 08:23h.
Someone is vandalizing the hard work that Formula 1 crews have begun on the Strip in preparation for the inaugural Las Vegas Grand Prix in three weeks.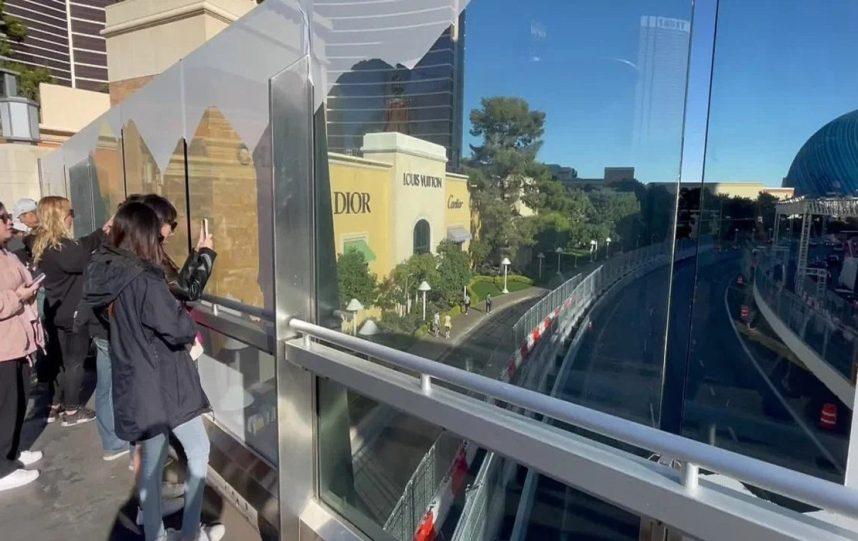 At least, that's how officials with F1 and Clark County see it. Ask the "vandals," and they'll tell you that someone blocked the best public view of the MSG Sphere with an opaque grey film for no good reason. So they removed it and did what they came to do — watch the Sphere's external display and take selfies with it.
Each day, thousands of tourists stop on the bridge that connects the Palazzo with the Wynn across Sands Avenue to snap photos of the Sphere. But last week, "privacy screens" started going up on all pedestrian bridges that cross what is quickly transforming into the F1's racetrack.
The screens, similar to the film that wraps vehicles, aren't difficult to peel off once a cut is made.
"And so they should!" tweeted @GasOff2. "It is ridiculous how much this city changed and suffers due to this dumb 3 day event. Visitors come to Vegas to Vegas and nobody can anymore. F1 crap in every picture if one can even take one anymore. Who got paid off allowing this?"
View to a Killing
The film is necessary, Clark County officials say, for safety reasons. If the views of racecars zooming underneath the pedestrian bridges remain unobstructed, then large numbers of pedestrians will stand on the overpass to view the race, impeding the safe flow of pedestrian traffic over the bridges.
According to a Reddit user named ThatGuyNearby, who expresses a belief shared by many social media users, the truth is far less altruistic.
They don't want no poor people looking at them drive their cars," he wrote.
The cheapest option to watch the race is currently a three-day pass in the East Harmon Zone, advertised on StubHub for $1,529.
Monetizing all possible views of the Grand Prix racetrack has been an obsession of F1, which in July reportedly demanded $1,500 per maximum occupancy head from restaurants and nightclubs facing the track. Venues that didn't comply could have had their views blocked by barricades and other obstructions, including lights shined directly into their windows.
By the end of August, that demand was reportedly lowered to a flat fee of around $50K per venue.
More Preparations to Come
Whether you see the privacy screen removal as an act of vandalism or protest, what has to be clearly visible to F1 is that some of its preparations for future races will be a waste of time and effort if undertaken too early. Also evident is that guards will need to be posted at each pedestrian bridge if the screens are to remain in place during the race itself.
Closer to race week, the pedestrian bridges will also be topped by enclosures that prevent people from throwing objects onto the track beneath them.
The inaugural Formula 1 Las Vegas Grand Prix race will take place at 10 p.m. Saturday, Nov. 18.
Most Read