DraftKings Reignmakers Seen Boosting Profits, Revenue
Posted on: September 1, 2023, 04:31h.
Last updated on: September 4, 2023, 02:28h.
DraftKings' (NASDAQ: DKNG) Reignmakers — a fantasy sports game rooted in nonfungible tokens (NFTs) — is a prime example of blockchain gaming, and could be accretive to the operator's top and bottom lines.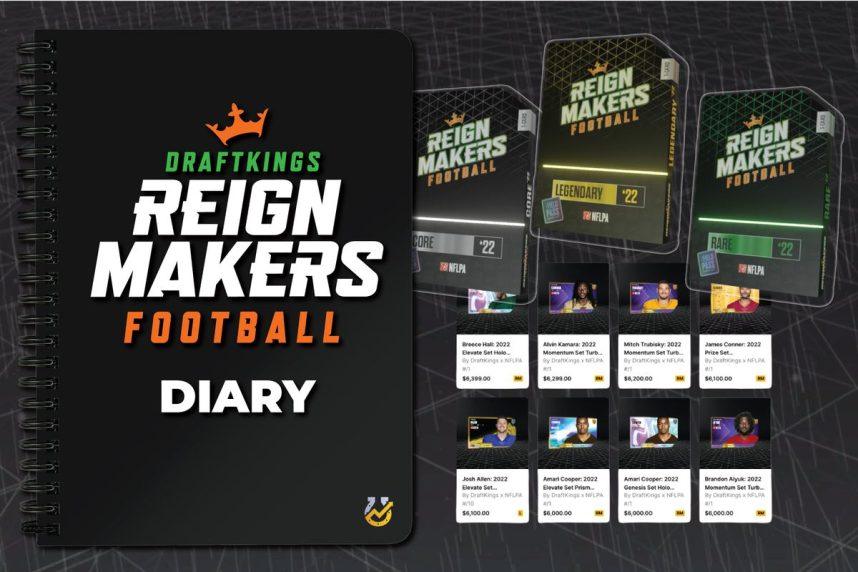 Just over two years ago, the Boston-based sportsbook operator announced plans for DraftKings Marketplace, democratizing access to NFTs in the process. Through Reignmakers, users accumulate collections of gamified NFT cards via auctions, pack drops, and secondary market transactions. Participants then use those cards in NFL, PGA Tour, and UFC fantasy contests over those seasons.
Each player card represents an athlete and scores points based on the player's statistical performance in a given event or game, according to DraftKings. "Weekly in the football season, there is a large variety of fantasy contests posted in the Reignmakers lobby that cater to participants with both large and small Reignmakers' player card collections."
Reignmakers, which functions on the Polygon blockchain, is proving fruitful for the operator and may not be getting the credit it deserves in the investment community. Matthew Sigel and Rylan Wood of VanEck's digital assets team note that in year one, Reignmakers accounted for $52 million in sales, or 2% of DraftKings' total revenue over that span.
They estimate that over the next four quarters, the NFT-based fantasy game will drive revenue north of $70 million, or more than 3% of DraftKings' total, while accounting for as much as 5% of the gaming company's profits.
DraftKings Reignmakers Tapped Receptive Market
An NFT is a unit of data stored on the blockchain. NFTs can be applied to a variety of digitized items, such as audio and video files, as well as pictures.
With Reignmakers, DraftKings leverages its extensive database of devoted daily fantasy sports (DFS) clients, many of whom are also sports card collectors and enthusiastic about cryptocurrency. That highlights clear advantages for the operator with this next-generation iteration of fantasy sports.
"Reignmakers' success showcases the advantages of minimizing blockchain components within a game, enabling developers to target wider audiences while optimizing economic factors, such as marketplace fees," according to VanEck.
Sigel and Wood add DraftKings specifically targeted fantasy sports, meaning the company was able to real cost savings in creating Reignmakers because it didn't need to generate new, potentially costly intellectual property.
Marketplace, Reignmakers Might Deserve More Credit
While the DraftKings investment thesis largely revolves around online sports betting and iGaming, the NFT marketplace and Reignmakers arguably deserve more credit than is currently being ascribed to those businesses.
As noted by the VanEck duo, for the 30 days ending Aug. 18, Reignmakers ranked sixth in terms of NFT sales. Importantly, DraftKings Marketplace ranked first in terms of NFT fees generated.
With DraftKings taking a 10% fee on all secondary transactions, our base case indicates that Reignmakers' revenue could drive just over 3% of DKNG's top line," concluded the experts. "While we don't have access to the data showing the cost of this revenue, we assume the margins to be about 90% as there is basically no cost of production, and customer acquisition costs can be mitigated via cross-selling opportunities. In our base case, we estimate that the profits from the Reignmakers business line could boost DKNG EPS by ~$0.15, representing 5% of their 2022 EPS of -$3.16."