Donald Trump Pledges to 'Stop World War III' While Stumping in Las Vegas
Posted on: October 29, 2023, 09:57h.
Last updated on: October 30, 2023, 01:48h.
Former President Donald Trump was in Las Vegas over the weekend, attending the Republican Jewish Coalition's (RJC) Annual Leadership Summit at The Venetian Resort.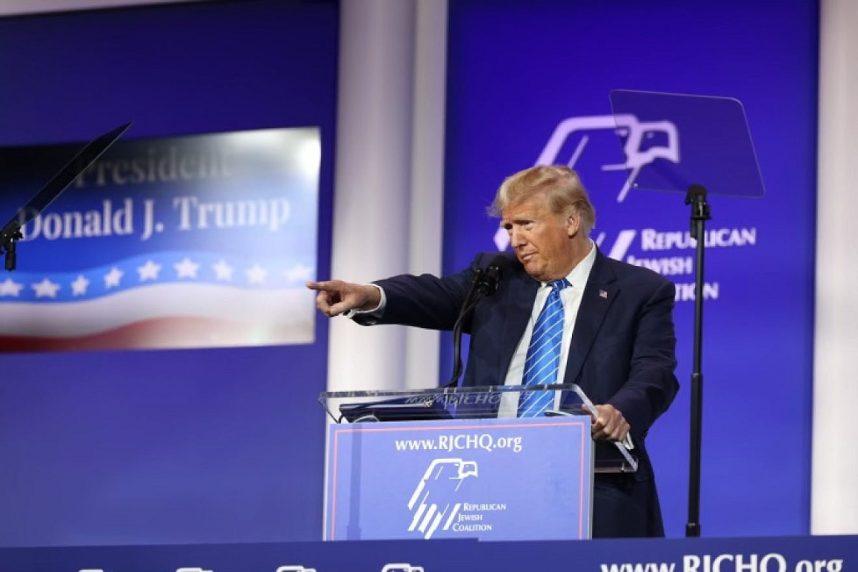 The RJC works to foster and enhance relations between the Jewish community and Republican decision-makers in DC and across the nation. The nonprofit is active in political campaigns, and its annual summit regularly attracts big-name politicians and candidates seeking the RCJ's backing.
Several Republican Party 2024 hopefuls attended this weekend's gathering, with the former president highlighting the lineup. Trump talked Saturday night before a crowd of 1,500 attendees, where he stressed the importance of the US continuing to support Israel.
"I love Israel," Trump declared several times. The repeated declarations garnered an enthusiastic applause.
The 45th president of the United States said next November's election is critical to preventing a third world war. There are two current wars, with Russia's invasion of Ukraine and Hamas' attack on Israel. The US is supporting Ukraine and Israel in those conflicts.
Preventing WW3
During his RJC speech, Trump said he is best suited to prevent further escalation of war.
"China respected us. Russia respected us. Everybody respected us. Under my presidency, our country was very feared and very respected," Trump declared.
For every American terrified that Joe Biden's catastrophic weakness will bring our country to ruin and closer than ever to World War III, I will stop World War III. We won't have World War III, that I can tell you," Trump said. "I will make this promise to you as president: we will restore peace through strength."
Trump is the betting front-runner to win the Republican Party ticket for a third consecutive presidential election cycle. PredictIt bettors give him a 70% chance of being the GOP nominee.
Former Governor of South Carolina and US Ambassador to the United Nations Nikki Haley is a distant second at an implied chance of 14%. Florida Gov. Ron DeSantis is third at 11%.
Earlier in the evening at the RJC, Haley attacked Trump's divisive rhetoric and his comments this week, saying the militant group Hezbollah is "very smart."
"Eight years ago, it was good to have a leader who broke things," Haley said of Trump. "But right now, we need to have a leader who also knows how to put things back together."
Adelson Appeal
The RJC is a who's who of the US Jewish community, but when it comes to political bankrolling, no name weighs heavier than Dr. Miriam Adelson.
The widow of the late Sheldon Adelson, who founded Las Vegas Sands, built The Venetian and Palazzo resorts and transformed China's Macau into the world's richest gaming market. The Adelsons poured over $524 million into Republican PACs, committees, and candidates between 2011 and 2020.
The late Adelson sat on the RJC board of directors. His wife continues to support the RJC and Jewish causes. She also owns the media outlet Israel Hayom, where she regularly writes op-eds.
Adelson has vowed to stay out of the primary process and focus her funding on the party's nominee. Trump reportedly dined with Adelson privately this weekend at The Venetian.
Trump acknowledged Adelson at the start of his RJC speech.
Miriam Adelson. A fantastic woman. Miriam, thank you very much," Trump said to a roaring ovation. "They like you, Miriam. We all like her. I like her a lot."
The former president touted his relocating of the US Embassy in Israel from Tel Aviv to Jerusalem, something that was near and dear to Adelson and her husband.
"I opened the American embassy in Jerusalem. They had been talking about that for a long time, Miriam. That is what you and that great man wanted, right? We got it built. It was supposed to cost $2 billion and we got it done for $500,000. And it is probably nicer."