Daily Fantasy Sports Sites Keep Eye on Gambling Rules
Posted on: April 21, 2015, 10:49h.
Last updated on: April 21, 2015, 10:49h.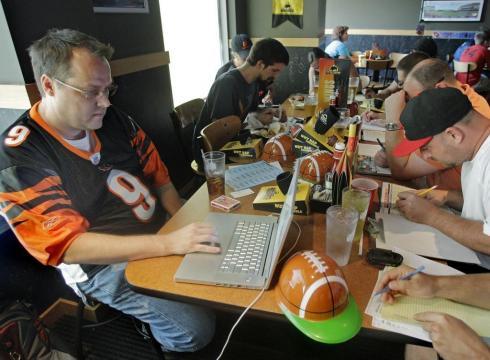 Daily fantasy sports is one of the hottest segments in the gambling industry, in large part because they are one of the few forms of betting that aren't restricted by online gambling laws.
When the Unlawful Internet Gambling Enforcement Act (UIGEA) went into effect, there was no way that legislators could have anticipated the arrival of fantasy sports games that would be deciding over the course of a week or a single day; still, these games fit under the same exemptions as traditional season-long fantasy sports contests, which were exempted from UIGEA.
But there's no guarantee that the daily fantasy sports industry will always be protected from the prying eyes of lawmakers who might see the games as being a little more action than they're comfortable allowing.
That's why major sites in the sector have continued to keep their eyes open and battle to improve the laws that apply to them while battling against anything that could threaten their growing industry.
Some State Gaming Laws Prohibit DFS Contests
There are certainly some areas of the United States where these games are illegal: FanDuel, DraftKings and other sites typically prevent players in five states (Arizona, Iowa, Louisiana, Montana and Washington) from participating due to state laws that go further than UIGEA and would classify their games as illegal gambling.
There are a couple other states, namely Arkansas and Tennessee, in which the legal situation may not be quite as clear as the daily fantasy sites would like it to be.
The industry has been lobbying to change laws in these states, and bills have been introduced in most that would seek to amend gambling laws to allow some or all daily fantasy contests to operate there. What's talked about less often is the fact that the industry may also have battles ahead to fight at the federal level as well.
"[Media] generalizations about the legal status of 'daily fantasy sports' are grossly oversimplified," wrote City University of New York Professor Marc Edelman in a paper on the legal risks for daily fantasy sites. "Indeed, there is no blanket immunity under federal or state law for 'daily fantasy sports.'
Rather, in all likelihood, the legal status of 'daily fantasy sports' varies based on the nature of any specific contest's game rules and where that particular contest operates."
Sites Have Opposed RAWA, Gained Allies
Edelman's point is well-taken: there's no federal law (and few, if any, state laws) that pertain specifically to the daily fantasy sports world, meaning that lawmakers could quickly create significant issues for the industry if they wanted to.
That may be why the Fantasy Sports Trade Association has lobbied against the Restoration of America's Wire Act (RAWA): even though it's unclear that RAWA would mess with daily (or other) fantasy sports games, such an online gambling ban would hit a little too close for comfort, and there's no telling what the final language of such a bill would read.
The daily fantasy industry has also made some powerful allies in recent months that may give them more leverage in future legal battles.
DraftKings has partnered with Major League Baseball, while FanDuel has done the same with the National Basketball Association.
FanDuel also recently joined the Internet Association, a trade group that represents many of the Internet's top companies (including Facebook, Google, and Twitter).