Daily Fantasy Sports Should Be Regulated in Nevada, Says Sheldon Adelson-Owned Las Vegas Review-Journal
Posted on: February 5, 2016, 03:13h.
Last updated on: February 5, 2016, 03:14h.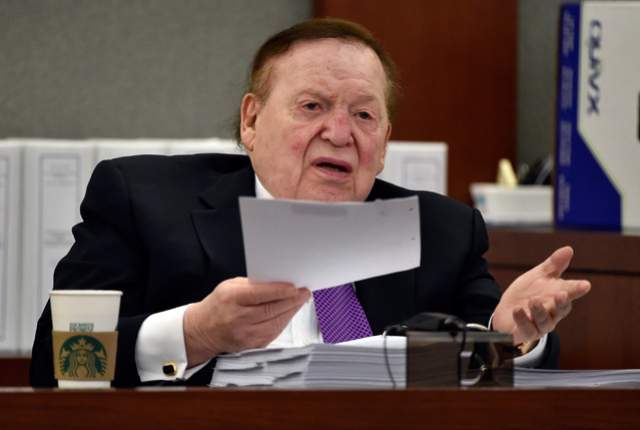 Daily fantasy sports (DFS) is getting more talk time these days than the Kardashians. Now an editorial with no specific writer attribution in the Las Vegas Review-Journal (LVRJ) has jumped on the bandwagon, calling for a regulatory framework to be established by Nevada lawmakers.
DFS was recently deemed to be illegal by the state's attorney general, Adam Laxalt, after which the Nevada Gaming Control Board issued cease-and-desist letters to the two industry leaders, DraftKings and FanDuel.
DraftKings had been a major and visible World Series of Poker sponsor for 2015 before the ruling and subsequent action.
"Nevada should not lag behind … when it comes to taking action on this emerging industry. There is no reason any other state should jump ahead of Nevada when it comes to dealing with this issue," the Thursday LVRJ editorial opined.
"Nevada is known as the 'gold standard' for gambling regulation in the United States, and with good reason. Its approach to regulation embraces new technology and innovation, while ensuring fair games and protecting the rights of players," the piece concluded.
The op-ed is more interesting because a major casino industry player recently purchased the primary Las Vegas newspaper.
In December, a secret buyer was later determined to be none other than Las Vegas Sands Chairman Sheldon Adelson. The billionaire reportedly paid $140 million through a subsidiary company to acquire the most-circulated daily in Nevada, a price which was said at the time to be substantially over market asking.
Much speculation about how much influence the anti-online gambling champion would have on the news content followed, but actual stories have been, so far at least, seemingly free of his opinion that anything to do with online gaming is the antichrist. This op-ed would just be the latest example.
No Love for Online Casinos from Adelson
Adelson has been a divisive figure in the global gambling industry, and is known domestically for his robust spending in supporting conservative causes, as well as backing Republican candidates. He's also notorious for being the lead antagonist in the online gambling drama.
Adelson has said he'll spend "whatever it takes" to prevent the expansion of Internet gambling, which is why the LVRJ publishing an opinion to legalize DFS operators like DraftKings and FanDuel is quite significant.
Proponents of DFS argue that the contests are not gambling, but games of skill, claiming there is a large skill requirement needed to succeed. But the LVRJ noted that Control Board Chairman A.G. Burnett's memo to the two DFS operators to stop running sites in Nevada was based on the view that the platforms resemble sports betting.
To no one's surprise, the major DFS sites do not agree.
"The industry disagrees, saying its players are engaging in a game of skill. But the largest daily fantasy sports websites stopped doing business here, out of deference to the state ruling," the LVRJ declared.
Using type space to issue a view supporting any form of Internet betting could be viewed as a small slap in the face to the newspaper's boss.
LVRJ Shakeup
Along the way to creating his $30 billion empire, Adelson's made plenty of enemies. His newest opponents include certain employees at the LVRJ.
Following the revelation that it was indeed the Las Vegas Sands CEO behind the media company's takeover, a new editor and publisher were hastily brought in to run news coverage. Coverage in the LVRJ had taken note in the past of Adelson's sometimes vicious business approach, which has created a sense of unease in the newsroom.
And if the news to date has seemed untouched by the long arm of boss, some outside media sources contend that might not last too much longer.
Writing on Politico, contributing writer Ken Doctor asserts, "Sources tell me, stories involving new owner Sheldon Adelson are being reviewed, changed or killed almost daily. The newsroom is abuzz with word of a list of a half a dozen or so journalists whose work has rubbed Adelson the wrong way over the years, and who may soon be targeted for departure in what one insider describes as a 'house-cleaning.'"