Daily Fantasy Sports Goes on Life Support in New York With Emergency Stay
Posted on: December 14, 2015, 06:36h.
Last updated on: December 14, 2015, 06:36h.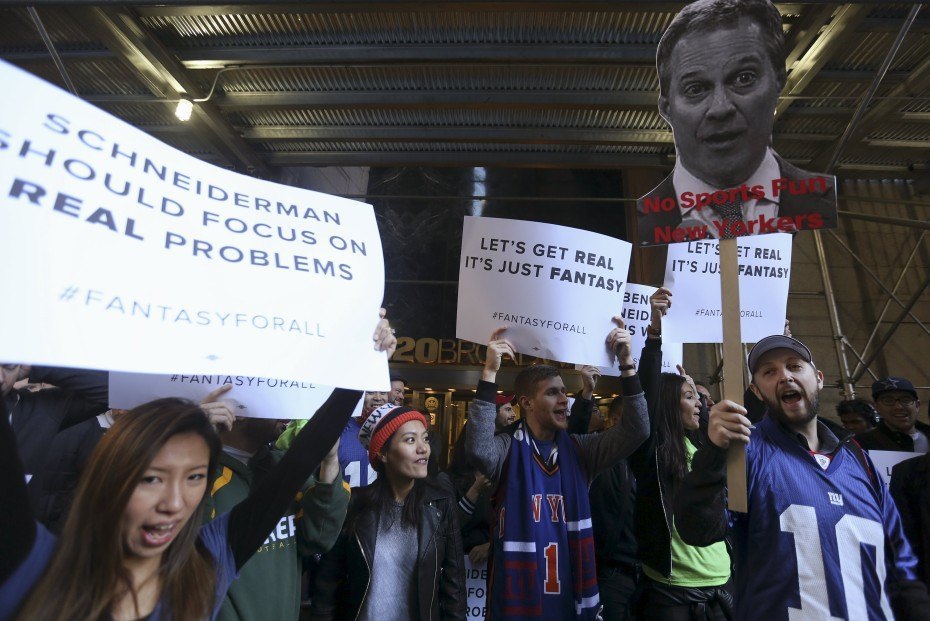 Daily fantasy sports (DFS) market leaders DraftKings and FanDuel are still operating in New York regardless of a ruling by state Attorney General Eric Schneiderman to ban the online games, a decision that was upheld by the state's Supreme Court on Friday.
On the same day that Justice Manuel Mendez aligned himself with Schneiderman in granting a temporary injunction to block the DFS operators, an appeals court authorized an emergency stay that runs until at least January 4.
FanDuel and DraftKings are both moving forward with lawsuits to fight the legal interpretation among New York policymakers that daily fantasy constitutes gambling.
To Gamble or Not to Gamble
The appeals court decision doesn't, nor could it, override the verdict of the Supreme Court. Instead, the decree simply allows DraftKings and FanDuel to continue their operations through the holiday season as they prepare to make their legal cases.
"Based on the appellate court's ruling, New Yorkers can continue to enjoy FanDuel contests while the legal process moves forward," FanDuel said in a statement. "The Appeals Court decision is not permanent. This decision will be reviewed by a panel of judges early next month."
Mendez opined that DFS has no legal standing in New York.
"The language of Penal Law (Article 225) is broadly worded and as currently written sufficient for finding that DFS involves illegal gambling," the judge wrote. "The payment of an 'entry fee' as high as $10,600 on one or more contests daily could certainly be deemed risking 'something of value.'"
Hope on the Horizon
New York Assemblyman Dean Murray (R-District 3) wants to make the DFS dispute a matter of legislative opinion instead of allowing the courts to decide.
Murray introduced two bills in November, one that would designate the contests as games of skill, and a second contingency measure that would provide exemptions for DraftKings and FanDuel should the final verdict declare them as gambling enterprises.
"The Attorney Genera's ruling is not a '3-and-out' for fantasy sports fans," Murray said last month. "I'm hopeful that if the courts don't overturn what is clearly a bad decision from the AG, my legislation will."
Murray remains optimistic of his legislative endeavors even in the face of the Supreme Court's ruling. However, he did add that it will take months before the proposals could realistically become law.
According to ESPN, more than 600,000 New York residents have participated in daily fantasy contests on DraftKings and FanDuel, and some $200 million has been deposited on the two platforms.
Understandably, the two DFS companies aren't willing to concede that market quite as easily as they did in Nevada. New York is the fourth most populated state in America, and the second richest by gross state product (GSP).
"The Attorney General decided he knows what is best by denying New Yorkers access to a game they have embraced and shared with friends and family for years," FanDuel said of its decision to pursue legal action. "We remain committed to ensuring all fantasy sports are available … and will work hard to bring our product back."