Culinary Union Strikes Deals With Four More Las Vegas Casinos, Nine Properties Remain
Posted on: July 17, 2018, 06:45h.
Last updated on: July 17, 2018, 06:45h.
The Culinary Union that represents some 50,000 members who are employed by Las Vegas resorts as bartenders, cocktail and food servers, bellmen and porters, kitchen staff, and housekeepers has come to terms with four additional casinos.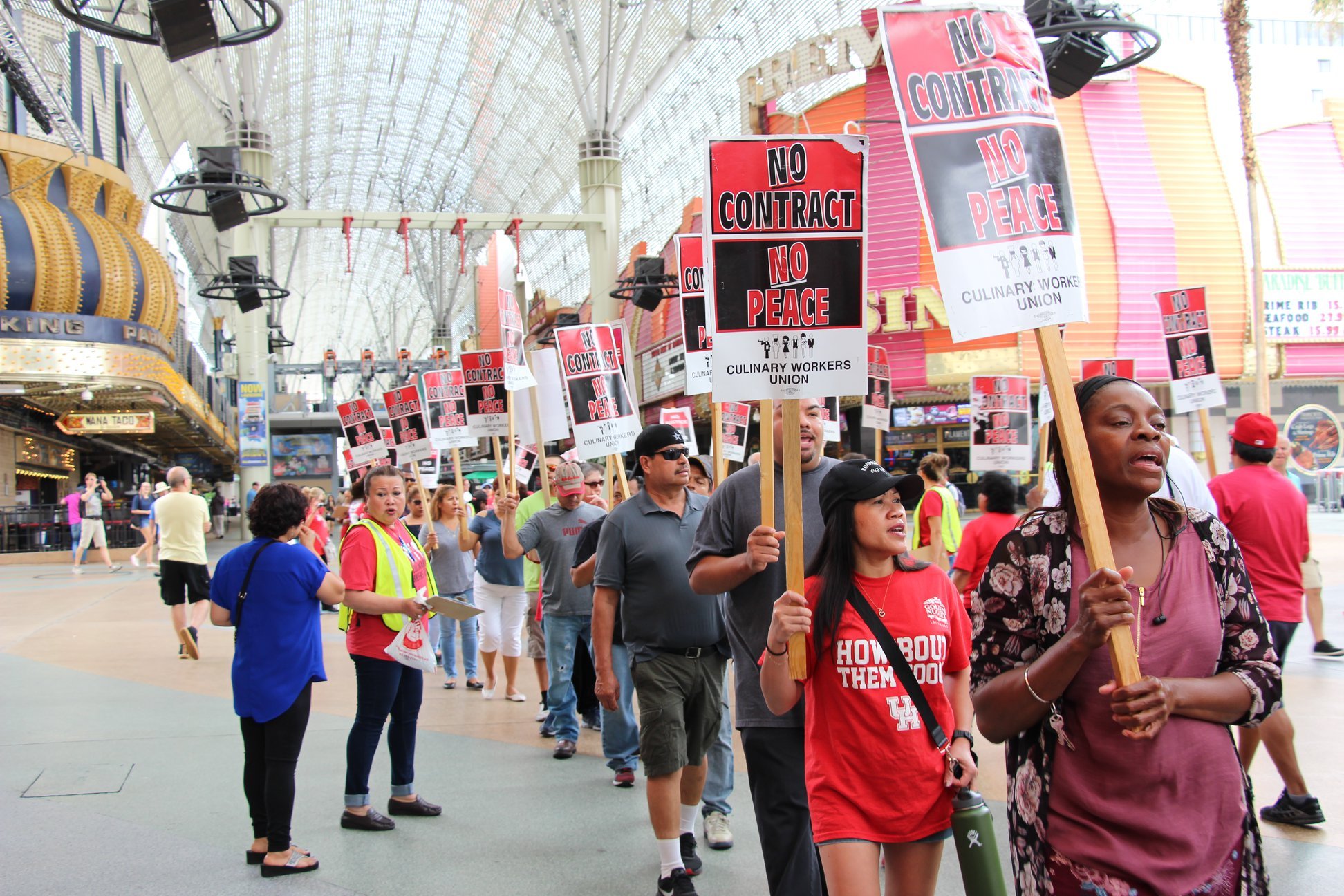 The tentative five-year agreements are with the off-Strip Westgate, and downtown properties Golden Nugget, Fremont Street, and Main Street Station. The contracts end a lengthy bargaining process that officially began when previous terms expired June 1. Boyd Gaming owns both Fremont and Main Street.
The historic agreement has the strongest economic package ever negotiated with the highest wage increases and healthcare and pension benefits for workers," the Culinary Union said in a statement. "The contract includes groundbreaking language on worker security regarding sexual harassment, workload, technology, and immigration."
The union says it still needs to reach new terms with three properties on the Las Vegas Strip. They are SLS, Treasure Island, and the Margaritaville Restaurant inside the Flamingo.
There are six downtown casinos where union workers continue to perform their duties under expired terms. They are Binion's, Downtown Grand, El Cortez, Four Queens, Golden Gate, and The D.
A total of 4,100 workers are still without new contracts.
Contract Progress
When the Culinary Union threatened in late May to strike at 34 Las Vegas casinos, the group said it wanted higher wages, protection of existing benefits, increased workplace security, and measures to combat sexual harassment. The union also wanted a promise from resort operators that they would forgo technological innovations that reduce jobs.
With all benefits factored in, union members on average were paid an hourly wage equivalent to $23 under the expired terms.
The union admitted a strike was a last resort, and something it wished to avoid. But regardless, some 99 percent of voting members backed a strike to take place any time after 12:01 am PT June 1 if their employers refused to meet the union's demands.
The big break came just days later when MGM Resorts and Caesars Entertainment reached new five-year deals. The two casino operators represented 18 of the 34 properties where contracts expired.
Specifics Unclear
The exact terms with MGM and Caesars, as well as the numerous other casinos where contracts have been reached, haven't been made public. But union spokeswoman Bethany Khan told the Associated Press last month, "We always have one standard for our contracts, and we are going to negotiate that one standard with other properties."
The casinos that haven't reached new terms doesn't necessarily mean they're refusing to meet the union's demands. Westgate said last week that it had "accepted the union's request to hold off on negotiations" until they finished with larger companies such as MGM and Caesars.
Westgate officials added that they were "dismayed" that the union directed members to picket outside the casino on Friday, July 6, after agreeing to delay their negotiations.
Upcoming pickets are planned for this Friday at The D, Golden Gate, and Margaritaville.