Codere Launches New Poker Initiative in Mexico
Posted on: September 6, 2023, 06:40h.
Last updated on: November 16, 2023, 08:29h.
The Spain-based gaming operator Codere, has inaugurated its first dedicated poker room in the country and has plans to introduce many more.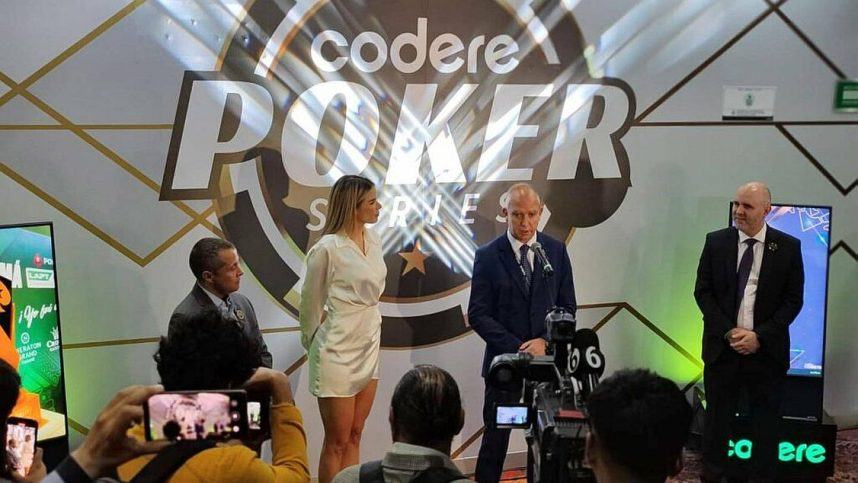 Codere launched its first poker room in Mexico City, the country's capital, last week, at the Codere Meneo casino. It also announced the emergence of the Codere Poker Series brand.
The new Codere Meneo Poker room has 10 professional tables, including one designed for live broadcasts and private gaming spaces. Cash games will include options such as No-Limit Hold'em and Pot-Limit Omaha. There are also several betting levels, ranging from MXN$5/$10 to MXN$25/$50 (US$0.29/0.57 to $1.43/$2.86), and special games with higher stakes.
The room opens at 4 p.m. and closes at 1:30 a.m. on weekdays. On Fridays and Saturdays, it stays open an hour longer.
The goal is to offer cash games to festivals and tournaments. With its presence in 25 states in Mexico and more than 85 casinos, Codere is well-positioned in the industry.
Several more poker rooms are already under construction, according to comments Codere Regional Director of Live Gaming for LatAm Marcelo Silva made in an interview with Spanish-language poker news site Codigo Poker.
In addition to Mexico, Codere, which has dabbled in poker tournaments throughout Latin America in the past, is live in six other countries. Eventually — although Codere didn't confirm it –all of the properties could conceivably host dedicated poker rooms if things go well.
Codere Continues to Evolve
Codere has been undergoing several significant changes over the past few years. Most notably, the takeover by creditors and shareholders and the spin-off of its online gaming arm, Codere Online. It has come a long way since then and is starting to find solid ground.
A week ago, Codere reported operating revenue of €335 million (US$359.35 million) for the second quarter, 5% more than the previous year. This comes despite some challenges in the LatAm market. Most notably, it shuttered several gaming properties in Argentina and Mexico over controversial "non-compliance" issues. Several subsequently reopened.
As a result, revenue from the Mexican market lost 3.1% from the first-quarter results. However, it was still up more than 14% compared to a year earlier. Argentina lost 12% from the 2022 second-quarter results.