City of Dreams Mediterranean Slashes 181 Jobs, Blames Hamas-Israel War
Posted on: November 21, 2023, 08:36h.
Last updated on: November 21, 2023, 02:38h.
City of Dreams Mediterranean is trimming its workforce in Cyprus. Melco Resorts, the Hong Kong-based gaming operator that owns one of the six gaming concessions in China's Macau, opened City of Dreams Mediterranean in July.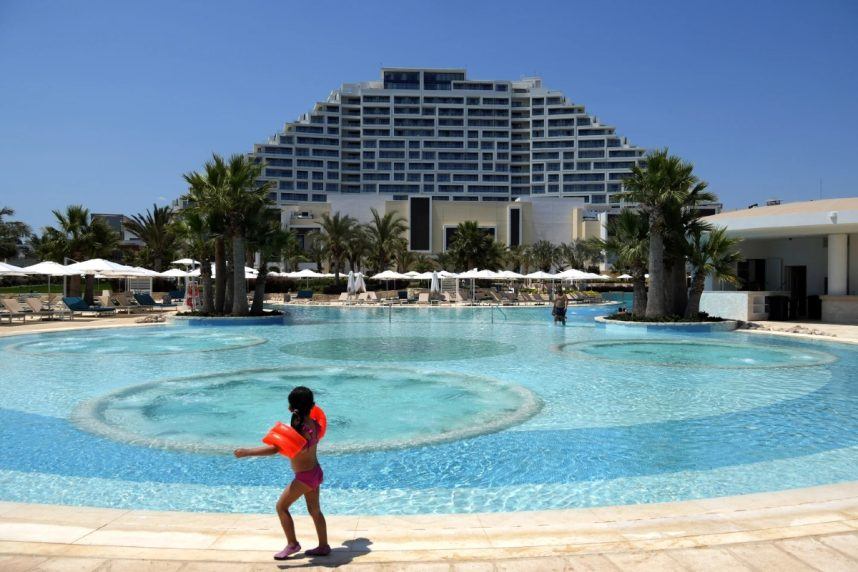 The €550 million (US$603 million) integrated resort in Limassol features 500 luxury guestrooms with private balconies overlooking Akrotiri Salt Lake and the Mediterranean Sea.
The hotel is accompanied by resort amenities like indoor and outdoor pools, a spa and fitness center, a water park and surf simulator, a theme park, retail shopping, a nightclub, and 86,000 square feet of convention space.
Less than three months after City of Dreams Mediterranean — Melco's first integrated resort casino outside of Macau and the Philippines — opened on July 10 to much fanfare, the Palestinian Islamist militant group Hamas levied an attack on Israel. Cyprus is located less than 250 air miles from the Gaza Strip.
War Hurts Business
Melco Resorts this week informed 181 workers at City of Dreams Mediterranean that their jobs were being cut. Company officials blame the Hamas-Israel war for the business slowdown.
Due to the unforeseen and ongoing conflict in Israel, the company is facing significant challenges that are greatly impacting our business operations," a Melco release explained. "We deeply regret the adverse effects this will have. We are committed to providing them with support during this transitional period."
The company said the layoffs include 130 full-time employees being terminated and 51 part-time and/or contractor workers being dismissed.
In Melco's third-quarter earnings report, City of Dreams Mediterranean posted adjusted property earnings before interest, tax, depreciation, and amortization (EBITDA) of $7.2 million. That led to an operating loss of nearly $7.8 million, largely because of opening costs and a gaming license payment.
Tourism is critical to the Cyprus economy. The service sector contributes almost 80% of the country's gross domestic product and employs more than seven in 10 workers.
City of Dreams Mediterranean opened with approximately 2,000 employees. Melco executives said the firm took a "last-in, first out" approach in determining which workers to let go.
Melco founder, chairman, and CEO Lawrence Ho kept his comments light on CoD Mediterranean during the company's earnings call on November 7.
"City of Dreams Mediterranean and Cyprus have been severely impacted by the conflict in Israel. Our teams are working on realigning our marketing strategy there," Ho said in his brief remarks on the company's newest property.
Temporary Cease Fire Possible
Hamas and Israel are reportedly nearing an agreement to pause fighting, CNN and other media outlets report.
Hamas is supposedly going to turn over some 50 hostages its militants captured, with nearly all being women and children. In exchange, Israel says it will pause its attack on Hamas for up to five days. Three Palestinian prisoners being held in Israel would also be freed should the pact be ratified.
The World Health Organization this week said it was "appalled" after Israeli tanks fired at and hit an Indonesian Hospital in northern Gaza, killing at least 12 people.