Las Vegas Sphere Denies Displaying Israeli Colors in Literal False Flag
Posted on: October 13, 2023, 10:12h.
Last updated on: October 13, 2023, 11:59h.
The official X (Twitter) account of the Las Vegas Sphere entertainment venue denied Wednesday that it displayed an image of the Israeli flag, contrary to social media chatter. A viral video clip that appeared to suggest otherwise had been faked, the account added.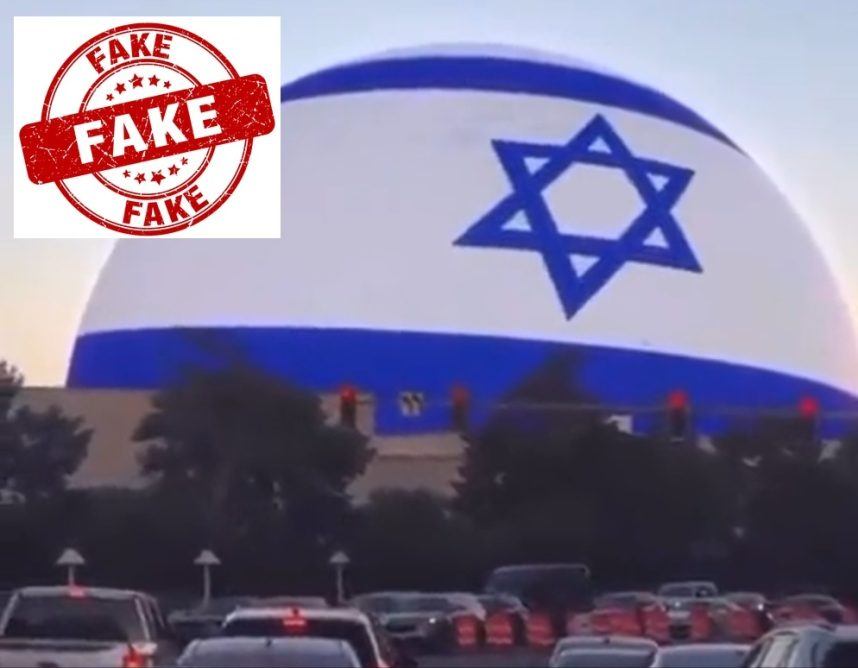 The video that appears to show the blue Star of David on a white background rotating slowly on the 366-foot-high dome has been shared numerous times on the social media platform. One post that had more than 38K likes on Friday was titled "The Vegas Sphere showing impressive support for Israel."
A Facebook post of the video seen by Reuters had been shared 77 times as of Thursday, the news agency said. All this meant the Sphere account had to respond to every share and reshare on social media as it sought to steer clear of sensitive political issues.
Rampant Misinformation
Since Hamas' deadly incursion into Israel on Saturday, X has become a hive of rampant misinformation and deep fakery. False claims going viral include that Israel bombed a church in Gaza. Another asserts that Israeli Prime Minister Benyamin Netanyahu was injured by Palestinian rockets.
A fake picture of Ronaldo holding the Palestinian flag is also circulating on the platform, as is footage from the Syrian civil war, which is presented as though it just happened.
The video of the Las Vegas sphere is verifiably false. An unaffiliated YouTube channel that broadcasts a 24/7 livestream of the Sphere revealed that at no point did it display the flag, according to Reuters.
Casino Exec Behind Vid
The original poster of the video was a Twitter account named "Tallywood," which is owned by Tal Cooperman, a former clothing designer who once dated Carmen Elektra and who is now executive creative director for Station Casinos.
It seems Israeli-born Cooperman didn't create the video as intentional misinformation and made no attempt to present it as truth. Cooperman is also a VFX artist and saw it as a way to show solidarity with the festivalgoers attacked, killed, and taken hostage by Hamas on Saturday morning.
I posted a VFX video of an Israeli flag on a ball. I was trying to raise awareness of what is goin on in my country. My 2 cousins wr at a festival that hundreds of people wr slaughtered and murdered at. I wntd 2create NOISE and be heard. But I always said VFX," Cooperman said on X.
The video was appropriated by another account which decontextualized it, passing it off as real.