Casino Union Members Picket Circus Circus Reno, Contract Negotiations Ongoing for Seven Months
Posted on: April 23, 2019, 08:29h.
Last updated on: April 23, 2019, 08:29h.
Casino union members working at the Circus Circus Reno picketed last Thursday in response to long negotiations with property parent company Eldorado Resorts that haven't proved fruitful.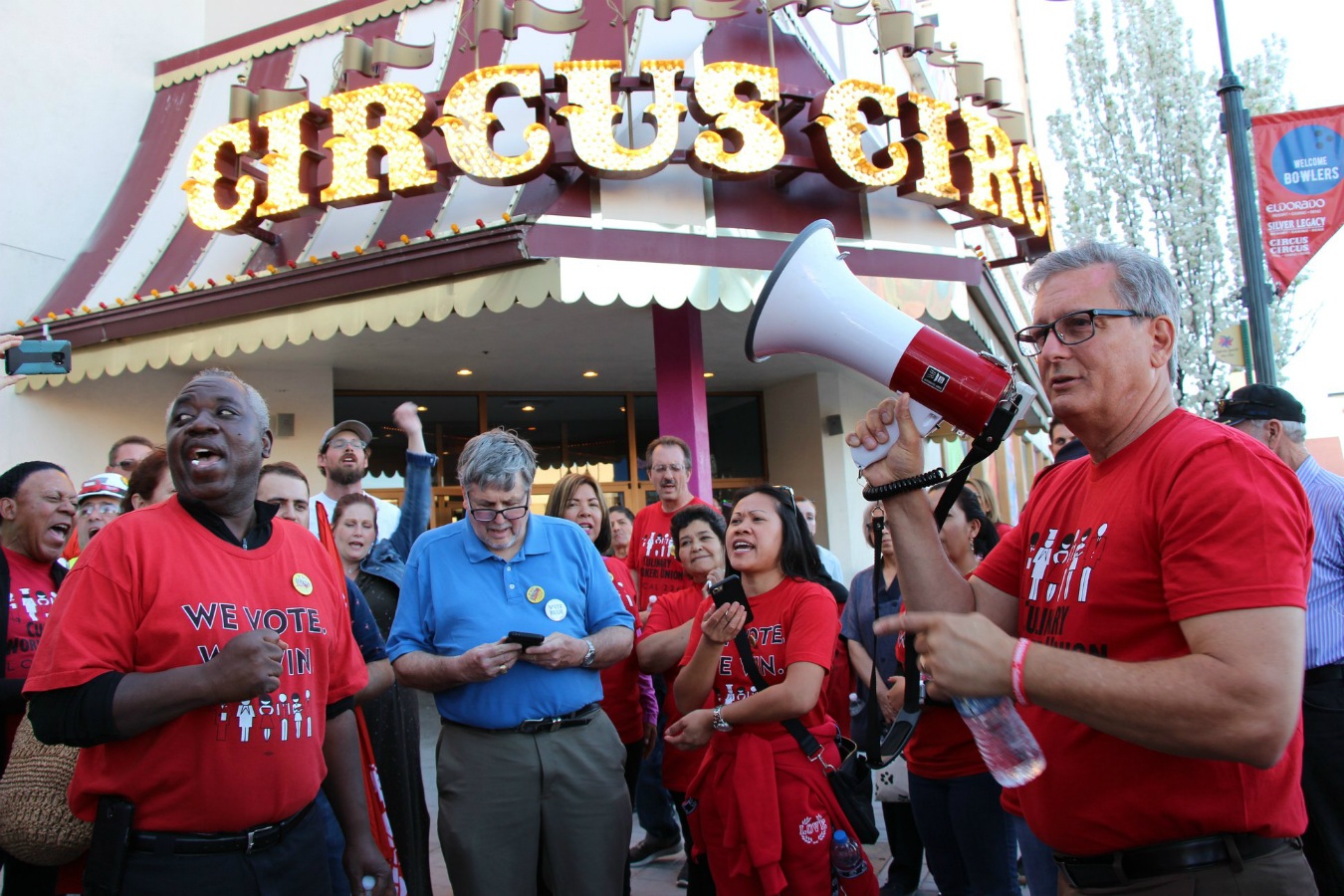 Contracts expired November 30. Negotiations between the Culinary Union and casino owner Eldorado have now been ongoing for seven months. The two sides have yet to find common ground.
Eldorado, which acquired the casino from MGM Resorts in 2015, offered a 1.75 percent pay increase. The union rejected the offer.
Eldorado made 9.8 percent more profit last year and their CEO could make $8.8 million this year along," union spokeswoman Bethany Khan stated. "The company will not agree to fair wage increases for its employees. Eldorado needs to stop treating its workers like second-class citizens."
The Culinary Union says it represents 260 workers at the Circus Circus Reno. Their roles include housekeepers, bartenders and food servers, cooks, bellmen and doormen, and other hospitality jobs.
Headquartered in Reno, Eldorado Resorts operates 26 casino properties across the US. The company's main competitors are Penn National Gaming and Boyd Gaming, which also specialize in regional casinos.
Reno Boom
The gaming industry is alive and well in "The Biggest Little City in the World."
Gross gaming revenue in Washoe County totaled $829.4 million in 2017 – the market's highest win since 2008. Washoe backed it up with another record year. GGR in 2019 came in at $865.77 million, a 4.39 percent year-over-year gain.
Khan didn't reveal what pay percentage increase the casino union would accept. Along with higher wages, the Culinary Union is seeking better healthcare and retirement benefits.
"We are the reason Circus Circus Reno is successful and it's time they recognize that," bartender Marlene Sanchez said in a release.  The casino union adds that its members are "facing an aggressive union-busting campaign by the company."
Eldorado spent more than $100 million to renovate hotel rooms at the Circus Circus, as well as the adjacent Silver Legacy, which the company also owns. Eldorado Director of Casino Operations Tony Marini said after the makeovers, "The more we add to it, the more we enhance our product, the better downtown is going to be and the better our region is going to be."
Union Fight Round Two
This isn't the first time that a union and Eldorado Resorts have been at odds. It was less than a year ago that Circus Circus Reno was picketed on allegations that the casino operator was cutting corners when it came to renovating the property.
The Laborers' International Union of North America Local 169 took issue with Eldorado's hiring of out-of-state contractor Digney York Associates based in Virginia for the casino overhaul. The trade group said Digney was hiring unlicensed subcontractors, and "lowering the standards of construction and endangering the public with these violations."
An investigation by the Nevada State Contractors Board (NCSB) found that five subcontractors weren't licensed, and subsequently fined Digney York $21,500. Eldorado Resorts wasn't charged with any wrongdoing.