Casino Union Concerned With Hedge Funds Obtaining Significant Stakes in Gaming Companies
Posted on: April 12, 2019, 11:00h.
Last updated on: April 12, 2019, 08:03h.
The largest casino union in the nation met with gaming regulators in several states this week to express the trade group's concerns regarding hedge funds and private equity groups amassing considerable ownership positions in the industry.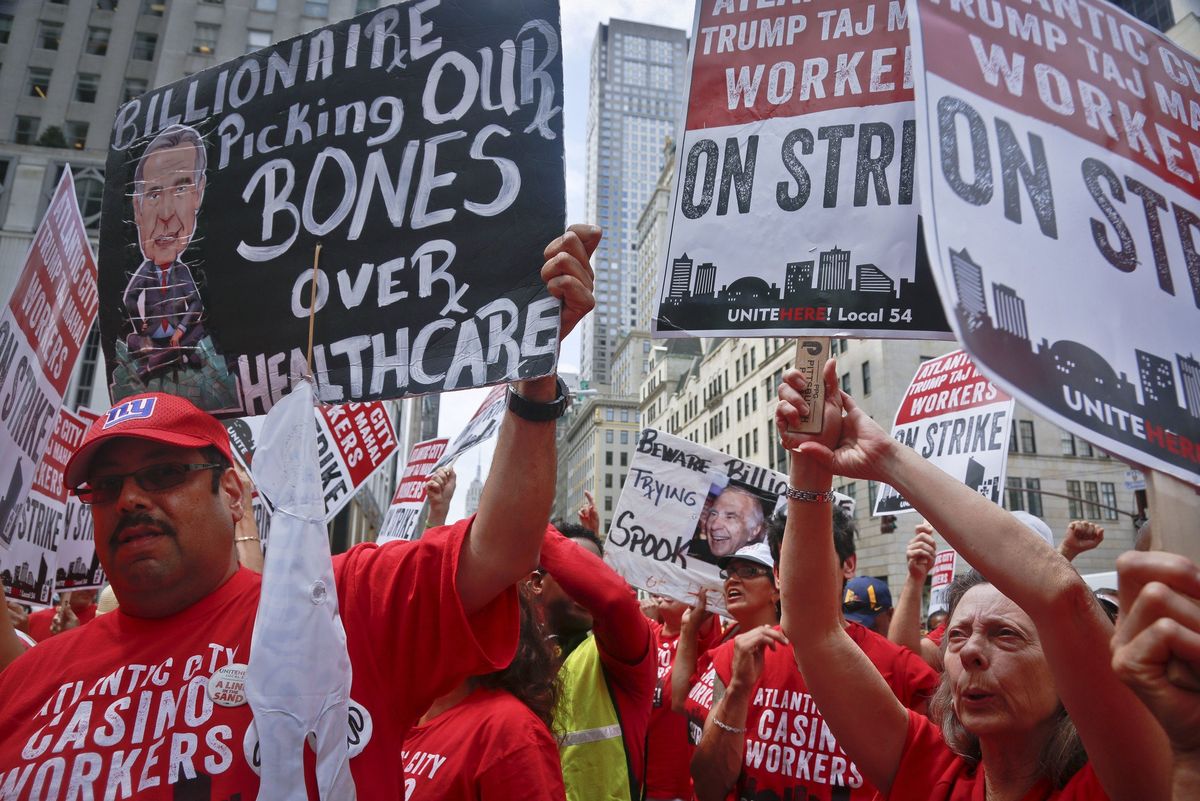 Unite Here – the union that represents more than 100,00 workers employed at casinos across the US and Canada – met with gaming regulators in Nevada, New Jersey, and Ohio to relay their unease regarding Wall Street raiders taking control of casino operators.
Bob McDevitt, the president of the Unite Here chapter in Atlantic City, told the New Jersey Casino Control Commission (CCC) that hedge funds and private equity groups have been a disaster for the town's resorts.
If their only interest is to squeeze money out of the company and it's going to hurt the industry here, then I think the commission is uniquely positioned to have a say in it," McDevitt opined.
Unite Here doesn't represent workers casino dealers, but those employed in such roles as resort housekeepers, bartenders and waitstaff, cooks, bellmen and doormen, and other hospitality service jobs.
Icahn Fight
The most notable recent conflict between the powerful casino union and an activist investor was between McDevitt and corporate raider billionaire Carl Icahn.
Unite Here demanded that Icahn restore wages and benefits that were allowed to be reduced through Trump Entertainment's 2014 bankruptcy. Icahn acquired the casino group in February of 2016.
The billionaire said the Boardwalk casino resort was unprofitable, and failed to reach terms with McDevitt. After workers went on strike, Icahn decided to shutter the property, which resulted in the loss of thousands of jobs.
At the time, Icahn offered to buy McDevitt a one-way plane ticket to a place of his choosing and cover his moving expenses. "The best thing that could happen for Atlantic City would be for McDevitt to leave," Icahn declared.
McDevitt said this week that corporate raiders such as Icahn are only looking out for themselves – not the workers.
So-called 'active investors,' whether they are hedge funds or private equity, are generally interested in benefiting themselves and other shareholders in the short-term, often without regard to the long-term consequences for the company," the union boss declared. "Consequently, they are a serious threat to the stability and longevity of our industry."
Union officials told gaming regulators in the three states that they should consider the impact of allowing hedge funds and private equity firms to obtain controlling stakes in casino companies before signing off on the ownership changes.
Icahn Bets Again
Icahn sold Tropicana Entertainment to Eldorado Resorts for $1.85 billion last year. The sale effectively removed the billionaire – who Forbes estimates to be worth $18.2 billion – from the gaming industry.
He wasn't out of the game long.
Icahn quickly amassed a substantial position in Caesars Entertainment, and is today the company's largest shareholder with a 28.5 percent ownership stake. He's using his influence to pressure the Caesars board, which he now has three seats on, to initiate a sale of the casino operator.
Similar Guides On This Topic