Caesars Sportsbook Customer Retention Impresses
Posted on: August 17, 2023, 03:31h.
Last updated on: August 18, 2023, 01:00h.
Gaming companies spend heavily to acquire customers for their sports wagering operations. It's one thing to get a customer in the door, but client retention is another ballgame.
With Flutter Entertainment's FanDuel and DraftKings combining to control about three-quarters of the U.S. online sports wagering market, it would be reasonable to expect that those operators are customer-retention leaders, and they are. Caesars Sportsbook is also making inroads on this front.
Of note, Caesars — whose app consistently ranks 8th in our proprietary testing — has begun to pull slightly ahead of FanDuel and DraftKings in terms of unified (iOS + Android) retention at Day 60," noted Eilers & Krejcik Gaming (EKG).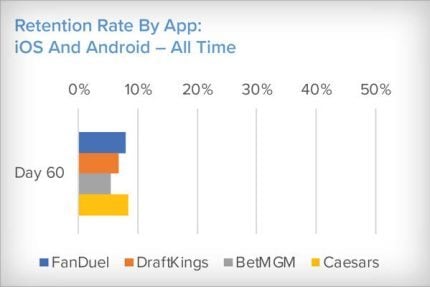 Enthusiasm for new sports wagering apps, particularly those from well-known brands, is common in the industry. For operators, the key is retaining customers, many of whom were likely lured by generous sign-on bonuses. On that note, Caesars is impressive, particularly when considering the duopoly maintained by FanDuel and DraftKings.
Caesars Retaining Clients Despite Spending Cutbacks
Caesars was one of the first online sportsbook operators to dramatically pare marketing and promotional spending.
In theory, slashing promotional spending risks client attrition, because many bettors shop around for the best promos and will leave a sportsbook when their incentive cash runs out.
"The change comes with Caesars cutting back on churn-y mass acquisition and bonusing spending—leaving the operator with more loyal customers acquired via more organic routes like its Rewards scheme," added EKG. "Otherwise, retention rates mirror what we would expect based on our product grades, with FanDuel leading the way."
Translation: Caesars is proving adept at leveraging its Caesars Rewards loyalty platform as an incentive earner for online sportsbook and iGaming clients, and those bettors are responsive to that scheme because points accrued online can be used at the operator's land-based casinos.
Online Sports Betting Customer Retention Tricky
Keeping online sports wagering clients loyal isn't easy for gaming companies. As noted above, novice bettors often make decisions based on promotional dollars, while sharp bettors shop around for the best odds. As such, loyalty in this industry is hard to come by.
By some estimates, just over half of the bettors who sign up for a regulated mobile sports betting account make more than two deposits in their first year, and less than 5% are loyal to a specific platform after a year.
In traditional industries, customer retention trends predictably vary, ranging anywhere from the mid-50% range to the mid-80% area. Though there's been improvement over the past couple of years, retention in the iGaming space, including sports betting, hovers around 40%.
On the other hand, some operators have client retention down to a science. For example, in 2022 DraftKings noted 83% of new clients stick around for a year, and 88% of that group use their accounts in year two. Importantly, loyal clients' margin contributions to operators increase the longer they remain with a company.