Caesars Executives Divulge Big Plans Post-Bankruptcy
Posted on: October 26, 2017, 06:45h.
Last updated on: October 26, 2017, 10:28h.
After a nearly three-year long battle to emerge from bankruptcy, executives at Caesars Entertainment Corporation spent 90 minutes with institutional investors in New York City on Tuesday detailing the future.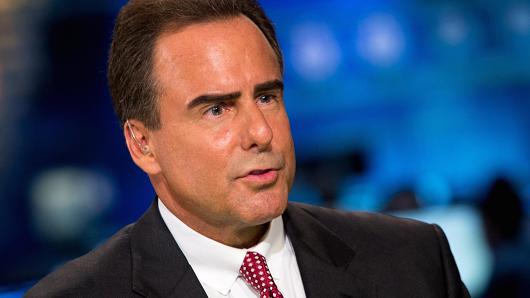 President and CEO Mark Frissora addressed the group for the first time since the merger between Caesars Acquisition Company and Caesars Entertainment Operating Company Inc. became official on October 6.
He talked about a variety of subjects, but focused on the casino giant's plans for growth. The resorts in the company's portfolio were stuck in a holding pattern since the January 2015 Chapter 11 filing. Now the CEO is eager to move ahead with everything from room renovations to acquiring entertainment and celebrity chefs.
"This marks the next chapter in growth for Caesars and it would not be possible without the help of everyone in the company," he said on Tuesday just before he rang the opening bell at Nasdaq. "Thanks to all of them we are a stronger company today with reduced debt, a continuous improvement culture, strong free cash flows, well capitalized assets and a leadership position in our industry. We are going to get stronger still as we continue to invest in growth."
Big Plans
Growth was a theme of Frissora's talk and while he was vague in some of Caesar's plans he gave clear insight into others.
He said 10,000 Las Vegas hotel rooms are currently being renovated and there are plans to recruit more celebrity chefs and musical acts.
They are the No. 3 live entertainment promoter in the city and have performers such as Jennifer Lopez, Celine Dion, Elton John and Britney Spears all under contract. The duo of Penn and Teller play at the Rio and are the second highest paid magicians in the city at $31.5 million annually.
Another plan that was announced was the continuing efforts to build a 300,000-square-foot convention facility in what currently is a parking lot next to the High Roller.
Other developments that weren't specified but are on the drawing board include seven acres in front of Caesars Palace, 39 acres adjacent to The Linq and about 50 acres near Bally's, Paris and Planet Hollywood.
The company also has the goal of expanding more outside of the US. Frissora said there are intentions for new resorts in South Korea, Japan and Brazil.
Affected by Route 91 Shooting
One topic that Frissora reluctantly addressed was the tragic Route 91 shooting on October 1. Though it wasn't at a Caesars property, but at the MGM Resorts owned Mandalay Bay, he said everyone in town has been affected.
"It's fair to say we are cautiously optimistic about the rebound and think the occupancy rates across the Strip took a little hit the first day and week," he said. "But every day seems to change and improve. The meeting business is solid. There have been no cancellations for the year."
There has been a drop in visitors from Asian countries but he said they expect that to pick up soon.
"The biggest impact has been in Asian play," he said. "It has been less because people in Asia are very respectful of the deaths that have occurred and believe there should be a period of mourning."
Similar Guides On This Topic
Latest Casino Stocks:
Retrieving stocks data...
Retrieving stocks data...
Retrieving stocks data...
Retrieving stocks data...
Retrieving stocks data...