Billy Walters, Convicted Insider Trader/Sports Bettor, Alleges Phil Mickelson Bet $1B on Sports
Posted on: August 10, 2023, 03:53h.
Last updated on: August 11, 2023, 11:49h.
Billy Walters, 77, the so-called "Michael Jordan of sports betting" in Las Vegas who claims to have endured a 36-year run of beating the books, got out of prison during the COVID-19 pandemic and began penning his memoir.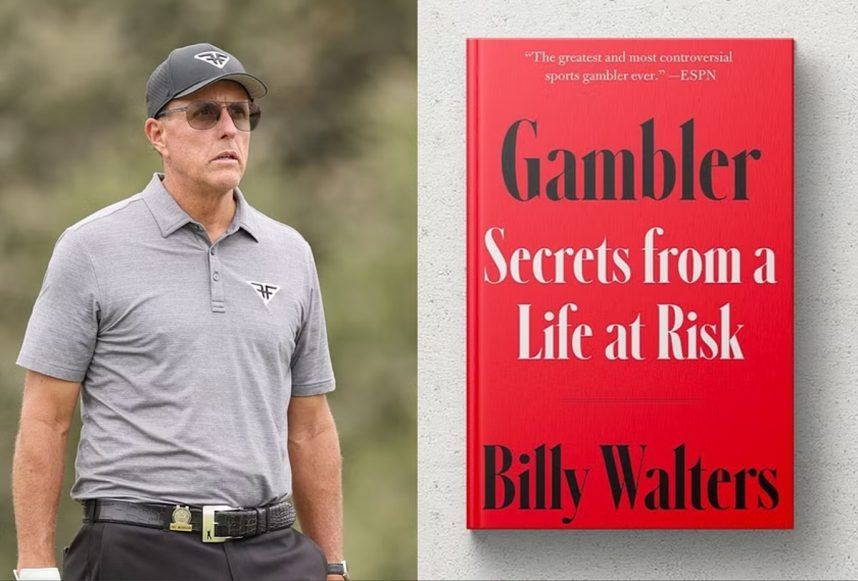 That autobiography, Gambler: Secrets From a Life of Risk,is set for release on August 22. The highly anticipated, self-written account of Walters' lengthy history of betting big on sports with any bookie who would take his action also details one of his closest and most controversial relationships, golf superstar Phil Mickelson.
Mickelson, a six-time major winner, was brought into Walters' insider trading scandal in 2017 after federal investigators determined he used confidential information on Dean Foods to profit nearly $1 million on the dairy conglomerate's publicly traded stock in 2010. Walters was found to have used inside information supplied to him by Tom Davis, then-chairman of Dean Foods.
Davis was reportedly a client of Walters' sports betting ring and became indebted to him. He attempted to pay his debts by providing Walters with information on Dean Foods, which the Las Vegas businessman used to make $43 million in profits.
Mickelson ultimately forfeited the $931K he made on Dean Foods and said he must be more "responsible" in deciding whom he "associates with." The U.S. Justice Department decided not to pursue charges against the 45-time PGA Tour winner.
Mickelson's a Whale, Walters Alleges
Mickelson and Walters reportedly enjoyed a long friendship and played golf often in Las Vegas. Mickelson has also long had a reputation among colleagues on Tour for gambling during practice rounds before he jumped for LIV Golf in 2022.
In his new book, Walters sheds some light on Mickelson's alleged betting behavior.
Based on our relationship and what I've since learned from others, Phil's gambling losses approached not $40 million, as has been previously reported, but much closer to $100 million. In all, he wagered a total of more than $1 billion during the past three decades," Walters wrote in an excerpt obtained by the Associated Press.
The convicted insider trader alleges that his detailed records, and records provided by other sources, show that Mickelson bet more than $100K nearly 2,000 times between 2010 and 2014 alone. Walters writes that most of Mickelson's action was handled by offshore sportsbooks, which are unregulated and illegal for US players to use.
"The only other person I know who surpassed that kind of volume is me," Walters claims.
Walters says Mickelson called him from the 2012 Ryder Cup at Medinah outside Chicago, asking him to place a $400K bet on the U.S. winning after his offshore book refused the wager.
"I could not believe what I was hearing," Walters writes. "'Have your lost your mind?' I asked him. 'Don't you remember what happened to Pete Rose?'"
Walters' Retaliation
Billy Walters' friendship with Mickelson is no more, as the convicted insider trader says he was disappointed in how "Lefty," as Mickelson has been affectionately known by his throngs of fans, handled the federal probe. Walters specifically writes that Mickelson's denial of knowing that the Dean Foods information constituted insider trading was upsetting.
All Phil had to do was publicly say it. He refused," Walters alleges. "The outcome cost me my freedom, tens of millions of dollars and a heartbreak I still struggle with daily."
"While I was in prison, my daughter committed suicide — I still believe I could have saved her if I'd been on the outside," Walters said.