Bally's Chicago Temporary Casino Welcomes 83K Guests, Wins $7.6M in First Full Month
Posted on: November 10, 2023, 12:17h.
Last updated on: November 14, 2023, 08:53h.
Bally's Chicago opened on September 9 to much fanfare inside the landmark Medinah Temple in the River North neighborhood.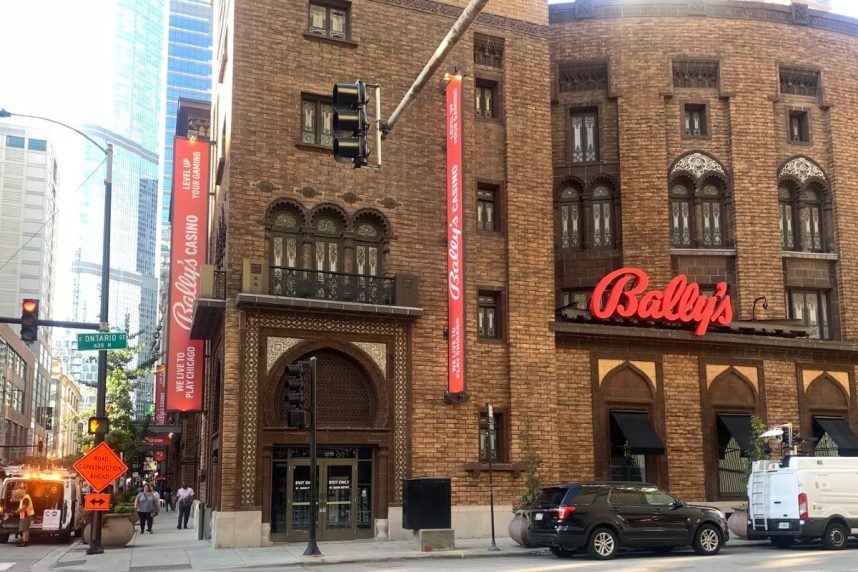 The casino won over $6.67 million during its 24 initial days in September, with more than 80K visitors entering the temporary gaming facility featuring 800 slot machines and 56 live dealer table games. The 34,000-square-foot venue additionally features three full-service restaurants and two bars.
Following the casino's first three weeks, the hype naturally subdued in October. According to data from the Illinois Gaming Control Board (IGCB), Bally's Chicago generated gross gaming revenue of a little more than $7.6 million last month. During the 31 operating days, the casino welcomed 83,113 visitors or 2,681 patrons daily.
The Medinah Temple was never a mosque but opened in 1912 as an ornate auditorium with seating for about 4,200 people on three levels. The space was gutted and transformed into a retail complex in 2000. Bloomingdale's occupied the space until it vacated the Medinah Temple during the COVID-19 pandemic.
The temporary Bally's Chicago will be replaced by the $1.7 billion permanent integrated casino resort scheduled to open in the coming years.
Construction on the permanent resort located at 777 W. Chicago Avenue at the Freedom Center in the River West neighborhood is expected to begin next summer and take two years to complete. Tribune Publishing has occupied the 30-acre site but is relocating its printing plant for the Chicago Tribune and Chicago-Sun Times by July 2024.
Promotions Keep Casino Busy
In October, Bally's Chicago won about $245,446 on its casino floor daily. That's down nearly 12% from the roughly $278,267 generated in GGR each day in September when the opening excitement spiked interest in the Windy City's newest entertainment attraction.
During Bally's Corporation's third-quarter earnings call this month, Bally's Corp. President George Papanier said the "soft launch" of the company's temporary casino in Chicago was a success. Papanier explained that the casino's official ribbon-cutting ceremony was held on October 3, and marketing and promotional deployments will soon increase revenue.
The Bally's boss said the company opened the temporary casino under budget despite a three-month delay because of regulatory sign-off. Papanier expects gaming revenue to increase with better incentives once the casino goes 24/7. The casino is currently open 8 a.m. to 4 a.m. daily.
"We expect to start operating 24 hours per day soon, pending regulatory approval. In conjunction, we plan to implement our core marketing campaign to increase the frequency of visits that will capitalize on a rapidly growing database," Papanier said.
"With the continued ramping of this property, we remain confident in our financial expectations to generate approximately $50 million-plus of annual adjusted EBITDAR," he added.
City Tax Benefit
Illinois lawmakers and Gov. JB Pritzker (D) expanded gaming in 2019 by approving a downtown Chicago integrated resort casino and five smaller casinos in the Chicago suburbs. The legislation was designed to generate new state and city tax revenue, with the latter supposed to be used to bridge severe funding gaps in the city's pension program for its police and firefighters.
During its first 55 days in business, Bally's Chicago created nearly $3.3 million in state and local tax revenue. Chicago's share was almost $1.5 million.