Ameristar Indiana Casino Using 2015 Law to Move Slots, Games to Dry Land
Posted on: November 21, 2017, 06:00h.
Last updated on: November 21, 2017, 03:38h.
Pinnacle Entertainment's Ameristar Casino is coming ashore, or at least some of its slot machines and table games are moving to land.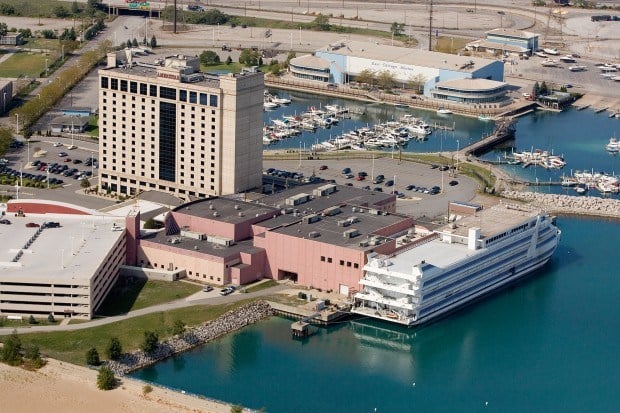 The East Chicago, Indiana casino is the first in the Lake Michigan area to take advantage of a 2015 law that permits the state's permanently moored casino boats to move on land adjacent to their docks. The Casino Aztar, located on the Ohio River near Evansville and the first to casino in the state to open back in 1995, closed in October to make way for a $50 million resort.
The Ameristar facility, like Tropicana Evansville, had to get approval from the Indiana Gaming Commission, which it received last Thursday by a unanimous vote. Executives are now planning on spending $5.8 million to renovate the space that is currently used for restaurants located at a dockside pavilion. The vessel rests on the shore of Lake Michigan. They are part of nine riverboat venues allowed when the state legalized gambling in 1993.
It will take approximately six months to complete the renovation, which is expected to be finished in mid-April. The plan calls for 95 high-limit slots, 14 high-limit table games and dedicated high-limit amenities, including a casino cage, rewards center, food, beverages and restrooms.
Move Made Sense
Ameristar vice president and general manager Matt Schuffert told the Times of Northwest Indiana that it will increase the current 58,000 square feet of gaming space.
"It's going to create a new gaming experience in Northwest Indiana that folks haven't experienced yet," he said. "By relocating high-limit slots and tables off of the boat onto land, that frees up space, and we'll add additional gaming product to that."
Schuffert added that by moving the high roller area from its previous location, the gaming operator will be able to accommodate more than the 1,700 slot machines and 70 table games it currently hosts.
Tropicana First to Seek Land
When the law was passed two years ago, officials at Casino Aztar wasted no time making the transition. The plans called for a $50 million casino to be built by their existing hotels. On July 18, 2016, they broke ground and opened 15 months later on Oct. 20.
Being in the southern part of Indiana, the casino attracts visitors from Tennessee and Kentucky as well. Nashville is a little over two hours away and Louisville is 120 miles.
The opening attracted politicians from the state, as well as Miami Marlins Manager Don Mattingly. There are around 700 employees, most of who came from the old facility, including 52 who had been with Casino Aztar since its opening on Dec. 8, 1995.
The old riverboat will sail down the Ohio River to the Mississippi River to its eventual home in New Orleans, where it will become a floating Louis Armstrong jazz club/restaurant/memorial in the Crescent City.
Schuffert said the riverboat will stay for now and told the Times of Northwest Indiana there are no plans to replace it.
"This is an initial step to see how our guests react to it," he said. "Obviously to bring the entire facility on land is a pretty large investment."
East Chicago, Indiana is 25 miles from Chicago, Illinois.