Alon Las Vegas Still a Go Despite James Packer's Crown Sell-off
Posted on: August 31, 2016, 02:00h.
Last updated on: August 31, 2016, 09:41h.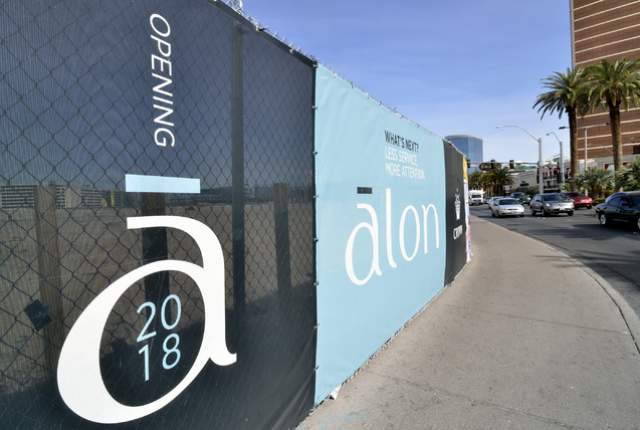 Alon Las Vegas will still be built across from Wynn Encore on the Strip.
The planned $2 billion resort and casino has been in development for more than a year, but this week Alon executive Andrew Pascal dispelled rumors that the project was on indefinite hold.
Located on 35 acres where the New Frontier Hotel and Casino stood for 65 years before being demolished in 2007, Alon Las Vegas has still yet to break ground.
Australia's Crown Resorts and Los Angeles-based asset firm Oaktree Capital Management bought the vacant parcel of land in 2014 for a reported price of $260 million, or $7.4 million per acre.
Two years later and not a shovel's worth of dirt moved, Pascal says Alon's progress has been slower than expected, but it's still moving forward.
"The project hasn't been suspended and the financing is complicated because it's a multibillion-dollar greenfield development," Pascal told the Las Vegas Review-Journal.
Unlike some Vegas resorts, early Alon blueprints called for considerable outdoor green space between two hotel towers. With a total of 1,100 rooms, Alon is expected to feature villas, pool, event lawn, and a public park.
Packer Goes Packing
Billionaire James Packer recently unloaded 35 million shares of Crown Resorts for $338 million. The Aussie founded the gaming and hospitality group in 2007, but today he owns less than 50 percent of the company.
Engaged to superstar Mariah Carey, who is currently performing a residency show at The Colosseum in Vegas, reportedly made the Crown withdrawal to pay his sister Gretel. James and Gretel only recently came to terms on the inheritance from their father's fortune who passed away in 2005.
Gretel turned 50-years-old this week and held an A-list celebration in Sydney, but James and Carey were both nowhere to be found.
Packer now has no official role with Crown Resorts. He resigned as chairman and no longer serves in any executive capacity.
Speculation has risen that the remaining Crown leadership might not be as interested in Vegas as Packer. But the only insight on that hearsay is from Pascal, who claims all is fine in the Mojave Desert.
Northern Exposure
The northern part of the famed Las Vegas Strip has encountered plenty of red lights following the economic recession.
It took SLS Las Vegas more than three years to convert the Sahara into a modern resort. Iranian-American businessman Sam Nazarian originally partnered with Stockbridge Real Estate Group to transform the Sahara.
The venue struggled to find its niche in the early going after opening in August of 2014 and lost $35.3 million in its first quarter. Nazarian got out, and Stockbridge now runs the resort with Hilton Worldwide and Starwood Hotels.
Just down the street, the $7 billion Resorts World is dragging its feet, and many wonder if the Genting Group facility will ever actually be built.
Directly across Las Vegas Boulevard from the Resorts lot once stood the iconic Riviera. The Riv, as it was affectionately known, was demolished this summer.
As for now, Alon certainly deserves to be recognized on the list of recent north Strip eyesores.