Abbott Proposed Legislation Would Scrap Australian Gambling Reforms
Posted on: December 11, 2013, 05:30h.
Last updated on: December 10, 2013, 04:51h.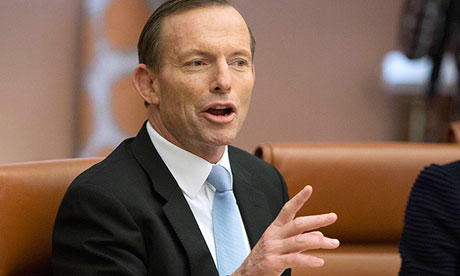 When Australian legislators eventually agreed on a watered-down version of gambling reforms last year, there were plenty of critics saying that the moves were barely better than doing nothing at all. Now, the new government seems set to test that theory, as they've proposed doing away with even the modest changes that the reforms would have put into place in the coming years.
Two Steps Back
The Liberal Party was never a fan of poker machine (also called pokies, or slot machines in the United States) reform, and so it comes as little surprise that new Prime Minister Tony Abbott would move to roll back the legislation passed last year under the Gillard government and the Labor Party last year. The fact that it's one of the first things on the agenda, however, has come as something of a surprise, even to his critics.
"That one of the Abbott Government's first bills gives the pokies industry everything it wants, at the expense of vulnerable families, tells you everything you need to know about this government," said Greens Senator and avid gaming foe Richard Di Natale.
The proposed bill would strip away virtually all of the reforms that were passed last year. The most notable of those would be a requirement that all new poker machines be capable of supporting a voluntary pre-commitment scheme by 2018, which would allow – but not require – players to preset limits on how much they could lose before the machines would stop allowing them to play.
The bill would also roll back plans to create a national gambling regulator to oversee the industry, as well as the taxes that would have funded that office. It will also remove a requirement that ATM machines in non-casino gambling venues limit withdrawals to $250 a day, and would scrap a trial of mandatory pre-commitment technology that was planned in the Australian Capital Territory.
There's certainly evidence that at least some of these reforms would have helped minimize harm from problem gambling. For instance, a state-level reform in Victoria that put limits on ATM withdrawals in gambling venues had been successful in reducing the amount of money spent by problem gamblers and players in general, with problem gamblers spending about $90 less per visit at hotels that housed pokies.
Federal vs. State-by-State Approach
However, some government officials believe that these results actually validated their approach.
"Primarily this is a state responsibility and we're returning it to the state," said Social Services Minister Kevin Andrews.
However, there's no guarantee as of yet that this will pass. The Greens are already saying they will vote against the measure, and if Labor gets on board with them, they'll have the votes to stop the change. Senator Di Natale urged Labor MPs to do just that.
"Please, please stand for something," he said. "It's important legislation; it was very hard fought, it was weaker than what all of us here would have liked but it was something, finally having the Australian government in the space of regulating poker machines which do so much damage to our community."
According to Labor officials, the party is still considering their decision on where to stand on the proposed legislation. A spokesman for one prominent Labor Party minister said regardless of how the party ultimately stands on this particular bill, they remain behind "meaningful gambling reform measures."