$1.3 Million Westgate SuperContest Scooped by Briceton Branch Sr., Father of High School Football Star
Posted on: January 5, 2018, 05:00h.
Last updated on: January 5, 2018, 01:58h.
39-year-old Briceton Branch Sr. lived up to his own teenage son's expectations when he beat out more than 2,700 other sports bettors over the course of the NFL season to win the Westgate Las Vegas SuperContest, walking away with the grand prize of $1,327,284.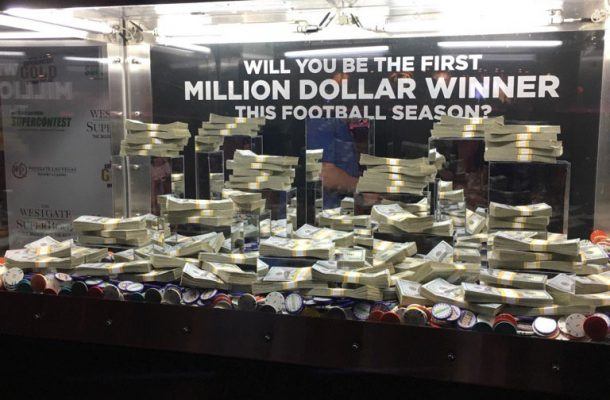 Branch, who won under the entry name of "Grannys Boy," finished the season with a 58-22-5 record, giving him a 1.5 game lead over his closest competitors. The handle is an homage to his foster mother Loretta Frison, who has passed away.
His son is a cornerback at Jesuit High School in Portland, Oregon. Briceton Branch Jr. says he knew his dad had the capability to take the contest down. So did his dad, who told ESPN that he "… knew [he] was going to win."
The SuperContest is a $1,500 buy-in contest in which entrants are required to pick five NFL games against the spread each week. Players get a full point for a correct pick and a half-point for every push, with the top scores taking home prizes at the end of the season.
Mirroring the growth of the World Series of Poker's last decade, the SuperContest has grown exponentially in recent years. What was once a small event jumped to 1,854 entries in 2016, then grew another 50 percent to a record field of 2,748 competitors this past season. That allowed the top prize to grow to more than $1 million for the first time ever.
Eye on the Prize
Branch appeared to fall out of contention early in the season, picking only a single winner in Week 4 to put him four points behind the leaders. But he steadily climbed back, eventually taking the lead in Week 12, after which he never relinquished first place.
Heading into the final week of the season, Branch held a commanding 2.5 point lead over his nearest competitor. A 3-2 record in Week 17 would be enough to clinch his victory, and Branch achieved just that mark, scoring wins with picks on the Detroit Lions, Buffalo Bills, and Atlanta Falcons to hold on down the stretch.
In that interview with ESPN, Branch said that he used a mix of intuition and some secrets he does not want to reveal in his rise to the top of the pack.
"I can just tell you, when I do run my process and pick my teams, I do feel my gut out and I do sleep on them," Branch said. "But as far as what I'm looking for, this and that. I can't speak on that. That's like a million-dollar question."
Branch hopes to use some of the money from his victory to purchase his childhood home in Portland, where he lived with Frison growing up.
Fifty Ways to Win
Two entries tied for second place 1.5 points behind Branch, with entry "Schematic Advantage" taking second place on a tiebreaker over "HowDoIPlay XX."
Each of the top nine finishers won at least $100,000, with the top 50 players taking home prizes starting at $3,792.24. Additional $15,000 prizes were available for the competitors with the best records over the first four weeks, the first eight weeks, and the final three weeks.