Yahtzee: How To Play And How To Increase Your Chances Of Winning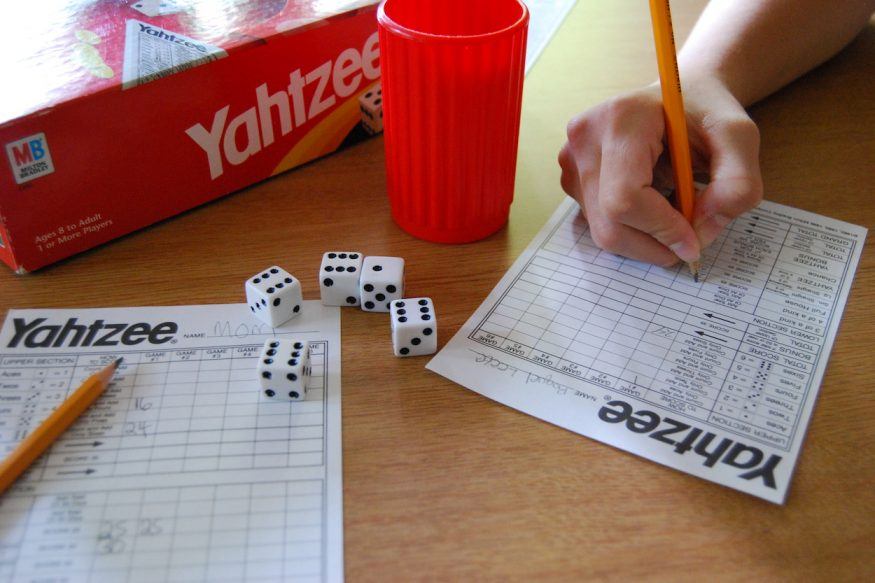 Yahtzee is one of the world's most iconic games. Five dice, a pencil and some scorecards are all you need to enjoy this staple of family game nights, as you try to fill your scorecard and pile up the biggest score possible.
In this article, we'll explain how to play Yahtzee, both offline and online, as well as share a few tips and tricks you can use when you're next battling friends and family in a game of this timeless classic.
Yahtzee: What It Is And Where It Came From
Yahtzee is one of the world's best-loved games, played by millions of families over the past 80 years.
The goal of the game is simple: you just need to roll specific combinations of dice, which are outlined on a Yahtzee scorecard. The more difficult the combo, the higher the score.
At the end, the player with the highest total score is declared the winner!
Yahtzee has been around since the early 1940s, when it was marketed under the name of "Yatzie".
However, in 1956, Edwin S. Lowe – the man also credited with inventing bingo – began to sell it as "Yahtzee".
It was purchased from Lowe in 1973 by the Milton Bradley Company. It is now owned by gaming giant Hasbro, who state that 50 million games are sold around the world every year.
How To Play Yahtzee
The rules of Yahtzee are exceptionally easy to understand. It's suitable for two or more players, although any more than four can make for a long game!
To play, you'll need five dice, a pencil and Yahtzee scorecards.
On each scorecard, you'll find a list of combinations to roll. There are 13 combinations in total, all of which are explained on the scorecards.
You'll also see that there's a 35-point bonus for getting over 63 points in the upper section, plus you can add extra Yahtzees to the lower section, getting 100 points for each one.
To play, you roll the five dice. You're then allowed to re-roll any of the dice you choose.
After the second roll, you'll have your final combination and will fill in one of the sections on the scorecard – if you managed to get a viable combo!
You'll get 13 turns in total, so will need to use a combination of skill and luck to fill in as many combos as possible.
At the end of the game, add the scores together and see which player wins!
Online vs Real Life
Yahtzee is best known as a game played face-to-face by families, however, it's also possible to play Yahtzee online.
So, now it doesn't matter if your friends are thousands of miles away, as you can easily play by hopping online and starting a game.
Got nobody to play against? That's not a problem, as it's also easy to find other Yahtzee fans to play online.
The ability to play Yahtzee from behind a desktop or mobile screen has pros and cons, with the biggest pro being you can play whenever you like, wherever you like.
What's more, you won't have to pay anything to play, as there are many websites where you can play Yahtzee online for free.
However, playing online certainly doesn't offer the same experience as playing face-to-face, as it's not as sociable.
You can't make quick quips to other players about their rolls, and you won't be able to see the smile on another player's face when they roll Yahtzee.
For that personal experience, the game is best played offline.
While convenience is the number one advantage to playing online, there is also another big pro: you won't ever run out of scorecards! I
f you do run into this problem while playing offline, you can find out where to get additional scorecards in the next section.
Where To Get A Yahtzee Scorecard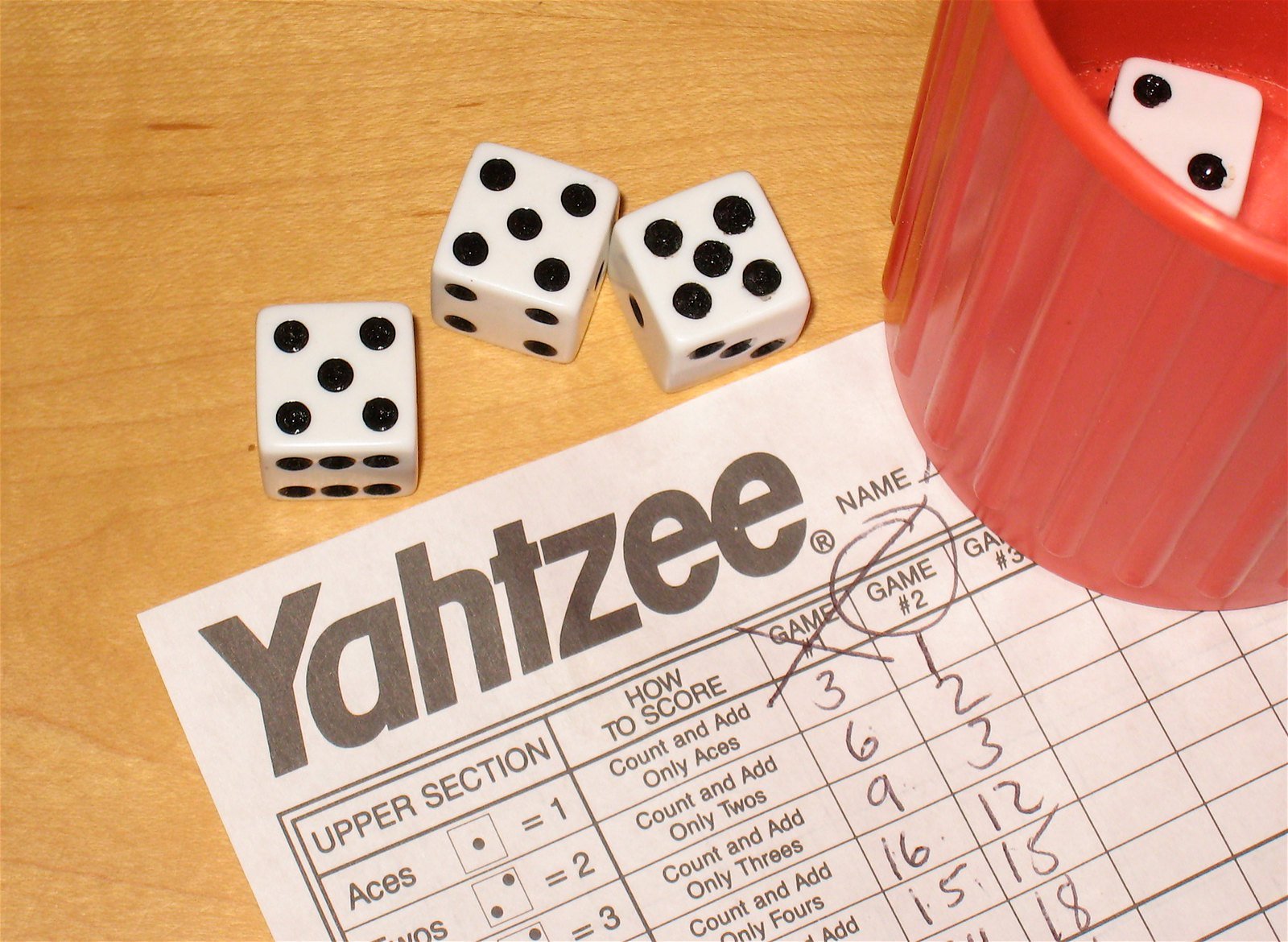 Every avid Yahtzee player has run into this problem: you sit down ready to play, only to realize you've run out of scorecards.
You're then forced to either create your own homemade scorecards, which can be a long and boring process, or postpone the game until another day.
However, getting extra Yahtzee scorecards is now incredibly simple. Just download a Yahtzee score card and then print it off as many times as you want.
Yahtzee Tips And Tricks
Yahtzee is a game that relies a lot on luck, but there is also an element of skill to the gameplay too. Here are five tips to improve your Yahtzee strategy:
Always try to get the bonus of 35 points by scoring 63 points or more in the upper section. This is best achieved by maximizing on the number of fives and sixes you can roll.
If you get four-of-a-kind with any number, use the score in the upper section and not in the four-of-a-kind box. This will help you get the 35-point bonus.
Rolled a bad combination and don't want to or can't use your chance? If so, sacrifice the aces box in the upper section, as it only offers a maximum of six points.
Don't use your chance box too early, as you'll need it later in the game, when getting combinations will be tougher. Aim for a score of 25+ in the chance box.
If you've already got Yahtzee, don't turn down the chance to roll it again, as additional Yahtzees count as 100 points each.
Of course, the number one tip when playing Yahtzee? It's to have fun, just like people have been doing for 80 years.
Yahtzee: Fun Times Guaranteed
It's no surprise that Yahtzee is one of the world's most popular games. Not only does it offer excitement with every roll, but it's suitable for players of all ages, from five-year-olds to their grandparents.
It's also exceptionally easy to play, so even complete newbies will be rolling with confidence after a few minutes.
If you want to try a more challenging game instead, check out our post on the hardest games to master!