The Most Outrageous Dennis Rodman Stories Ever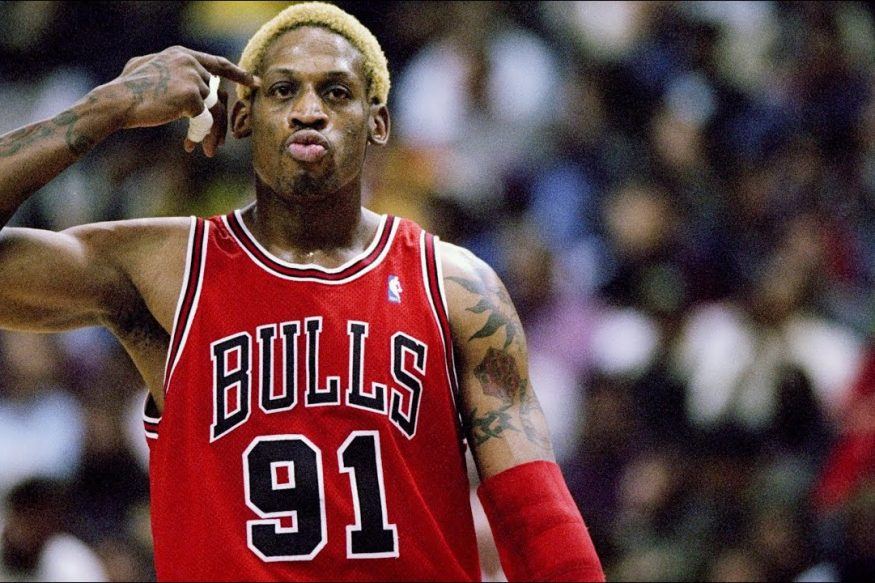 Ah, Dennis Rodman.
For NBA fans and beyond, the blockbuster basketball superstar is a gift that keeps on giving.
Now aged 59, and with his milestone 60th birthday arriving in May 2021, the complicated and controversial former power forward still hits the headlines for all kinds of reasons. Even though he finally hung up his boots for good around 15 years ago.
Although the ex-Chicago Bulls and Detroit Pistons player's wildest days appear to be behind him, the internet still searches for, and laps up, the most outrageous Dennis Rodman stories.
So to celebrate the man, the myth, the legend and, of course the great hall-of-famer, we've compiled a list of Rodman's most memorable news clippings.
It's been a wild ride.
Rodman vs The Referee, Rodman vs The Mascot And Rodman vs The Cameraman
Maybe using 'vs' in the subtitle is misleading. As far as we know, none of these folks fought back.
Some of Rodman's most infamous incidents were actually on-court.
First up, back in 1996 the athlete notoriously head-butted an NBA ref after being given his marching orders, which was followed by a bust-up with some bins. He was fined over $200,000 for the trouble.
But that's not all.
Rodman also took his ire out on an NBA mascot in a pre-season game. San Antonio Spurs' coyote was the mascot in question, who also received a headbutt.
Rodman let his temper get the better of him during a live game, too.
This time a cameraman felt his wrath, taking a powerful kick to the groin that knocked him out and landed him in hospital.
This time Rodman paid the price with an 11-game unpaid suspension, a £25,000 fine and $200,000 in compensation.
Rodman Turns Up Late After Fixing His Hair
Classed as an NBA style icon, Rodman took care over his appearance and fashion choices.
This was best shown when the power forward turned up 30 minutes late to the grand opening of a basketball stadium because he'd been bleaching his hair.
The stadium in question was the Alamodome, where Rodman was expected to do drills for media.
But it turns out his late arrival went down a storm anyway.
Rodman Appears With Pearl Jam
It's unsurprising that Rodman also knows how to rock.
Said to be good pals with Pearl Jam's Eddie Vedder, 'the Worm' memorably took to the stage with the beloved US band in Dallas, 1998.
You can still see video footage of a shirtless and shoeless Rodman joining the musicians on stage for a shoulder ride and, erm, jam. Although they eventually cut his mic.
Other stories about his friendship with the band have since been revealed.
And Rodman even credited the band's song 'Black' with helping him get through tough times.
Rodman And Madonna
The apparent two-month romantic relationship between one of the kings of the court and the 'Queen of Pop' was always going to be media gold.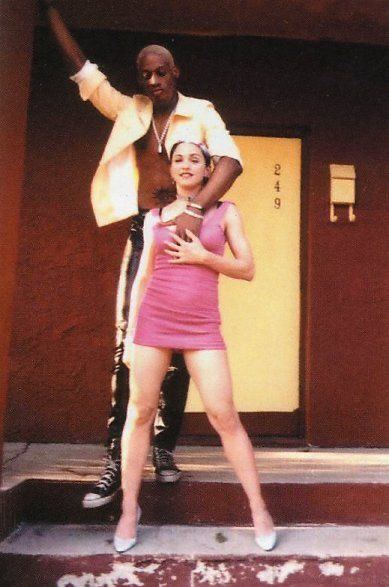 And Rodman has hardly kept his silence since the two stopped dating in the 90s.
One of Rodman's most 'outrageous' revelations was his claim that the singer/movie star once offered him $20 million to impregnate her.
It's worth noting, however, that Madonna denies this.
Rodman has also claimed Madonna locked him in her hotel room, and that she once appeared post-NBA game in his locker room, uninvited.
We think we'll take all of these with a pinch of salt!
Rodman And North Korea
You've probably already heard this one. But we'll revisit it again.
Rodman has famously traveled multiple times to one unlikely destination…
Having first reportedly made the trip to North Korea in 2013 to host basketball exhibitions, Rodman is said to have developed good relations with leader and apparent b'ball fan, Kim Jong-un.
Further trips followed, including reported controversy over Rodman's political statements, US prisoners and the basketball star's luxury gifts for Kim.
His efforts even earned the term 'hoops diplomacy'…
Rodman The Wrestler
In 1997, despite being at the height of his NBA powers, Rodman also took a fancy to the wrestling ring.
All was well. That is until 1998, when pay-per-view action clashed with the Bulls' NBA Finals prep.
So what did 'the Worm' choose? To skip practice, of course, and team up with another 90s icon, Hulk Hogan.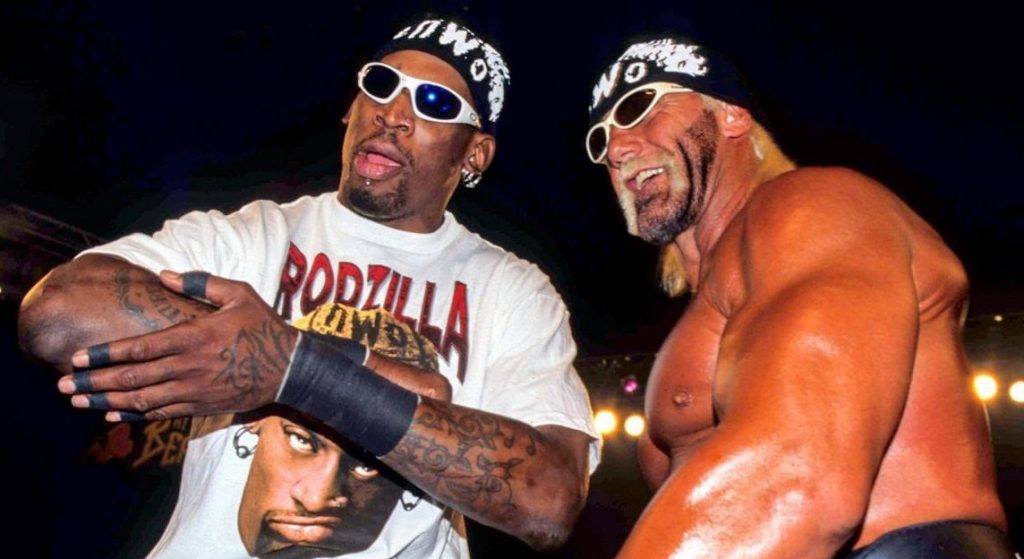 Thankfully, playing hooky with Hogan didn't impact his basketball game.
Rodman And Carmen Electra Go AWOL
Given an inch — 48 hours off from the Bulls — Rodman famously decided to run a mile.
After taking off for fun times in Las Vegas for over four days with then-girlfriend Carmen Electra, the partying eventually had to be put to a stop by none other than Michael Jordan.
Legend has it that MJ turned investigator, tracking his wayward teammate to his hotel and physically dragging him out of bed.
Rodman eventually went on to marry Electra, briefly, and they famously got up to no good on the hallowed Bulls' training turf, too.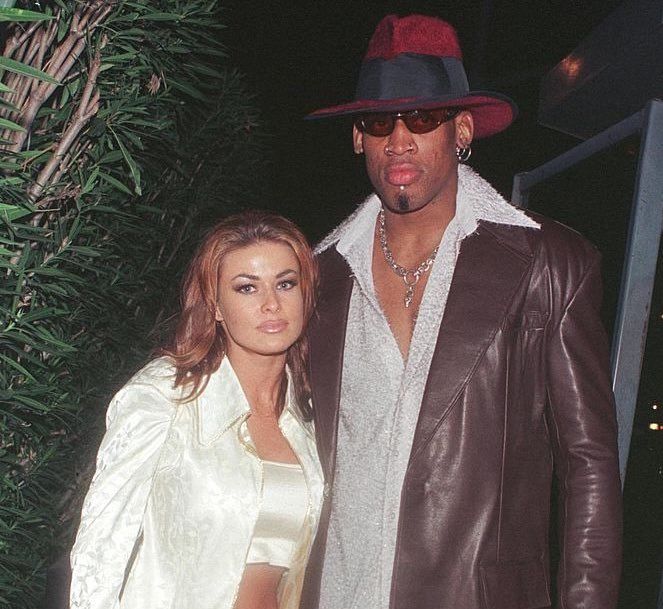 Rodman And The Radio Incident
It's also reported that former rebounder and defensive star Rodman once called into a radio station while he was receiving oral sex.
Having called up the Miami station to talk about basketball, Rodman apparently insinuated that he was multi-tasking in a more than inappropriate way.
Listeners certainly got more than they bargained for.
Where Is Dennis Rodman Now?
Rodman has been retired from basketball since 2006, when he was last seen shooting hoops for Brighton Bears.
And what about Rodman's wife and kids? Rodman's been married and divorced three times.
His first marriage in 1992 lasted just 82 days, while his second marriage to model Electra almost ended after nine days but ultimately stretched from 1998 to 1999.
His most recent marriage took place in 2003, before being officially dissolved in 2012.
Rodman also has three children, including 18-year-old Trinity Rodman who recently made history as the youngest player ever to be drafted in the history of the National Women's Soccer League.
The most well-known Dennis Rodman documentary, where you can catch up on his life pre, during and post-court, is 2009's Rodman: For Better or Worse.
But you can also catch old school footage of him in the 2020 Netflix smash, The Last Dance. Focusing on the history-making Bulls of the 90s and in particular MJ, there's still more than a little screen time dedicated to the legendary Rodman.
But how much is Dennis Rodman worth now? Having once netted millions per season for the Bulls, and apparently an overall $27 million salary over his NBA career, he famously went broke.
But now it's said the star has a net worth of $500,000.
Still not bad!
Lead image: YouTube