Hell's Kitchen at Caesars Palace is a Qualified Success
Our favorite celebrity chef, Gordon Ramsay, has another Las Vegas hit on his hands.
Hell's Kitchen is currently one of the hottest restaurants in Sin City, so we had to check it out.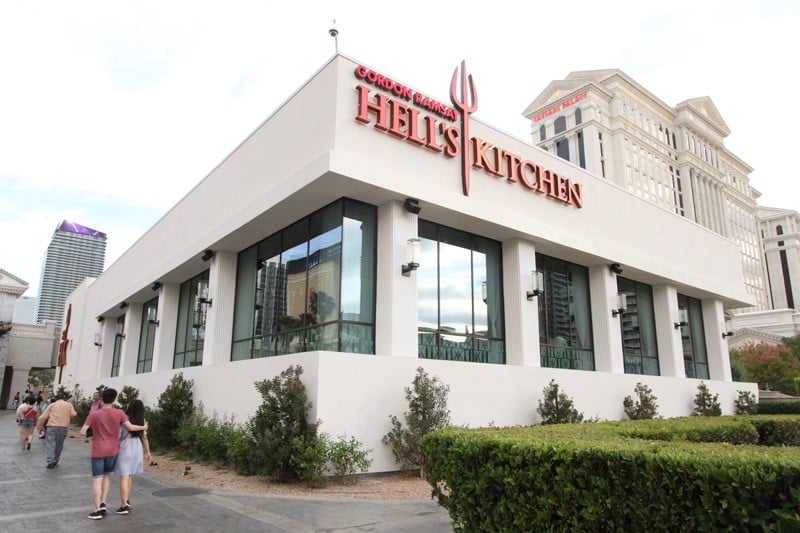 Hell's Kitchen opened at Caesars Palace on Jan. 26, 2018, and was an immediate hit. The restaurant claimed to have received 12,000 reservations in 10 days.
In restaurant parlance: That's a metric hell-ton.
So, why are we saying it's a "qualifed" success, rather than an "unqualified" one? Well, to be honest, we didn't really get it.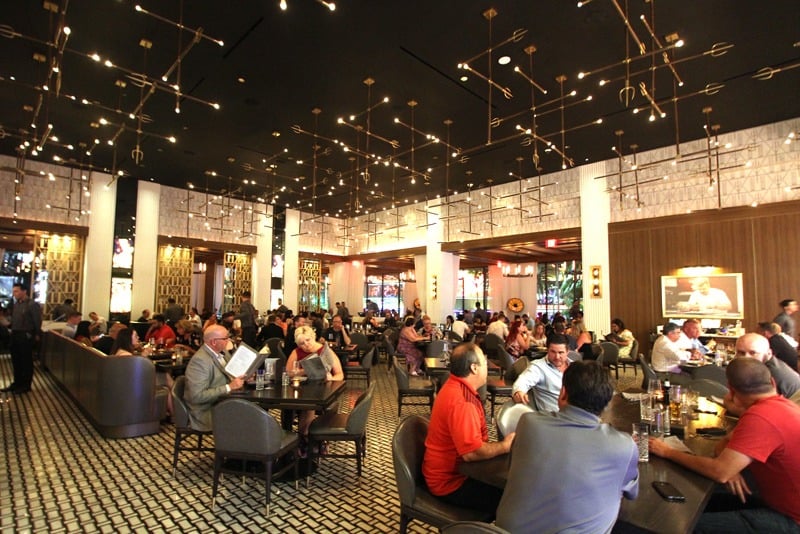 First, the place is really, really loud.
Hell's Kitchen moved into the former Serendipity 3 restaurant space, and it's pretty much a big, square box. You know, like a speaker box. The place is packed, so the sound reverberates, and you end up having to shout throughout your meal.
Some people enjoy that cacophony in restaurants, as it can create a feeling of high energy and excitement. We are not one of those people.
A minor quibble at the start of our meal: It was odd when our waiter informed us we couldn't order our appetizers unless we knew our whole order. It made the evening feel like we were there for the convenience of the restaurant staff, rather than the other way around.
Next, while Hell's Kitchen restaurant was inspired by one of our favorite reality shows, wait for it, "Hell's Kitchen," there wasn't too much of "Hell's Kitchen" to be found.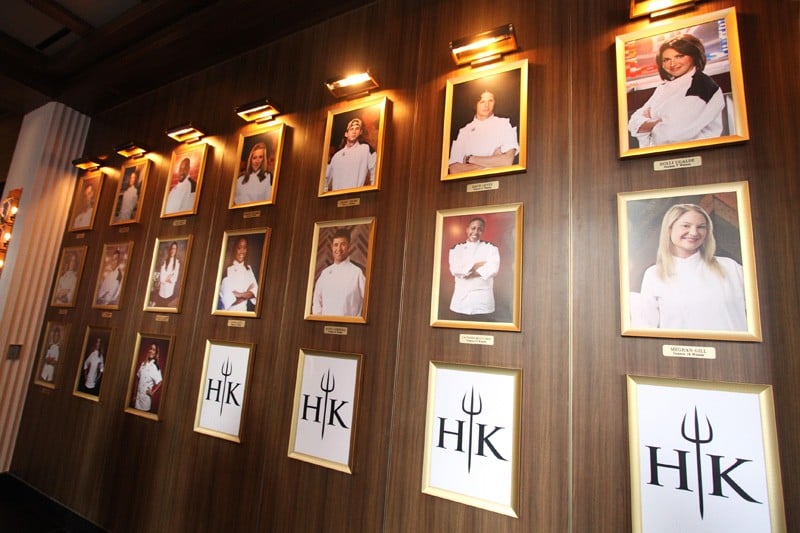 Yes, the walls of the show kitchen are half red and half blue, and there are lots of pitchforks to be found, that's about it.
There's no real tie-in to the show, other than as a marketing hook.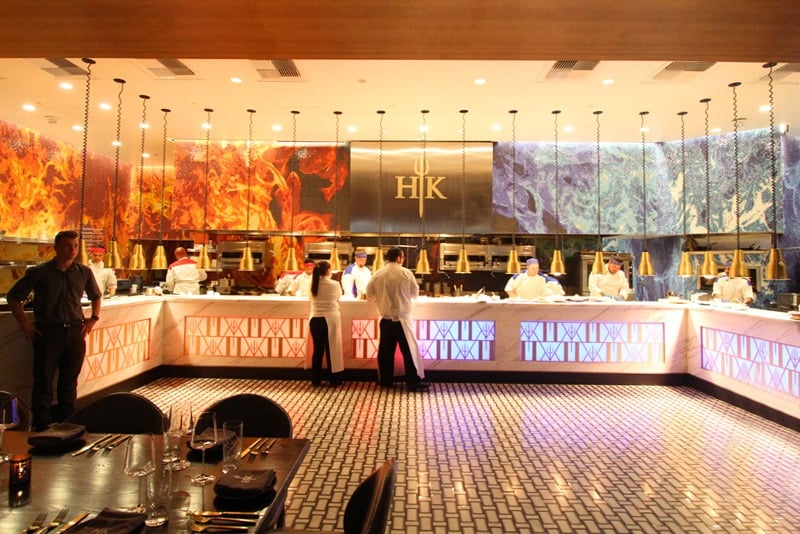 Our real issue, though, was with the food and drink. (We'll resist grumbling about the fact the menu looked like it was produced by a printer running out of ink. Well, sort of resist.)
The bottom line: The food and drinks were good, not great.
Let's start with a cocktail, as most nights out in Las Vegas do.
We tried the Meet Your Maker ($15), with Maker's Mark bourbon, Domaine de Canton ginger liqueur, mint, apple, strawberry and cinnamon. It was perfectly acceptable.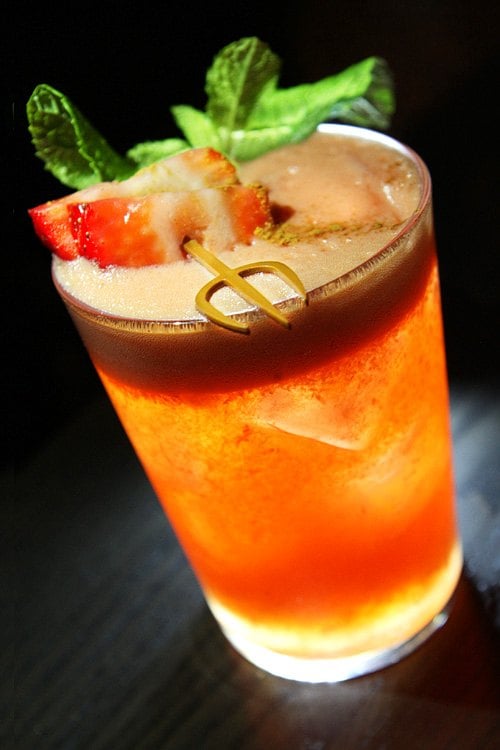 Next up, the Wagyu meatballs ($18), featuring slow-roasted tomato sauce, polenta croutons, parmesan cheese and basil. The meatballs, too, were passable, but nothing to write home about.
Oh, who are we kidding? Nobody actually writes home anymore, but you know what we mean.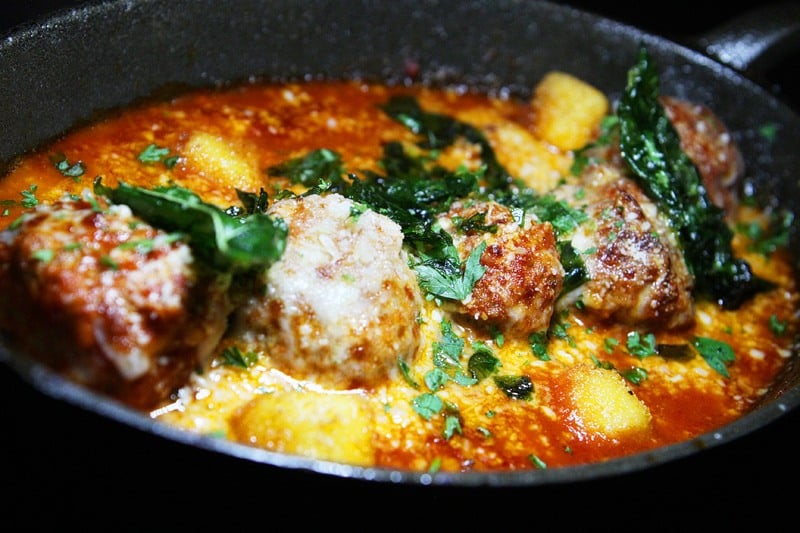 Time for the entrees!
While we didn't try Gordon Ramsay's most famous dish, the Beef Wellington ($49), our new friends at the next table did and they raved about it.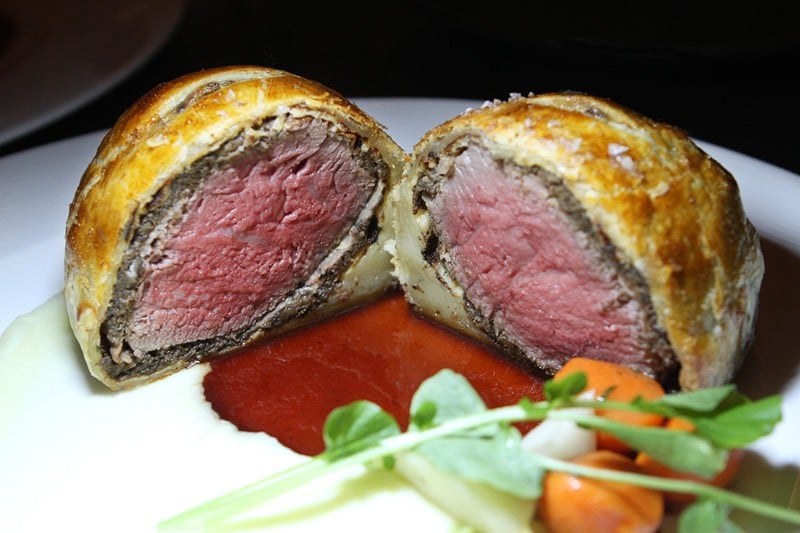 We ordered the filet mignon (eight ounces for $47), and it seemed to be prepared properly. Not especially flavorful. Not awful. Just there.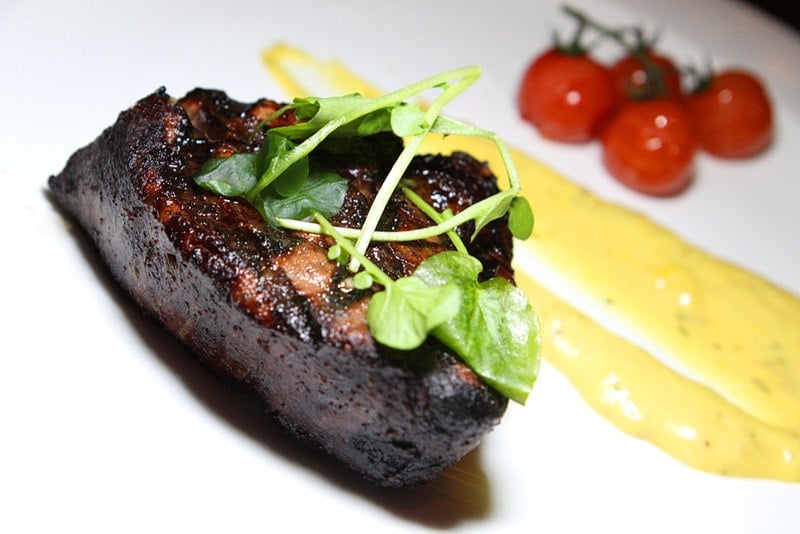 Same for the roasted rack of lamb ($39). It was entirely adequate.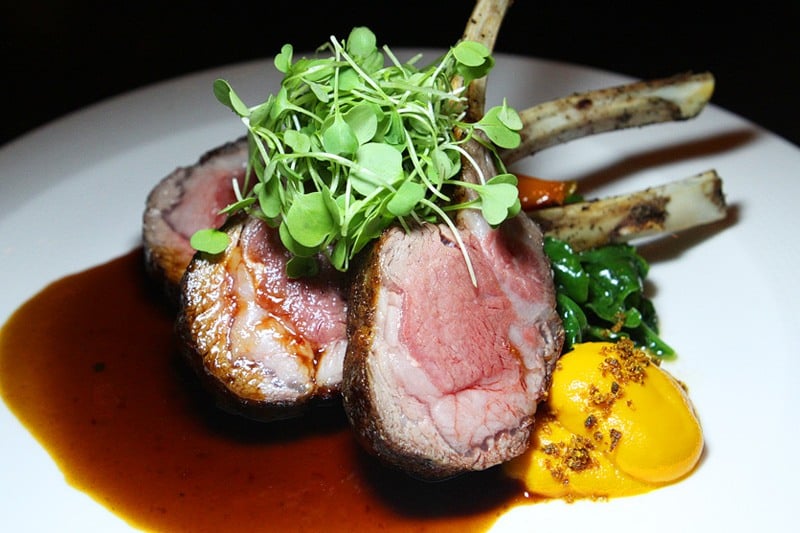 You can check out the full Hell's Kitchen menu on the restaurant's official Web site.
Again, we don't claim to be a food critic. Hell's Kitchen is a smash.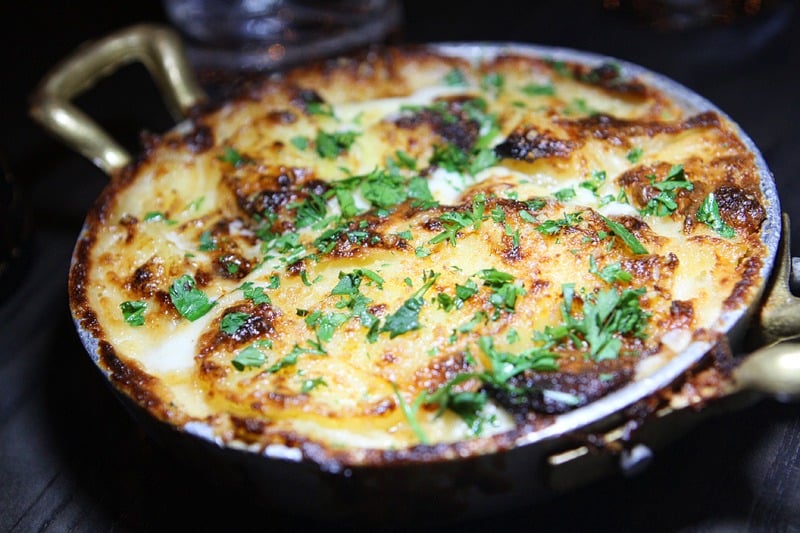 Let's talk about some bright spots at Hell's Kitchen.
The service was top-notch. Friendly, knowledgeable servers were attentive without being intrusive.
Also, the restaurant has a bar. Always a good thing.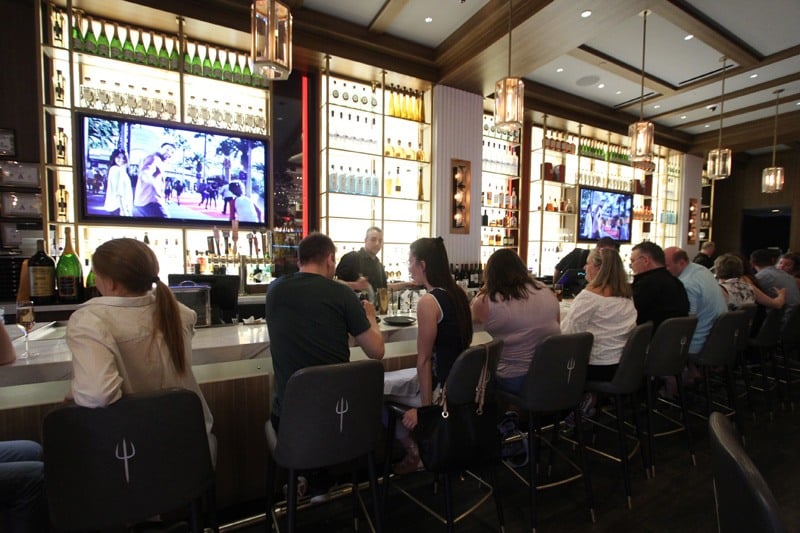 There's also a life-size video of Gordon Ramsay that greets guests as they arrive. We are a fan of the chef, so that was fun.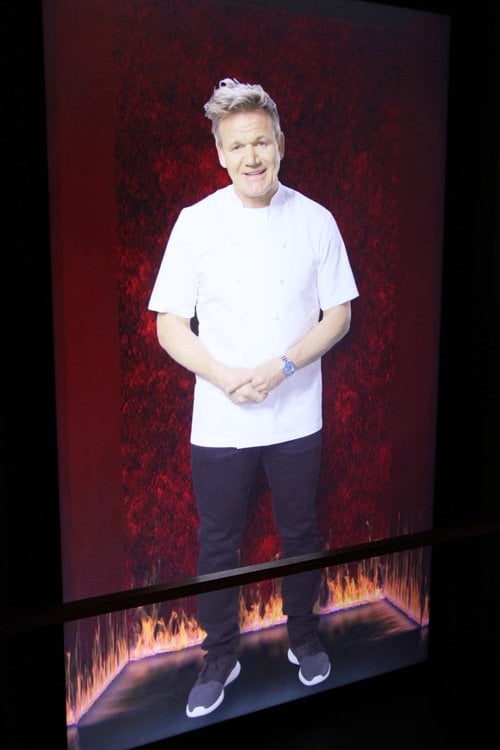 We hesitated about dessert, so the waiter brought one, anyway. A gratis dessert is a wonderful way to make a good impression.
The sticky toffee pudding ($9) was selling like crazy, so people obviously liked it. Other people.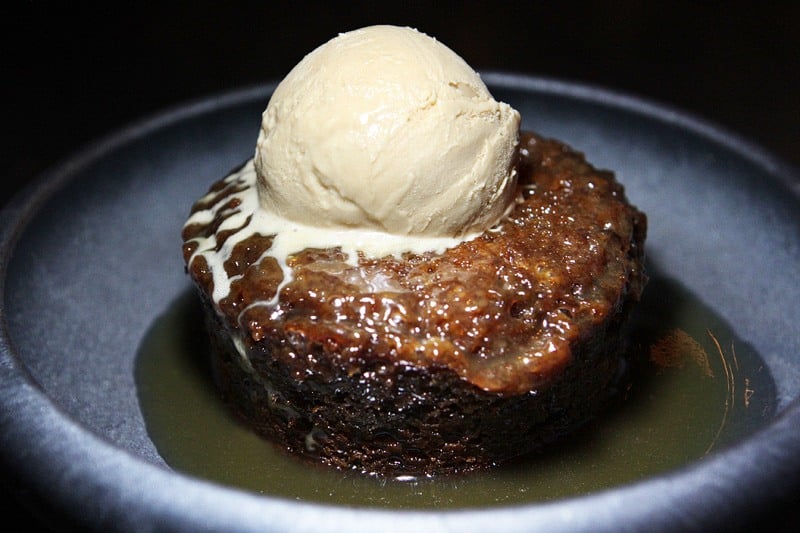 Another positive: While the prices are steep at Hell's Kitchen, they don't seem outrageous. After all, Caesars has to pay Gordon Ramsay his five percent commission on gross sales (it's six percent if sales top $15 million a year).
Ultimately, Hell's Kitchen was worth a visit, just to see what all the buzz is about.
The place is getting solid reviews on Yelp, with much of the criticism related to the experience not living up to the hype.
Our bottom line is that "good, not great" doesn't really fly on the Las Vegas Strip, especially at these elevated prices.
Still, lots of Las Vegas visitors are going to check out a new restaurant no matter what they read in blogs. Have at it!
If you have limited resources, though, drop by Hell's Kitchen for a photo op, then make your way to one of the exceptional restaurants nearby that's more worthy of your time and money.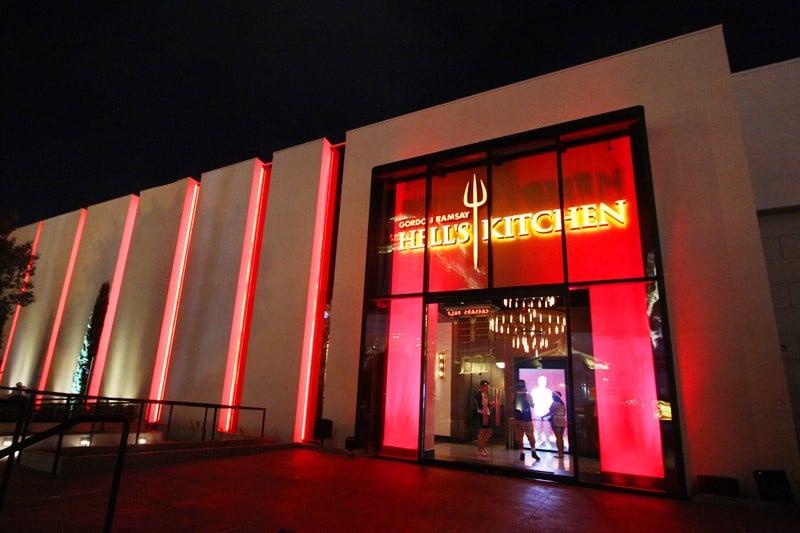 If you're a Gordon Ramsay fan, head to Paris Las Vegas for Gordon Ramsay Steak.
Even his Gordon Ramsay Burger at Planet Hollywood is better, and Gordon Ramsay Fish & Chips restaurant at Linq promenade is a much less expensive and equally satisfying offering.
If you're just looking for an amazing steak, go inside Caesars Palace to Old Homestead Steakhouse.
If you're a meatball person, some of the best in town can be found at Rao's, also at Caesars Palace.
For the record, the best meatballs in Las Vegas call Pizza Rock home, downtown.
If you've tried Gordon Ramsay's Hell's Kitchen and disagree with our level of "meh," we'd love to hear your thoughts. Leave a comment, or whatever people are doing to share their thoughts these days.