A Rare Peek Inside Gordon Ramsay's Relationship With Caesars Entertainment
One of the upsides of filing bankruptcy is some inside stuff becomes public stuff. This is some of that stuff. And it involves a celebrity chef, none other than Gordon Ramsay.
Caesars Entertainment's bankruptcy is complex, and the company is trying to juggle its obligations and relationships as the process sorts itself out.
One of those relationships is with Gordon Ramsay. Ramsay has three restaurants in Las Vegas with his name on them, and the Caesars bankruptcy has provided a unique opportunity to get all up inside the business dealings of these two parties.

Caesars has negotiated a new contract with chef Ramsay that should save the company $144,000 a year. That includes fees paid to Ramsay for licensing his name.
Caesars Entertainment has 10-year deals with Ramsay, with optional five-year extensions. They allow Ramsay to develop the menus at his namesake eateries, but the contracts require the food be mainly "pub-style dishes."
The chef is required to visit his Las Vegas locations at least once each year, for at least 24 consecutive hours.
Ramsay is contractually obligated to allow himself to be photographed at his restaurants.

According to a story in the Wall Street Journal, Caesars pays Ramsay's air transportation, either in first class commercially or via private jet.
Once Ramsay arrives, Caesars is obligated to provide him with three deluxe rooms, presumably at Caesars Palace, the location of Gordon Ramsay's Pub & Grill.
While the rooms are contractually free, Gordon Ramsay is responsible for incidental room charges, including room service. Ramsay does get a sweet 30% discount, however.
Now, we get a look into the juiciest part of the arrangement with Gordon Ramsay.
For his Las Vegas restaurants, Ramsay gets five percent of gross sales up to $10 million. Sales in the $10-15 million range earn a 5.5% cut, and sales of more than $15 million result in a 6% windfall.
By all accounts, Ramsay's three restaurants in Las Vegas have been very successful. He's got another on the way with Gordon Ramsay's Fish & Chips, opening in 2016 in The Linq promenade.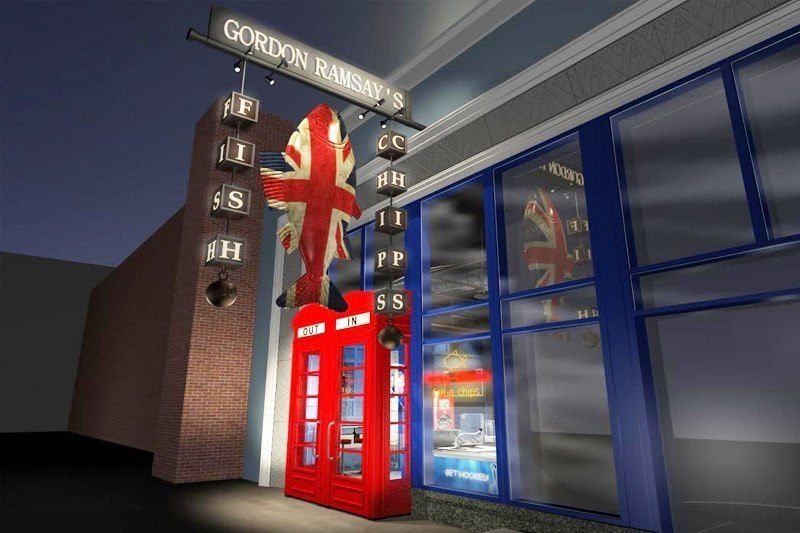 However, Caesars can end its relationship with Ramsay if the restaurants don't hit sales targets. His Las Vegas restaurants must gross at least $8 million a year.
Perhaps the quirkiest part of this financial dance is the fact Caesars Entertainment can dump Gordon Ramsay if his company (wait for it) files for bankruptcy.