Grand Bazaar Shops Debuts Three New Venues: Redneck Riviera, Born and Raised, Giordano's
There's been a flurry of activity at Grand Bazaar Shops outside Bally's Las Vegas in recent months, including the unveiling of three shiny new venues: Giordano's, Redneck Riviera and the newest offering, Born and Raised.
It's time to explore these new venues as only we can—superficially, and with generous amounts of snark so we don't fall asleep at the keyboard.
First up is Redneck Riviera. Redneck Riviera is a country bar, founded by John Rich of the country duo Big & Rich.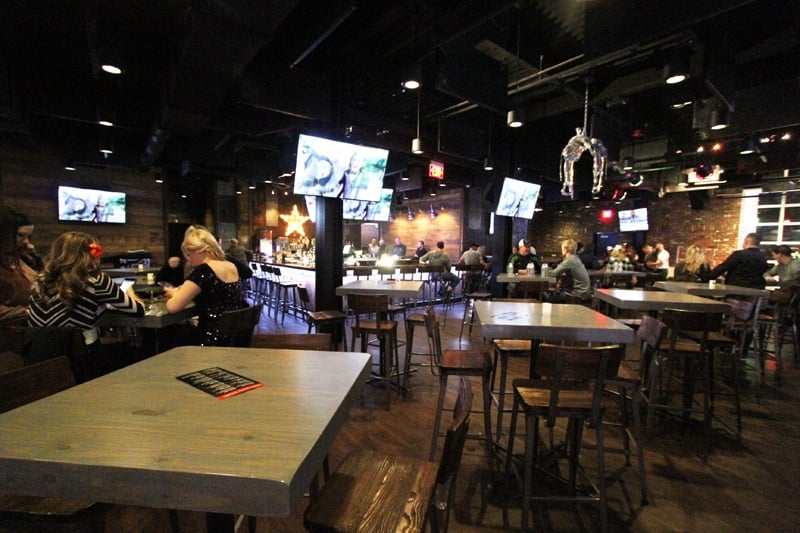 Redneck Riviera is billed as "a Vegas experience like none-other." No, they actually say that, in writing. What makes Redneck Riviera so different? "Great music, great drinks, great people!" We are not making this up.
If you want to stand out from other bars in Las Vegas, you have to give customers something they can't get anywhere else, and you certainly can't find great music, great drinks or great people, so Rednect Riviera is pretty much guaranteed to succeed.
Hey, we warned you about the snark.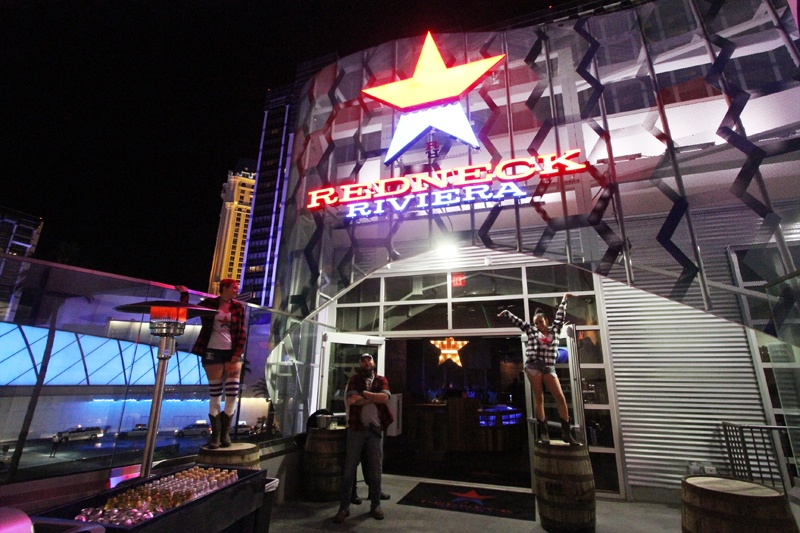 Beyond the country music and any number of white people attempting to dance, Redneck Riviera also has some great decorative touches.
First, there's a saddle-shaped disco ball over the dance floor.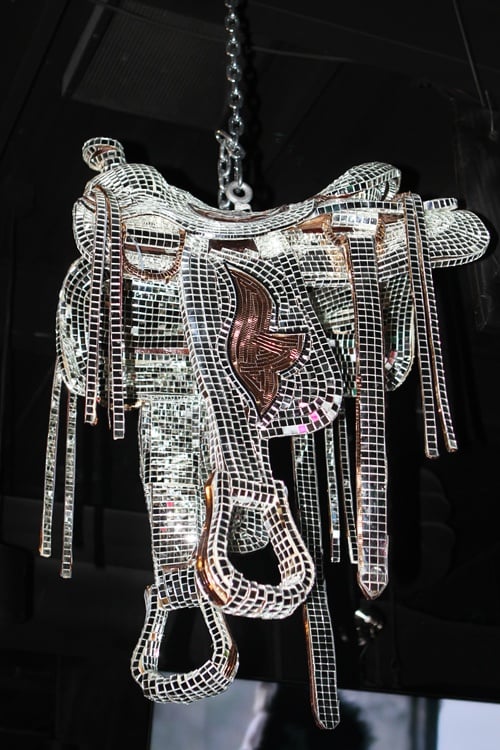 There's also an American flag fashioned from beer cans over one of the establishment's two bars.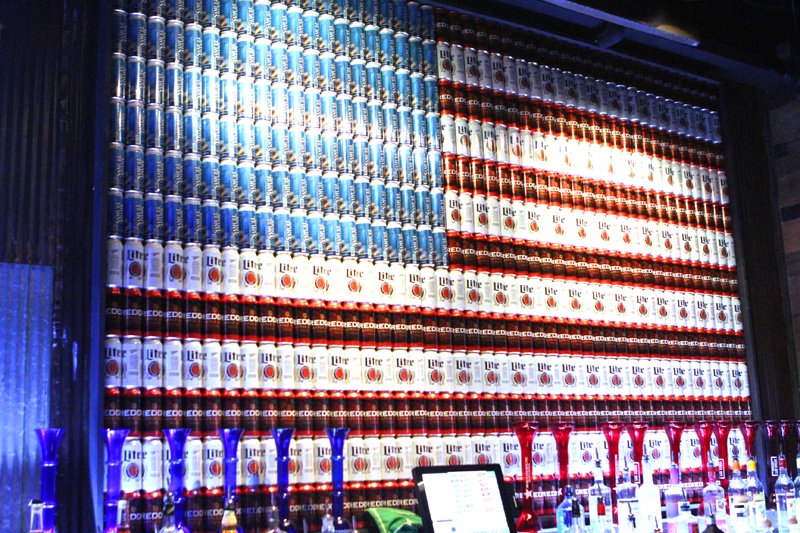 In the men's room, you'll find urinals made from beer kegs. They're so cool, we're tempted to listen to a portion of a country song.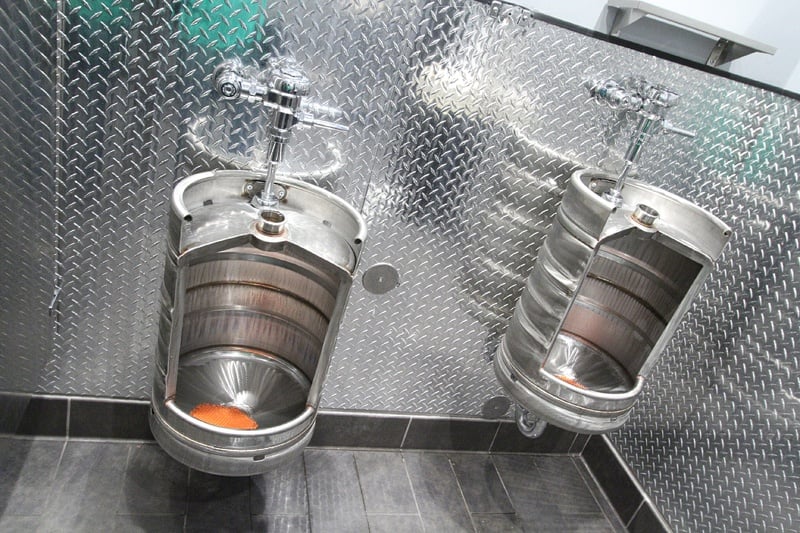 Also in the restroom are sinks made from tires. The faucets are gas pumps. Seriously charming.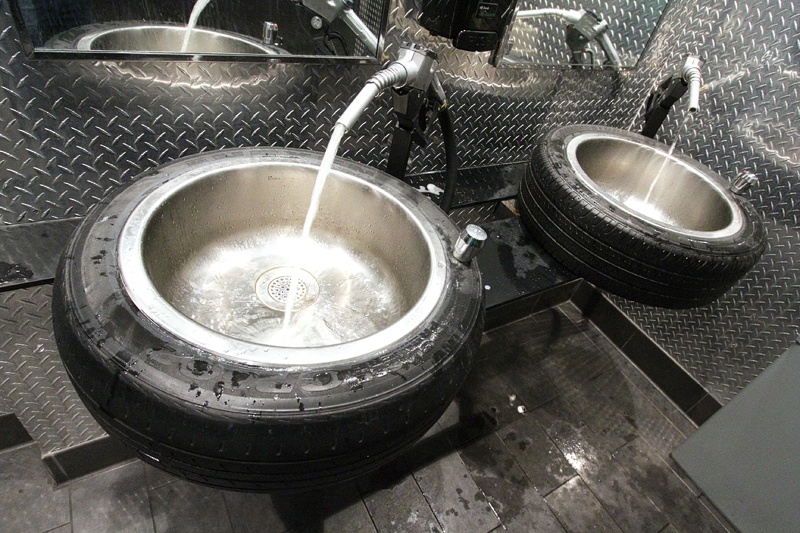 One of the best selling points of Redneck Riviera is it doesn't seem to take itself too seriously.
The vibe is casual and often rowdy, the staff is friendly, and Redneck Riviera serves a niche clientele likely to stray from Toby Keith's restaurant at Harrah's and Gilley's at Treasure Island to give this new honky-tonk hangout a try.
Next, we move to Born and Raised.
Born and Raised is an offshoot of an existing, locally-owned bar and pub. Named Born and Raised. Please try and keep up.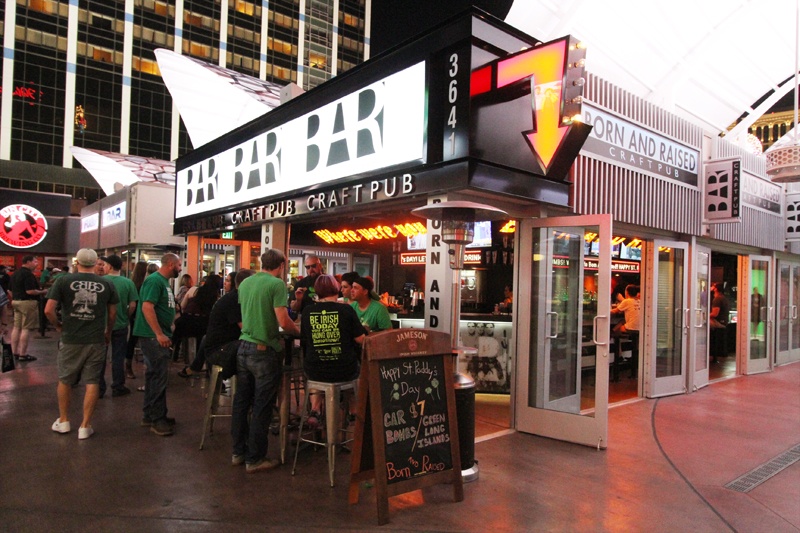 Born and Raised at Grand Bazaar Shops is technically named "Born and Raised CRAFT PUB." Seriously. The "craft pub" is capitalized in all the media and marketing materials.
It's as if Born and Raised suddenly contracted Tourette Syndrome.
Born and Raised has a tiny footprint, even by Grand Bazaar Shops standards. The bar has seating for about 14 people inside, with another 12 seats just outside.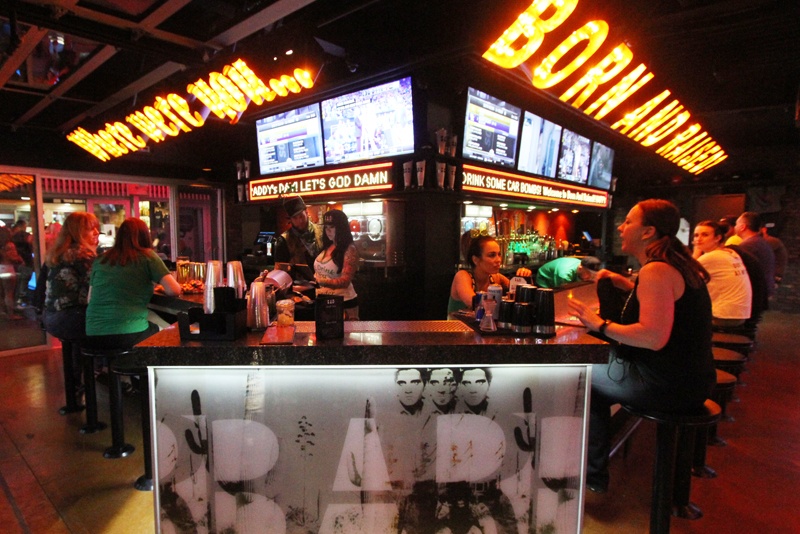 While other Born and Raised locations in Las Vegas serve food, the Grand Bazaar Shops outpost does not. Which is probably for the best, as we recently had our first encounter with Born and Raised's food, and it fell firmly into the "Meh" category.
Yes, "Meh" is a category. Other categories include "Mind-Blowing" (Pizza Rock, downtown), "Forgettable" (Beerhaus at The Park), "Regrettable" (The Still at Mirage) and "It'll Do in a Pinch, Especially If We're Wasted" (everywhere else on The Strip).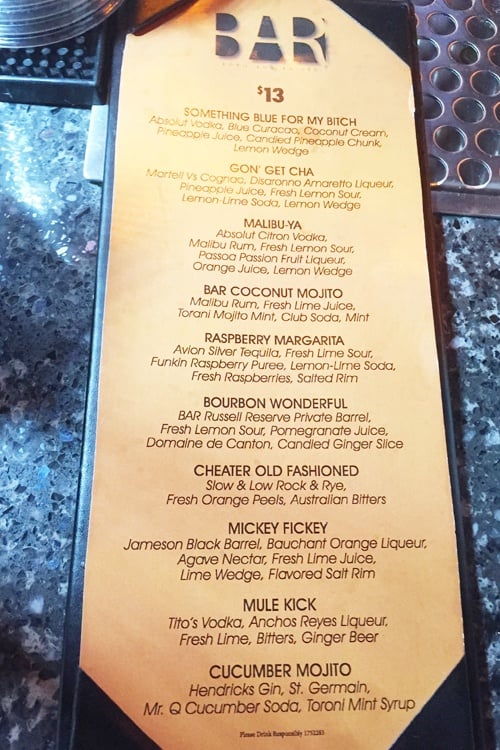 Born and Raised offers a menu of signature cocktails, each runs $13. There is also beer, although we have never personally had a beer, so we aren't able to comment upon the breadth or quality of the selection.
Finally, we get all up inside Giordano's.
Giordano's is a name that may sound familiar. The chain is known for its Chicago-style stuffed deep dish pizza.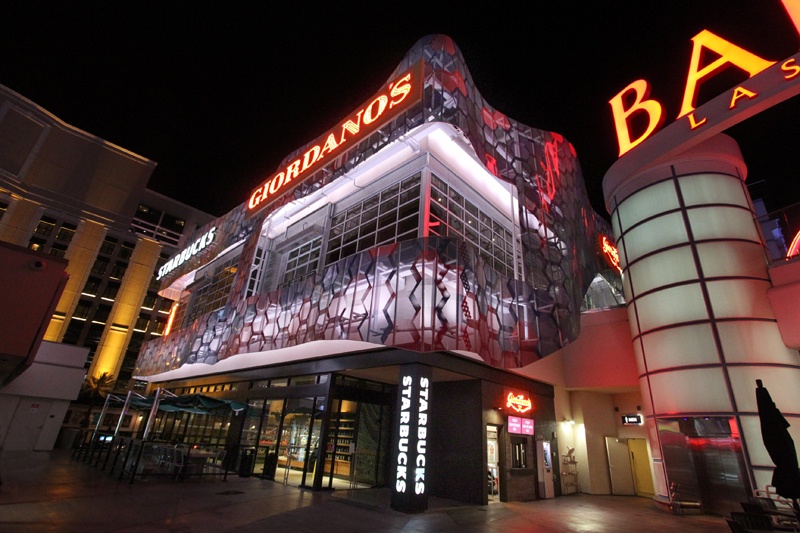 Giordano's has gone malls deep into Grand Bazaar Shops, with what amounts to three locations. There's the second floor main restaurant, another dining area and bar on the ground level (fancifully called the Grand Allee walkway), and there's also a walk-up window.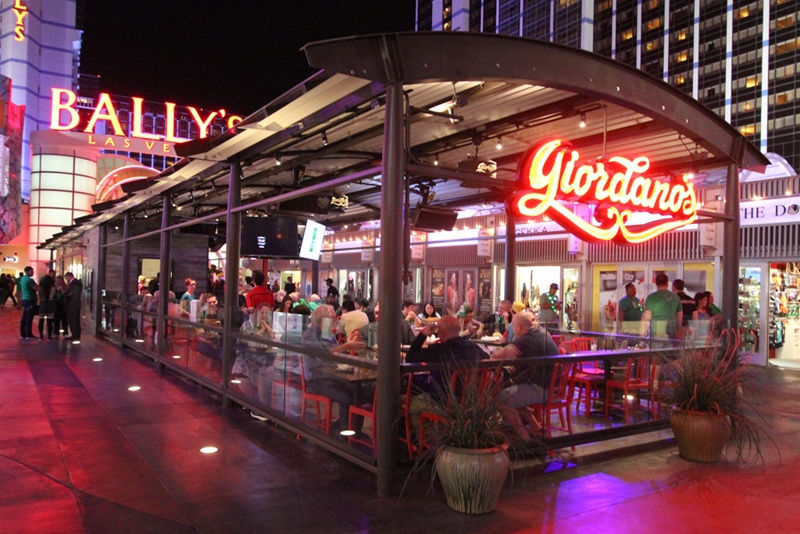 We're not going to sugarcoat it, Giordano's is disappointing on any number of levels.
First, the wait time if you order pizza is agonizing. It took nearly an hour to get our simple cheese pizza, and the restaurant was pretty much empty.
During our wait, staff was sweeping up and mopping, one of our biggest pet peeves in any restaurant. (We were there two hours before closing time, but it was obvious employees were champing at the bit to close up shop.) Adding to the unpleasantness of our visit, staff members were moving chairs around the dining room not by lifting them, but by dragging them, lending the restaurant roughly the same welcoming ambiance as a smoke detector testing facility.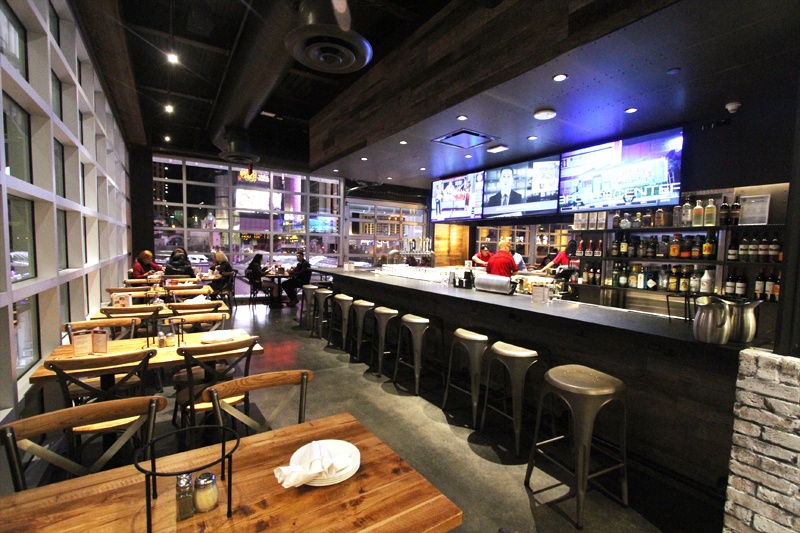 It was only after our pizza arrived that the WTF began in earnest.
Stuffed pizza isn't actually pizza, it turns out. It's 14 pounds of melted cheese ladled onto a flaky, flavorless crust. A layer of sauce sits on the cheese, clearly embarrassed to be part of such a bastardization of the world's greatest food.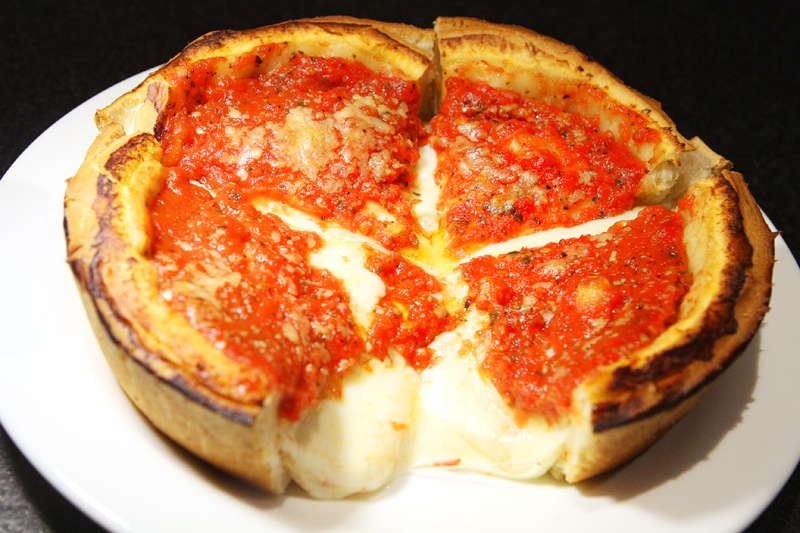 We'd love to say we'll be back to try the thin crust pizza at Giordano's, but why would we when there are so many other, far-more-worthy pizza offerings in the neighborhood? We'd hit Pin-Up Pizza at Planet Hollywood, Martorano's at Paris or The Pizzeria (also known as "Secret Pizza") at Cosmopolitan 100 times before doing Giordano's again.
Sorry, but pizza is serious business, and what they serve at Giordano's barely qualifies. It's more like fondue, although that's probably doing a disservice to fondue.
Here's a better look at the Giordano's menu, and here's the pizza menu, because you wisely don't blindly trust the opinion of blogs when it comes to pies.
If you love Giordano's, we love hearing differing viewpoints. Or at least pretend to.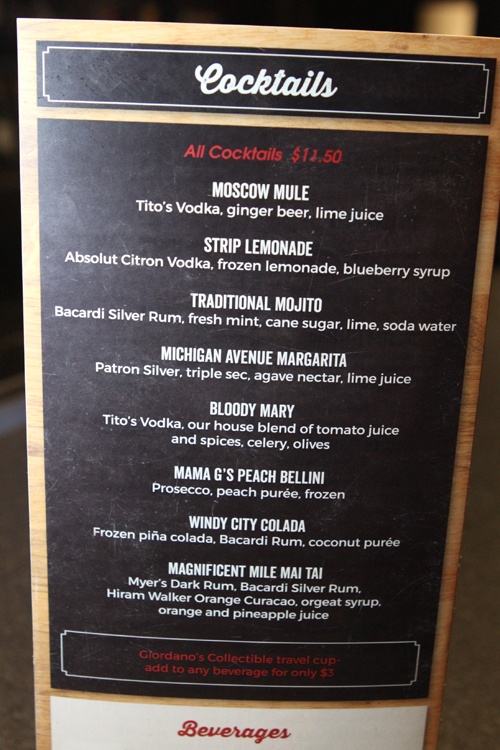 It's great to see Grand Bazaar Shops bringing in new talent. The mall seems to churn through tenants (mall management would owe harsh penalties to Caesars Entertainment, owners of Bally's, if Grand Bazaar Shops falls below a certain percentage of occupancy), but a few successful bars and restaurants could give some of the millions of people who walk by each year a reason to stop.
It was recently announced Philly Pretzel Factory is coming to Grand Bazaar Shops later in the year. We're struggling to contain our excitement.
Our friends at Eater Vegas say another restaurant will open across from Giordano's patio bar, Blue Ribbon Fried Chicken. We've tried it, and we're filing that one in the "Forgettable" category, too.
Hey, not everything's going to stick. Only time will tell which venues will thrive or expire. In Vegas, change is always on the menu.
Grand Bazaar Shops Debuts New Venues