25 Utterly Offbeat Las Vegas Photo Ops
Just about everyone's taken photos of the "Welcome to Fabulous Las Vegas" sign and the Bellagio fountains, but we like our photo ops a little more twisted.
We've pulled together 25 obscure, quirky and downright bizarre photo ops in Las Vegas, so wipe the schmutz off your lens as we expose the offbeat side of Sin City.
1. Downtown Meerkats
Downtown's Life is Beautiful music festival has brought a lot of eye-catching artwork to Las Vegas, and this meerkat sculpture is one of our favorites.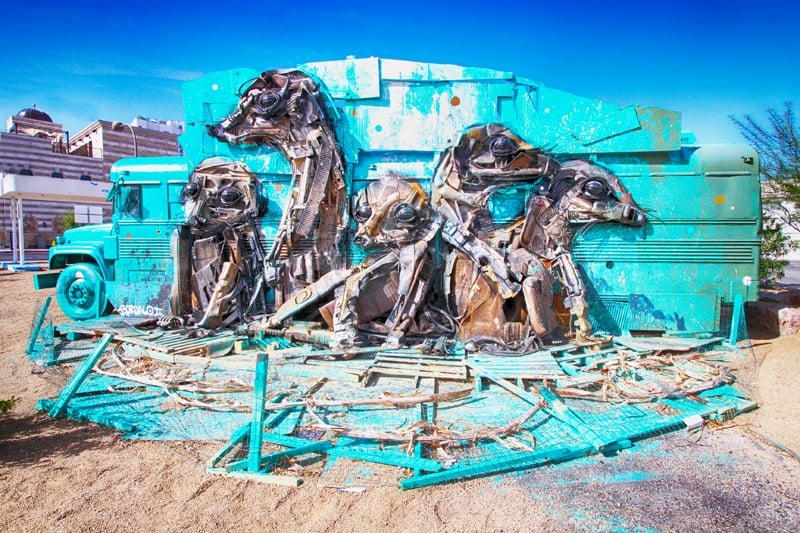 2. Bliss Dance
Oh, we're not done at The Park yet, bub. Yes, we said bub. Somebody had to. We broke the story Bliss Dance was coming to Las Vegas, so she holds a special place in our heart. She's also naked, so there's that. Bliss Dance, a 40-foot public art piece by Marco Cochrane that originally appeared at Burning Man, is based upon an actual woman who would never date us in a bajillion years.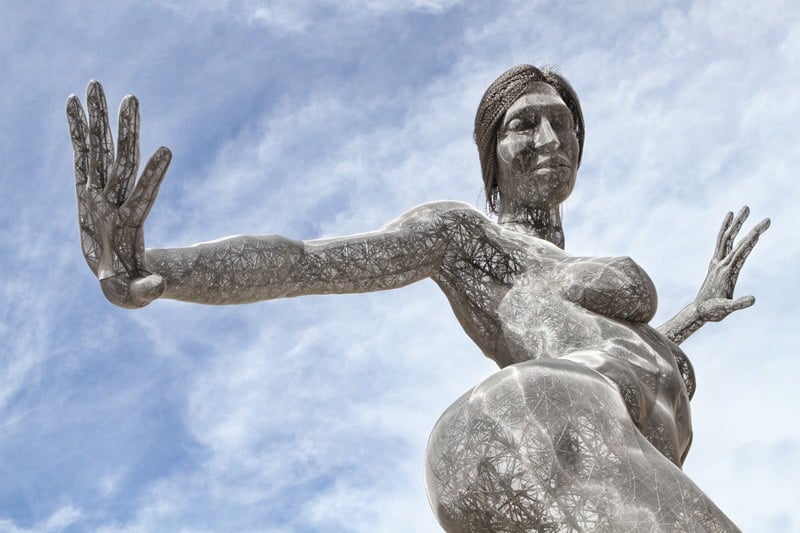 3. Typewriter Eraser at Aria
It's an eye-catching piece of art, and its name is Typewriter Eraser, Scale X. Aria and City Center are bursting with art, and Aria even offers a brochure to help find it all.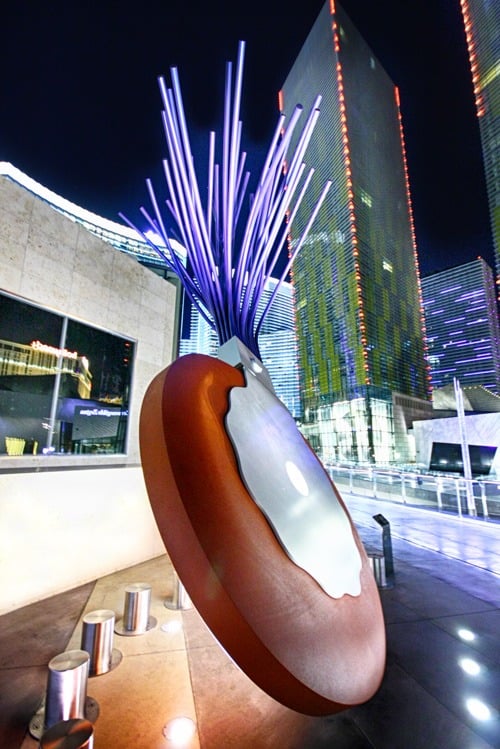 4. Berlin Wall at Main Street Station
There's no way this chunk of the Berlin Wall isn't making our list of offbeat Las Vegas photo ops. Not so much because it's the Berlin Wall, but because it's in the men's restroom. Women can get their pic, too, just ask security to escort you in.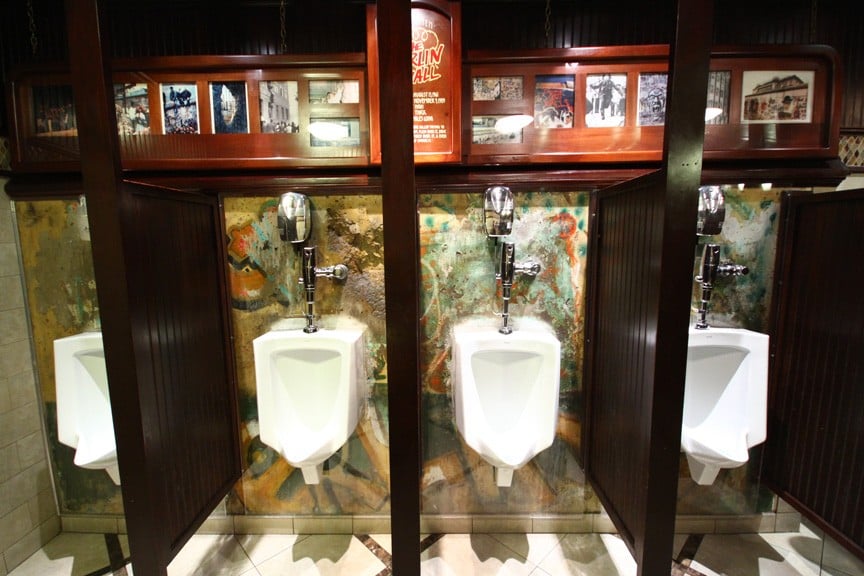 5. St. Valentine's Day Massacre Wall at The Mob Museum
Speaking of unique walls, how about this macabre offering at downtown's must-visit Mob Museum? It's a strange and fascinating artifact from the 1929 whackings of seven mobsters, presumably by members of Al Capone's posse. Why anyone would associate the mob with Las Vegas is anybody's guess.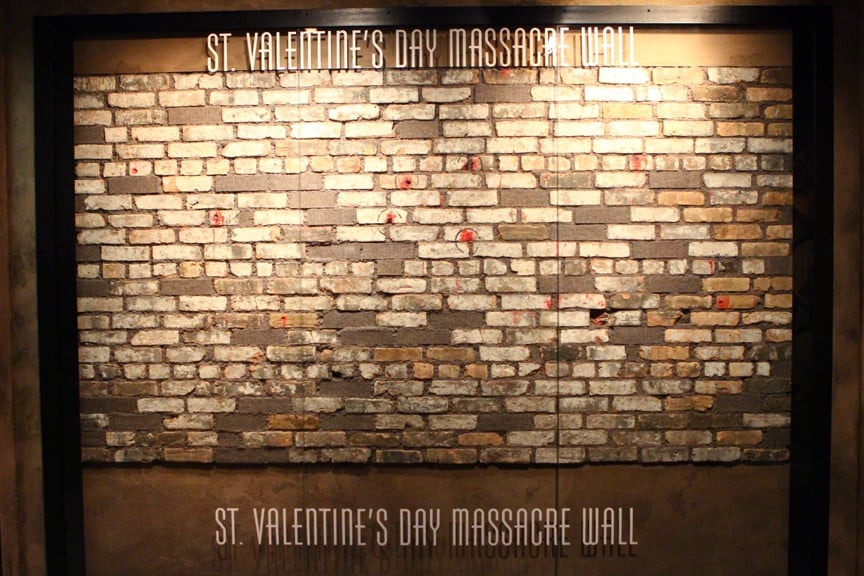 6. Golden Goose
The iconic Golden Goose is back! The Golden Goose used to sit atop the Glitter Gulch strip club on Fremont Street. Now, thanks to Downtown Project, it's back on Fremont (at Fremont Street and 10th Street).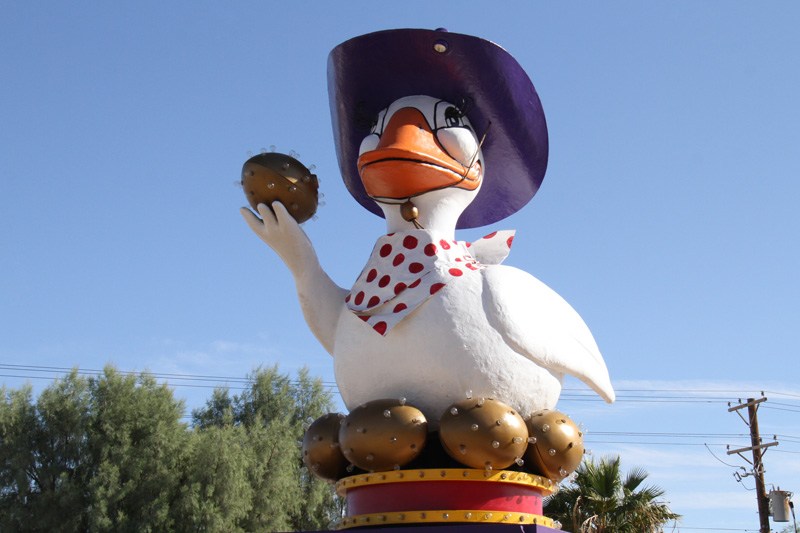 7. Flamingo at Lyft Art Park
You've heard about the Flamingo casino on The Strip, but downtown Las Vegas has a unique flamingo of its own. This giant flamingo looms large over Fremont East. It's part of the Lyft Art Park.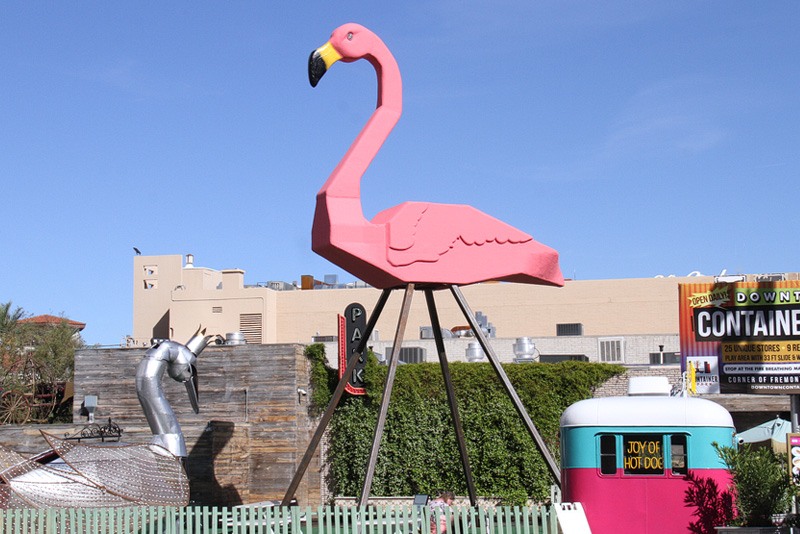 8. Diamond Inn Motel's Pink Elephant
You can never have too many seedy motels or too many pink things. This roadside curiosity recently got some repairs, so it's ready for its close-up. The pink elephant can be found along Las Vegas Boulevard, near Mandalay Bay and the welcome to Las Vegas sign.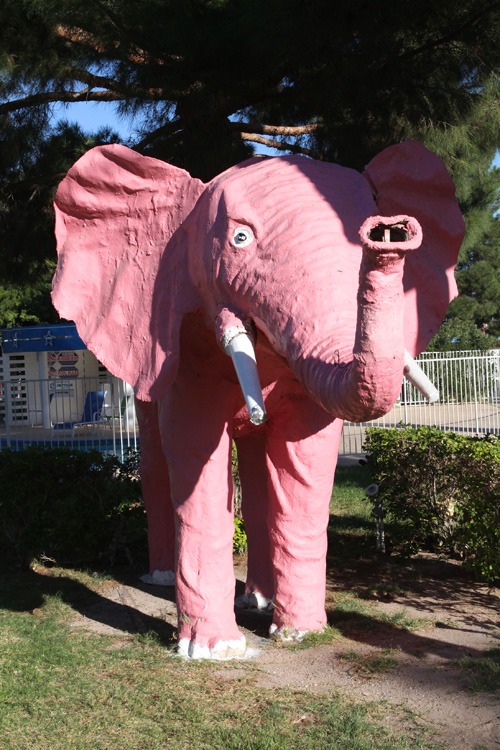 9. Elephants at Rainforest Cafe
If you're a fan of pachyderms, you'll be thrilled to know there are more elephant photo ops in Las Vegas, and these babies still have their trumpeters intact. These large elephants can be found at the new location of Rainforest Cafe, Harmon Corner, at the juncture of Las Vegas Boulevard and Harmon Avenue. They're a little cheesy, but the lifelike movements will win you over.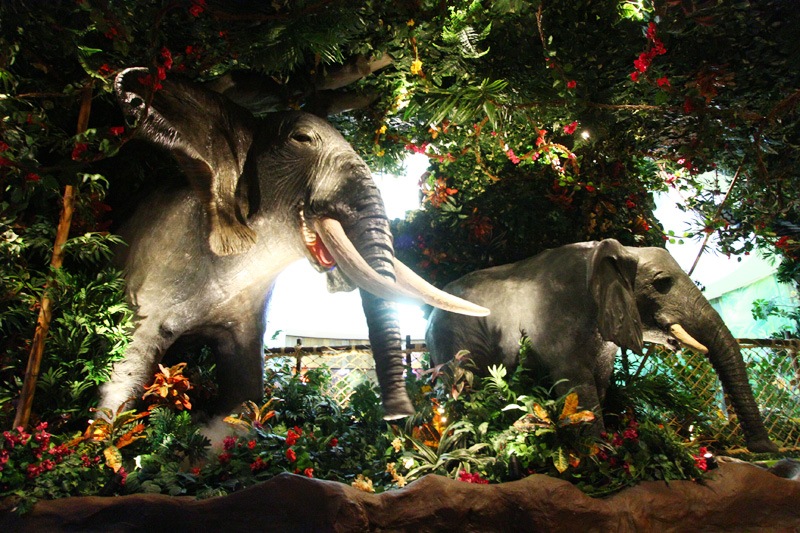 10. Crazy Girls Bronze Statue at Planet Hollywood
Just around the corner from Harmon Corner is Planet Hollywood, and Planet Hollywood is the new home of an iconic, and decidedly offbeat, photo op. It's a bronze statue for "Crazy Girls," a topless revue that was once at the demolished Riviera. The statue can be found at the base of the escalator leading up to the hotel's Sin City Theatre.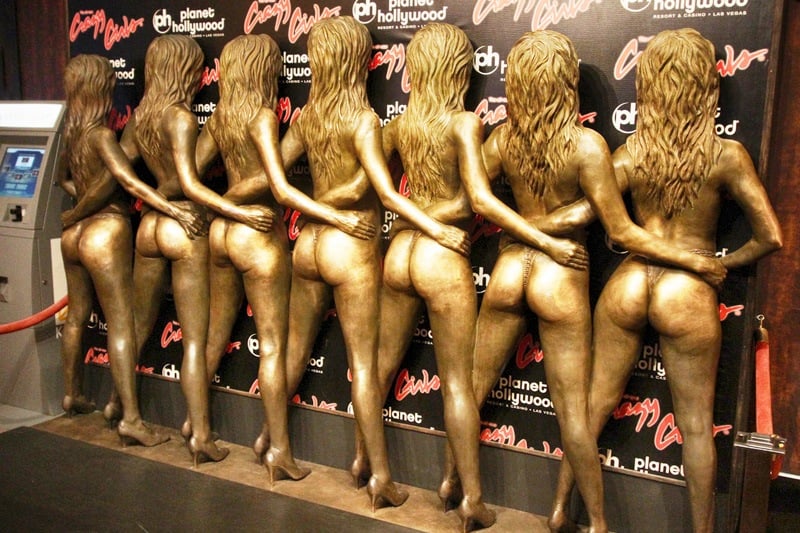 11. Chocolate Statue of Liberty at New York-New York
Everything's better with chocolate, so it follows the Statue of Liberty is better made of chocolate. Hershey's Chocolate World at New York-New York boasts a Lady Liberty replica made of 800 pounds of chocolate. Yes, in a city where the temperature often exceeds 120. Here's a video about the making of this curious Vegas photo op. The statue took 1,000 hours to make, or roughly the amount of time your flight takes when you're headed to Las Vegas.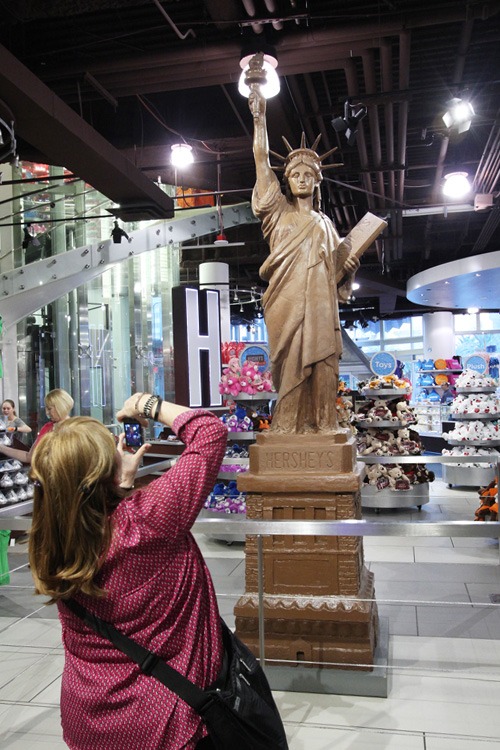 12. Dogs at Cosmopolitan
We don't know much about these dogs, other than that they're very cooperative when it's time to take a photo. The collection of pups (there are five) can be found on the level above the Cosmopolitan's casino.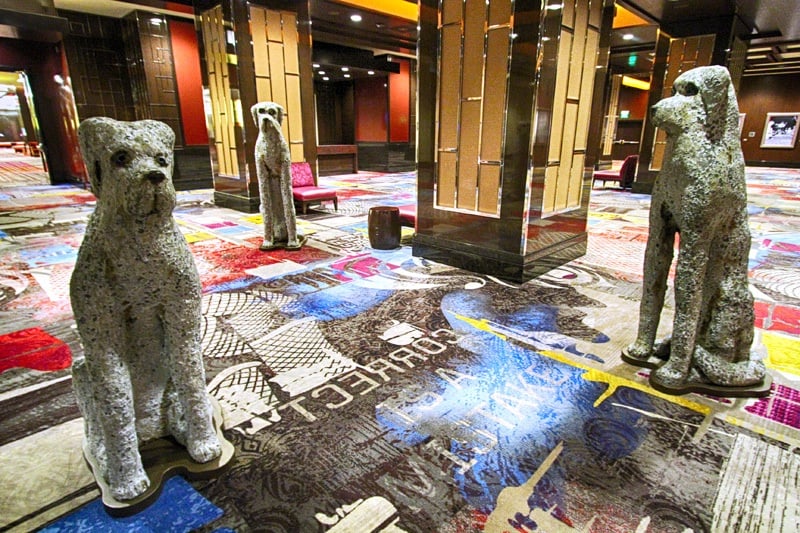 13. Headless Lenin at Mandalay Bay
Just outside the Red Square bar at Mandalay Bay you'll find a headless statue of Lenin, sometimes referred to by his DJ name, Vladimir Ilyich Ulyanov. When the statue first went up, it had a head, but customers complained, mainly retired servicemen. So, the head was lopped off in 1999.

14. Big Rig Jig
Let's head (please refer to #13) back downtown to get a look at Big Rig Jig, a hidden gem and spectacularly weird Las Vegas photo op. Big Rig Jig is a 50-foot, 25-ton sculpture, assuming you use the term "sculpture" very loosely.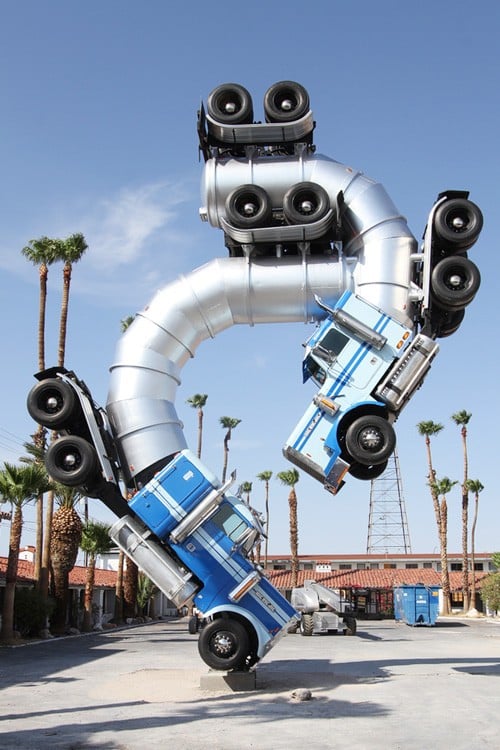 15. Manneken-Pis at The D Las Vegas
No, really, that's what it's called. This defiant statue is an over-sized replica of the famous statue in Brussels. Which is another country altogether, we're pretty sure. Manneken-Pis means "little man pee" in Dutch. This isn't rocket science, you know. This blog personally tossed the very first coin into the Manneken-Pis fountain and promptly won $1,000 on a Top Dollar slot machine in The D. Which makes this not only an offbeat photo op, but also a financial planning strategy. Or something.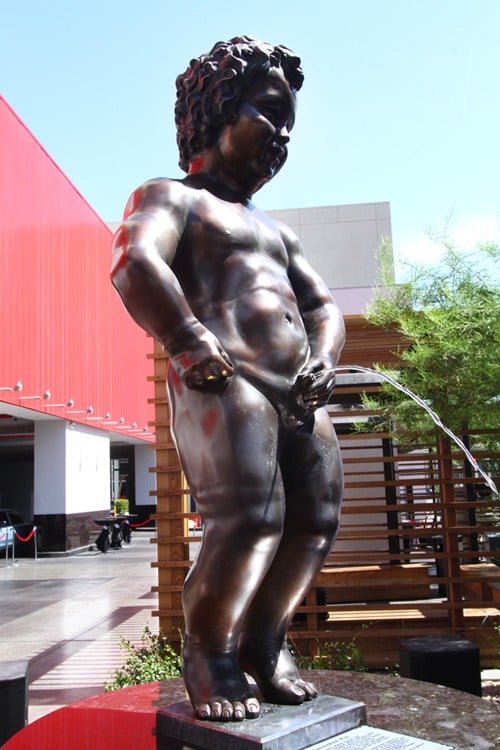 16. Mantis at Downtown Container Park
This 150:1 scale model of a praying mantis lights up the sky with fire each night at the Downtown Container Park, a shopping district fashioned from recycled shipping containers. The flame-throwing mantis took 3,000 hours to build and burns through about 50 gallons of propane each day. Flames from the beast reach six stories high.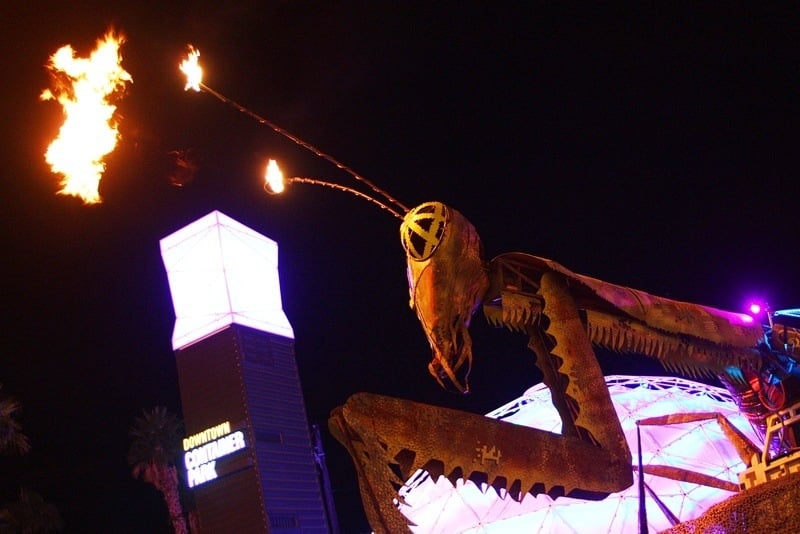 We weren't kidding about the "six stories high" thing, by the way.
17. Painting at Park on Fremont
Park on Fremont is a bar and restaurant on (wait for it) Fremont Street. East, to be specific. Fremont East is flush with idiosyncratic bars, and Park on Fremont is no exception. On the restaurant's patio, you'll find an awkward painting most customers don't even notice. We did, and now you will, too. Snap away!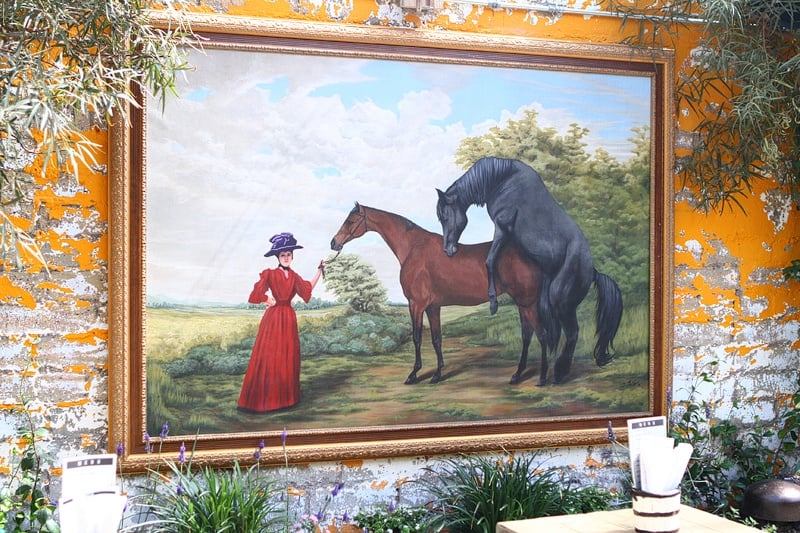 18. Giant Fire Hydrant
This larger-than-life fireplug, found in downtown Las Vegas, is said to be the world's largest working fire hydrant. We'd love to say we verified that claim, but that would involve setting our drink down for a minute, so no thanks. The hydrant is located near the Western Hotel, which was euthanized in 2012.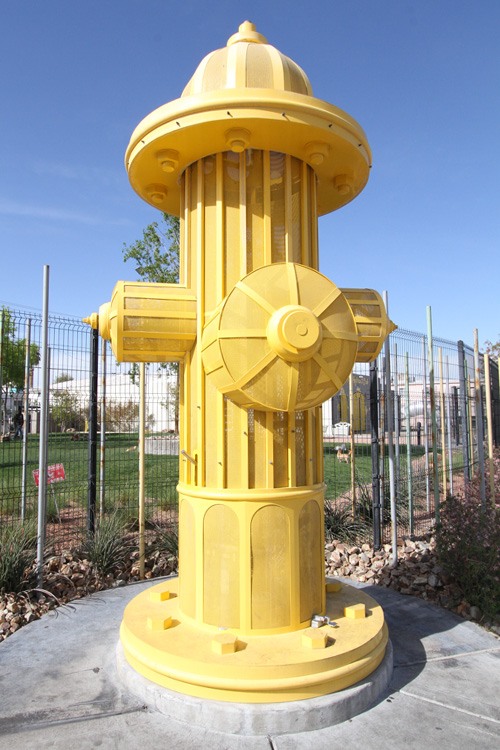 19. Truck Cab at Pizza Rock
All right, just one more Las Vegas photo op downtown before we head back to The Strip. Guests of our favorite Vegas restaurant, Pizza Rock, are sometimes surprised to see a Peterbilt truck cab. Their surprise turns to WTF when they realize the truck doubles as the restaurant's DJ booth.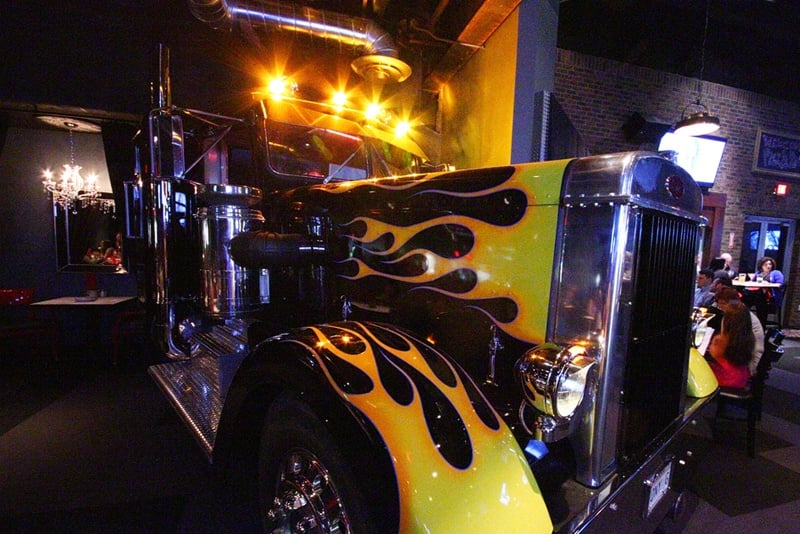 20. Blue Man Group at Luxor
Back to The Strip we skip! In November 2015, Blue Man Group moved back to Luxor after a number of years at Monte Carlo. After settling in, they set up a photo op to help market the show. Inside the display, you'll find life-like blue persons and random props to up the weird quotient. Guests can stick their head through a hole in the wall of the display (swapping faces with legendary TV painting instructor Bob Ross), making the display both interactive and sort of disturbing, in a good way.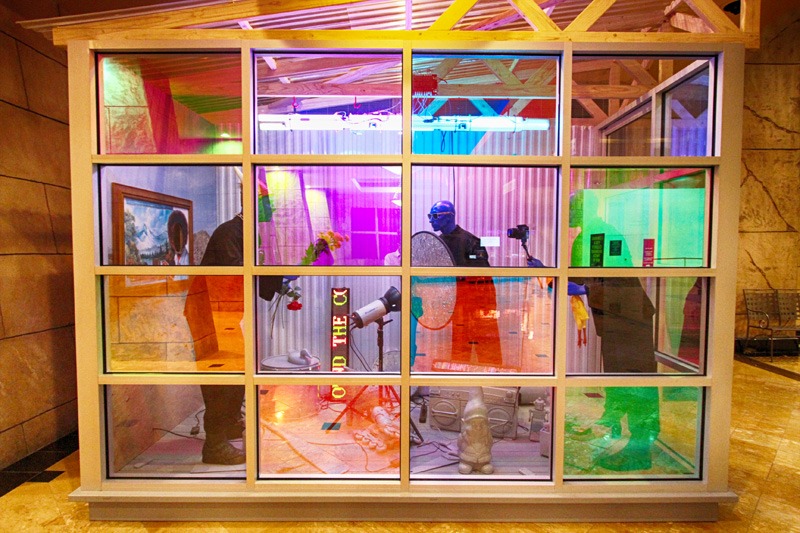 21. "Ka" Dragon at MGM Grand
At the entrance to the "Ka" Theater at MGM Grand, there's a massive, colorful dragon, the perfect addition to your Las Vegas photo collection. "Ka" is one of the Cirque shows in Las Vegas that offers a free open house to guests. There are very few words we love as much as "free." They include "Captain," "craps" and "formicophilia." Don't ask.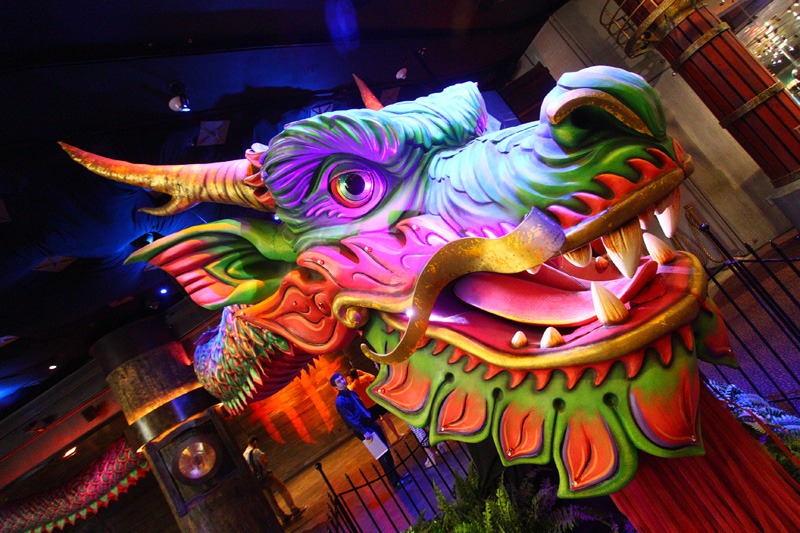 22. Mastro's Ocean Club at Crystals Mall
You either get why this is an offbeat photo op or you don't. And if you don't, we admire the rose-colored glasses through which you view the world.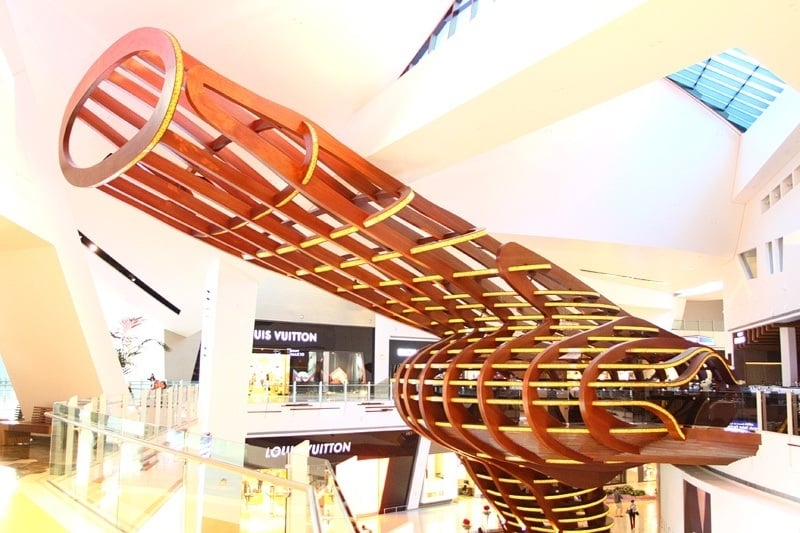 23. Penn & Teller at Rio
That's right, one of the quirkiest Las Vegas photo ops isn't a thing, it's a who. Troublesome magicians Penn & Teller hang out with audience members after their show, signing autographs and taking photos. Unlike some Vegas celebs, they don't charge for the meet-and-greet, they do it as a way to show appreciation to their fans.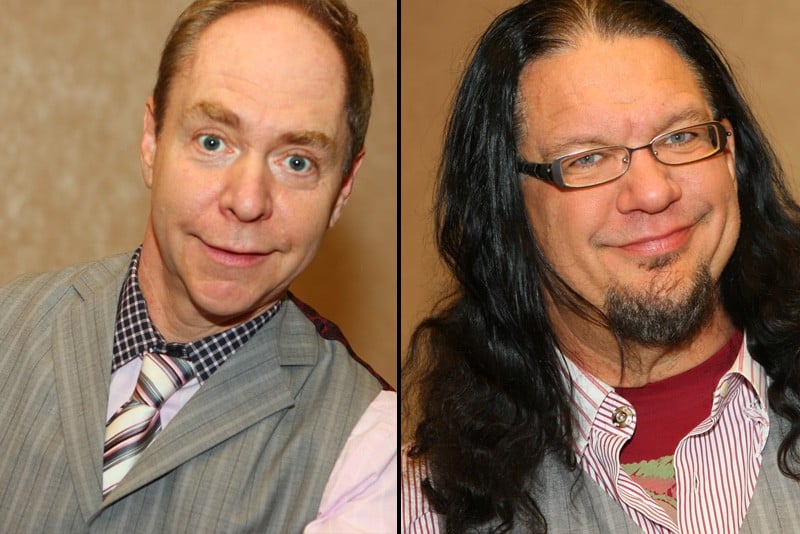 24. Scorpions at Nacho Daddy
If you thought the scorpion shots at Nacho Daddy were creepy, wait until you see their new display case. Nacho Daddy opened a location on The Strip in August 2016 (at Miracle Mile Shops) and installed a custom display featuring gargantuan Emperor scorpions. The case was built by the team from the reality show "Tanked," and Nacho Daddy was featured on the show.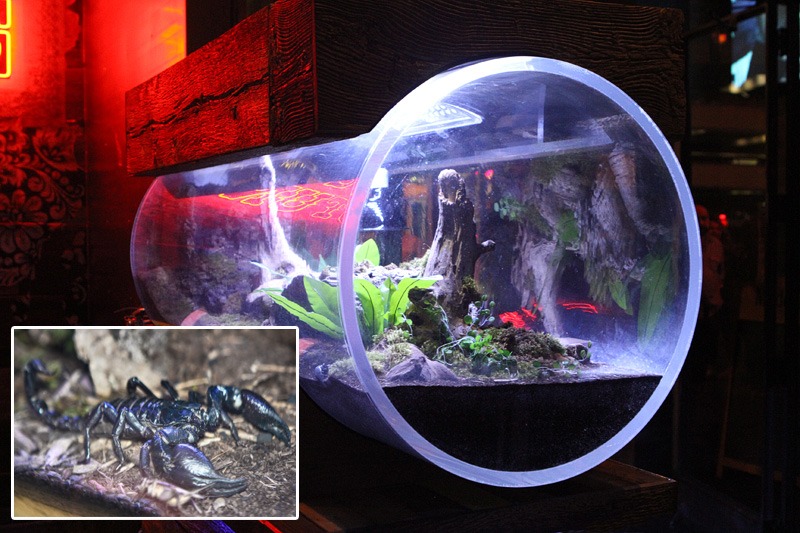 25. Seven Magic Mountains
They're big, they're bold and they're out in the middle of nowhere. Seven Magic Mountains is about 10 minutes south of the Las Vegas Strip, and you sort of can't miss them. Seven Magic Mountains is seven pillars, all between 30 and 35 feet tall. Each rock weighs between 20 and 25 tons. The public art piece took five years to complete, at a cost of $3.5 million. You want offbeat? You've got it!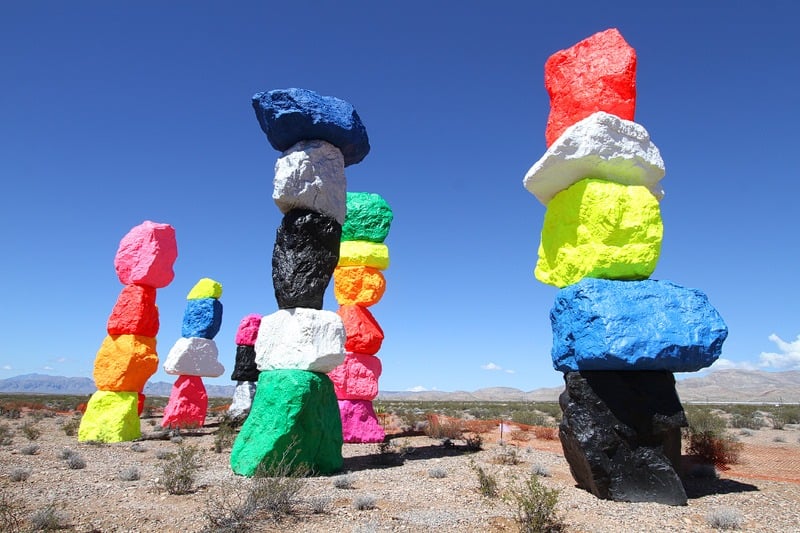 Here's a look from a slightly different perspective.
Well, that should keep you busy during your next visit to Las Vegas.
Bonus Photo Ops: Gold Bars and Vegas Vickie at Circa Las Vegas
Circa opened in late 2020, and added a few items to our list of great Las Vegas photo ops, including the return of Vegas Vickie.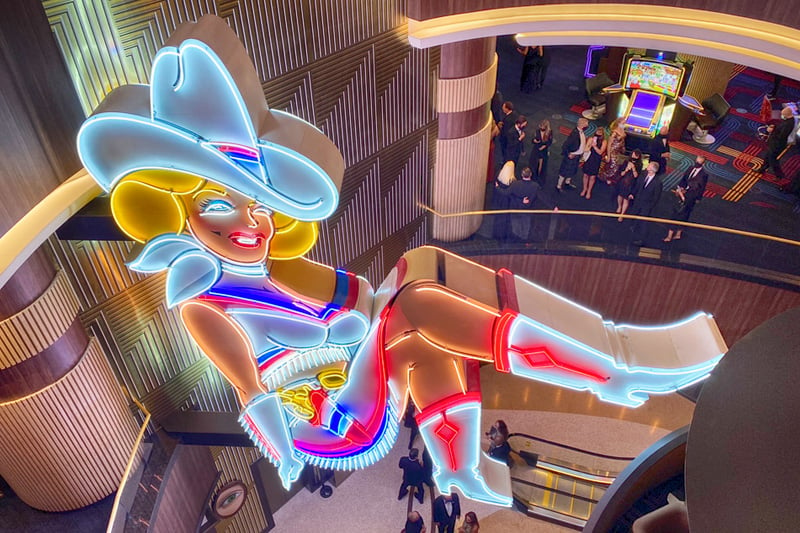 If Vegas Vickie isn't quirky enough for you, how about $1.7 million in gold bars? Circa's Legacy Club has 500 bars on display, and a display that give the current value of the gold.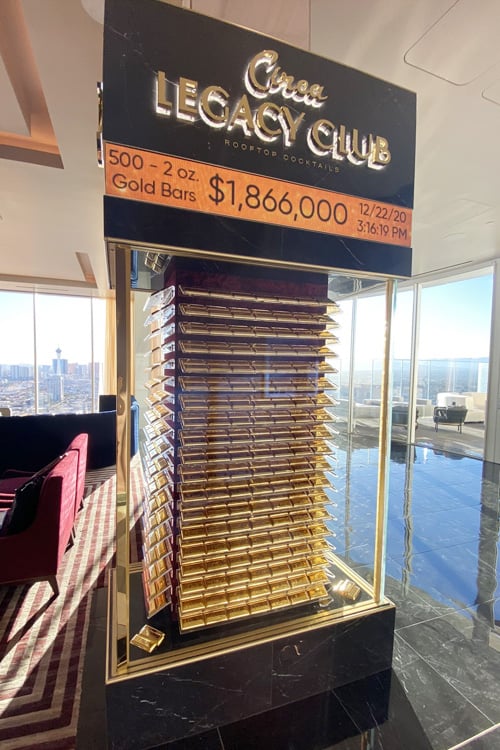 Have a favorite offbeat Las Vegas photo op? We might just include your suggestion in our follow-up story which we're sure you'll be clamoring for any time now. We'll wait.