Downtown Grand's Restaurant Rebirth Is Ready to Rock Your World
The Downtown Grand has recently gone on a bit of a shopping spree, snapping up culinary talent from high-profile restaurants on The Strip.
The result is a dramatic transformation of the new hotel's restaurant offerings, one we think will shake things up in a big way and win over guests who may have been disappointed in the past. Yes, that includes us.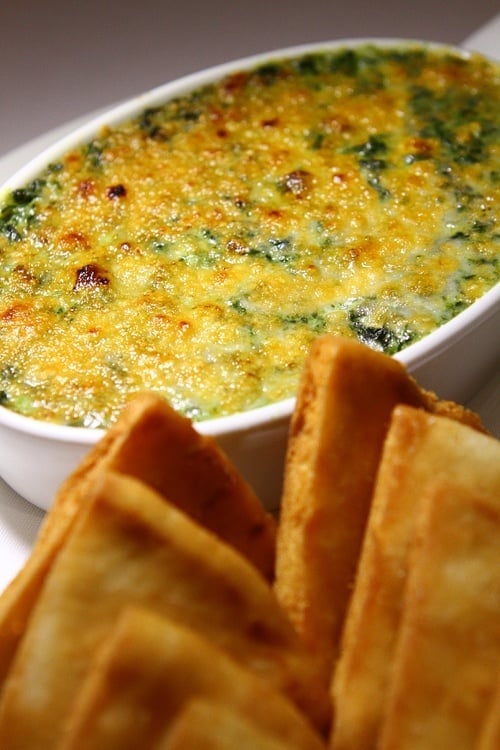 As we were the first to report, Downtown Grand recently acquired Chef Todd Harrington (pictured below), formerly of the excellent Central at Caesars Palace. Harrington brought another top-notch chef with him, Michael Virtue, also from Central. Yes, that's his real name.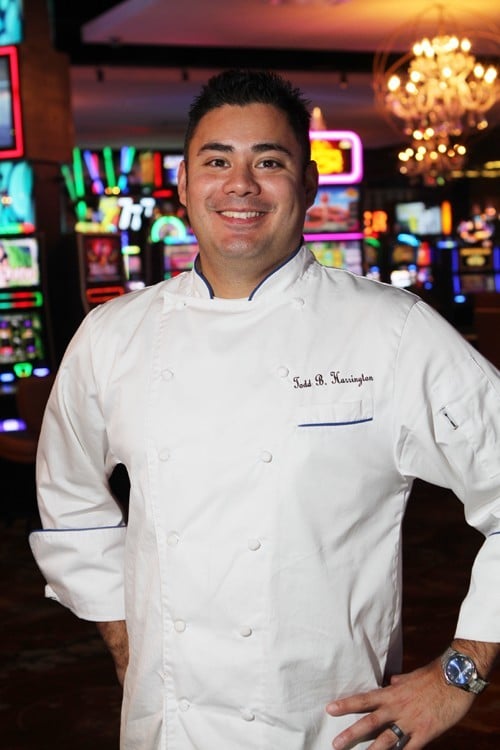 Downtown Grand also recently brought onboard the former executive chef of Caesars Palace's acclaimed Beijing Noodle No. 9, and Beijing native, Yu Li. Chef Vivian Chang, from Restaurant Guy Savoy, again at Caesars Palace, has been brought in to serve as Downtown Grand's new pastry chef.
This is a serious migration of heavy-hitter chefs to downtown, and a serious statement about the future of downtown dining.
The best news so far is the complete turnaround at Stewart + Odgen restaurant, which is nothing short of miraculous.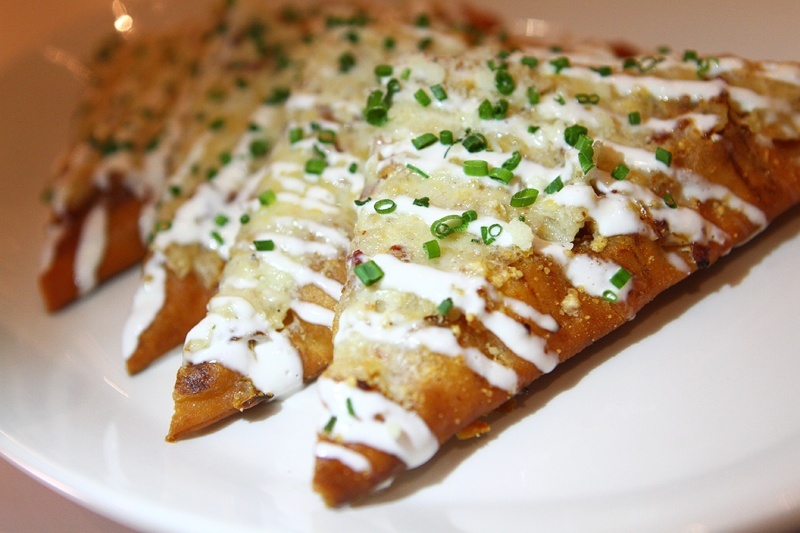 Harrington is serious about food, and has stormed the castle to deliver a menu that will wow even the most jaded foodies loyal to The Strip. The shake-up hasn't been without casualties. A dozen members of Downtown Grand's culinary team have departed, unable or unwilling to embrace the more demanding food preparation processes.
"Cosmetically, about 70 percent of the menu has been reconstructed, but 100 percent has been reworked, including how the dishes are prepared. Everything, from the sauces to the garnish to the plates," says Harrington, whose enthusiasm is contagious.
The changes at Stewart + Ogden have even included our wished-for change in the chairs. Here's the "before" photo of the chairs.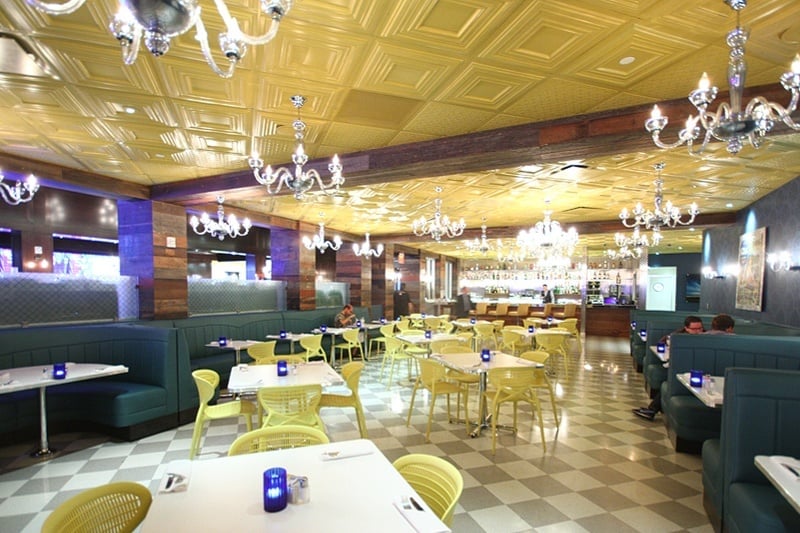 Upon opening, the restaurant went for style rather than customer comfort, but that's been rectified with some sweet, soft new seating. And the blue is very calming as well.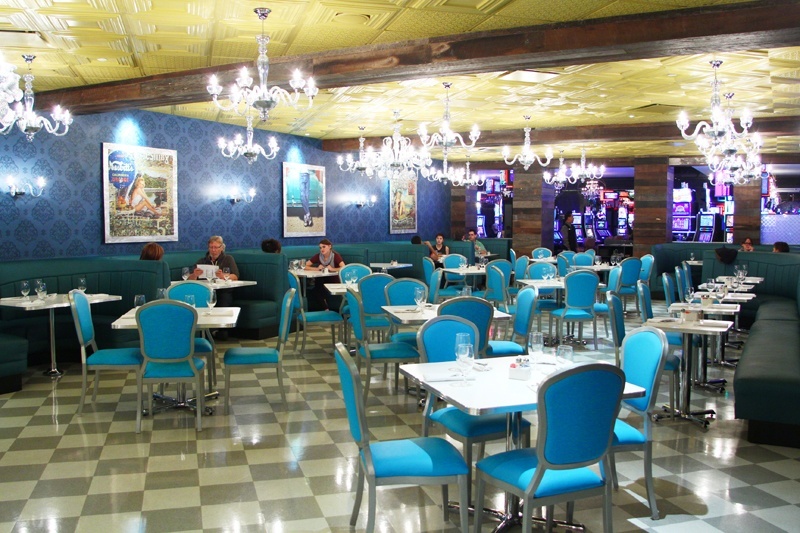 Todd Harrington brings a fresh new perspective to Downtown Grand. He's such a downtown newbie, he only recently did his first visit to the Fremont Street Experience.
Harrington has also revamped the menu at the hotel's lobby bar, Art Bar, and in two weeks the Red Mansion menu will also be getting a complete overhaul as well. He'll also oversee the development and execution of the menu for Picnic, Downtown Grand's upcoming foray into the dayclub realm.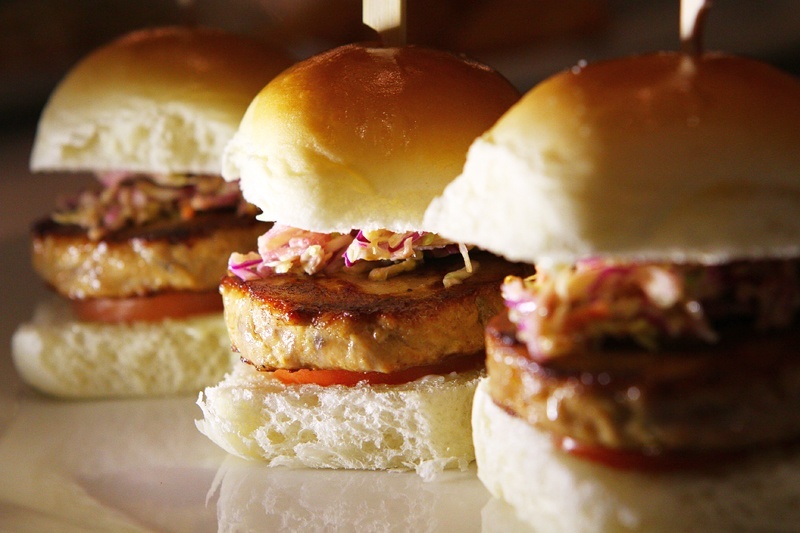 Chef Harrington also mentioned something about retooling the Triple George menu, across the street. Triple George is part of the Fifth Street Gaming family, the company that runs Downtown Grand. As long as he doesn't muck with the chicken parm, easily our favorite dish in Las Vegas, we should be cool.
Harrington's new menu at Stewart + Odgen, overseen day-to-day by Michael Virtue, is already having a huge impact.
"When the restaurant opened, it was doing about 150 to 200 'covers' (a table setting for one person) a day. Now, we're pushing 500 covers, daily," beams Chef Harrington.
Whatever's happening, it's working. The menu is refined, but approachable, and all within a value-oriented price range.
For a visual reference of how far Stewart + Ogden, one need look no further than the restaurant's fish and chips. On a previous visit, the fish and chips were virtually inedible, with frozen fish sticks galore.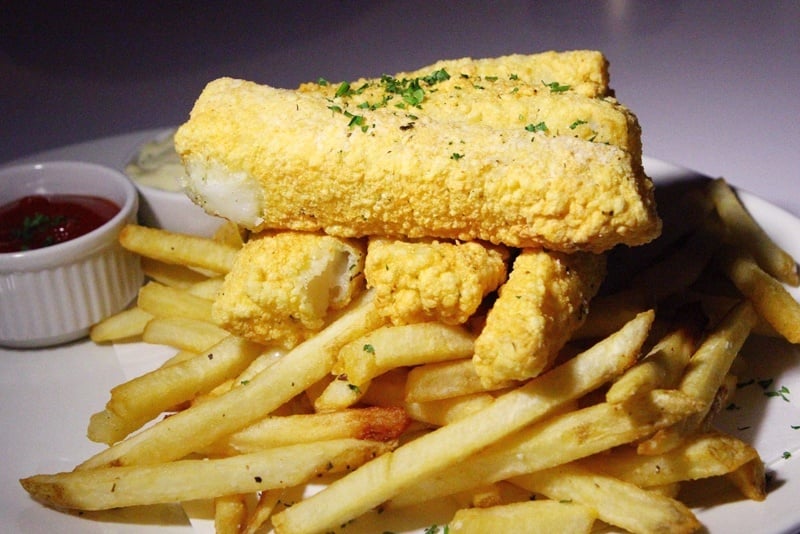 Now, the fish is beer-battered Atlantic cod, and the fries are delicious, akin to the ones served at In-N-Out, and we mean that as a huge compliment.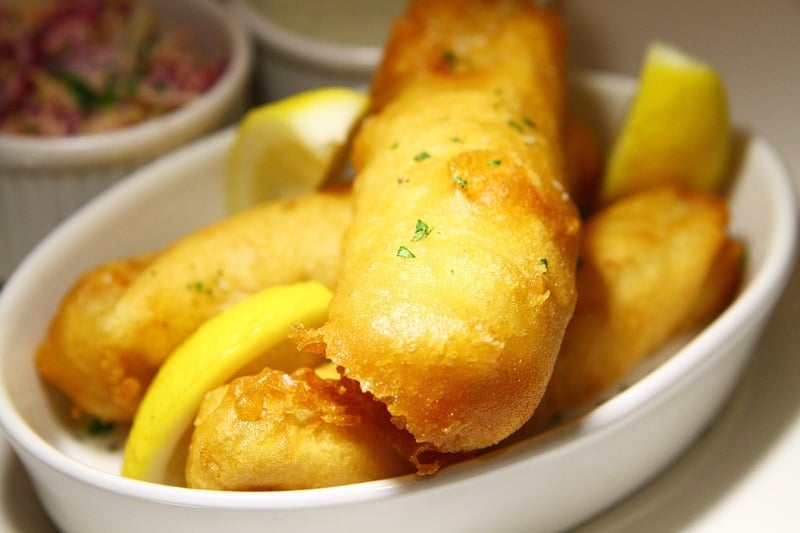 As a testament to the day-and-night transformation, Chef Harrington says, "We've had customers order the fish and chips for lunch, then come back later in the day to order it again."
A new offering at Stewart + Ogden, and a rarity at Las Vegas restaurants, are the fresh-squeezed juices.
Squeezed daily are orange, watermelon, pineapple, grapefruit, carrot and cucumber juices. Juicing is a labor-intensive process, but points to a commitment to providing diners with things they often can't get at other establishments.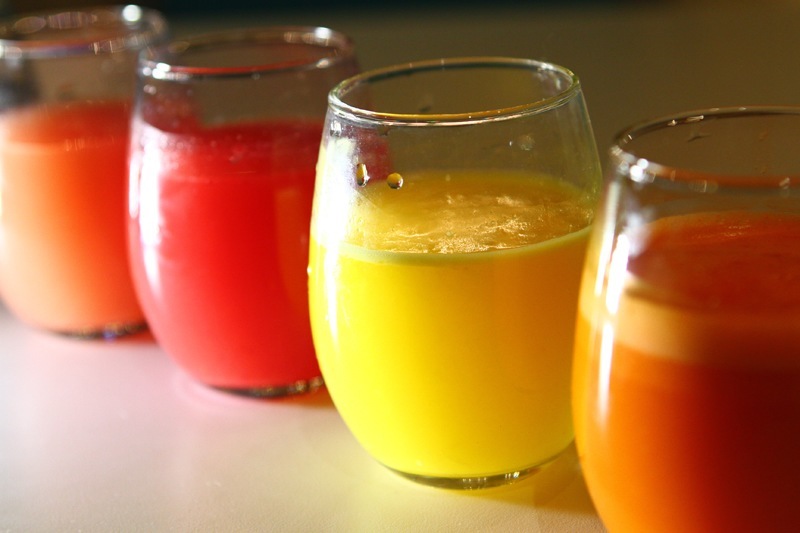 Our only tip would to steer clear of the grapefruit until they're in season again, or just add sugar.
Stewart + Ogden now boasts a true "scratch" kitchen, with dressings, fries and desserts made fresh, in-house, each day.
While the menu at Stewart + Ogden has been elevated, it doesn't lose sight of the fact the fare is intended for price-conscious guests, and servers are being trained to "translate" the dishes into terms even this blog can understand. For example, we'd probably never order something called a "Croque Madame." Too fancy. But call it a "ham and egg sandwich," and we're all over it. It was incredible, by the way, and sure to be a brunch and lunch favorite.

Many items on the Stewart + Ogden menu are intriguing takes on familiar favorites, both simple but surprising.
Says Chef Michael Virtue, below, "My grandmother taught me the importance of simplicity in cooking. Simple is often better than too many ingredients. Even meat and potatoes can be done very well."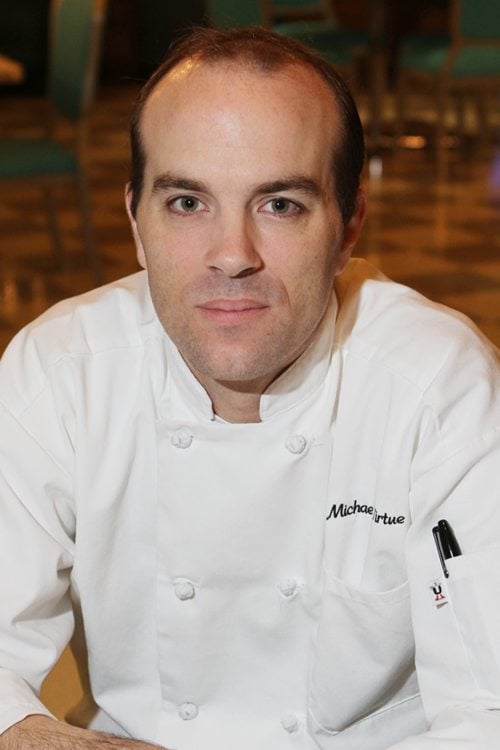 Beyond the delicious fish and chips, our favorites on the new Stewart + Ogden menu were the Stewart's Famous Fried Chicken and Chef Harrington's award-winning Braised Short Rib.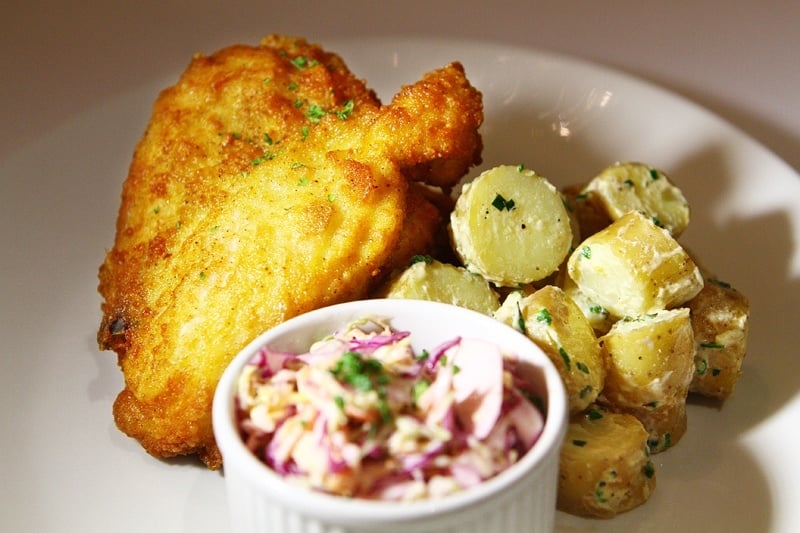 The shortrib? A stunner. This is why they invented the term "fall-off-the-bone tender."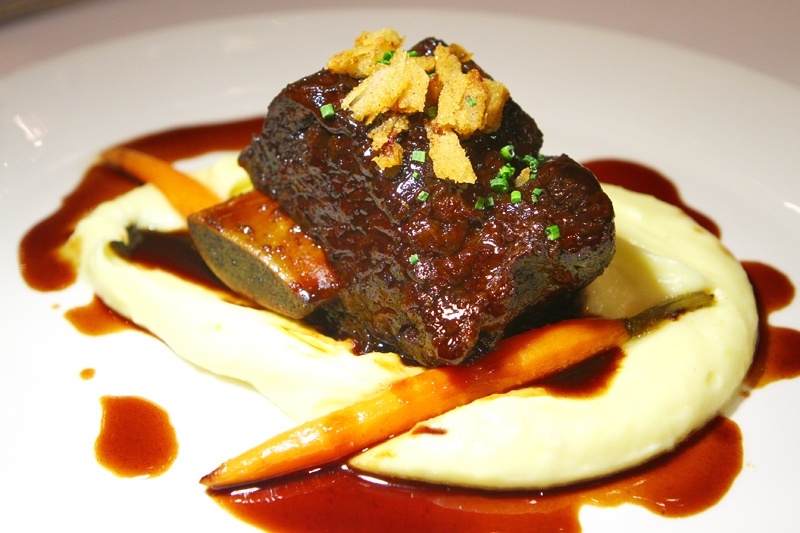 Downtown Grand has upped its game in getting guests to try their restaurants again with a 50%-off deal for Las Vegas locals through the end of January.
The changes at Stewart + Ogden are truly some of the most remarkable we've seen (or tasted) at any Las Vegas restaurant. It's likely the Downtown Grand's restaurants will quickly destinations in their own right, and against all odds, we're pleased to be able to add Stewart + Ogden to our list of favorite downtown eateries.
It's a Las Vegas miracle! Let us know what you think.
Stewart + Ogden at Downtown Grand