12 Things to Love at Triple George Grill Restaurant
Downtown's Triple George Grill is one of this blog's favorite restaurants in Las Vegas.
A recent visit provided us a chance to share 12 things to love at this unassuming, reasonably-priced downtown discovery.
1. Blackberry Martini
Our favorite Triple George bartender, Marti, whipped up this incredible drink to get us in the mood for dinner. It worked. The blackberry martini has vodka, muddled blackberries, sugar, lime juice, sweet and sour and a dash of pineapple.

2. The Wedge
Nothing fancy, just crispy and delicious. A light start to the feast. Blue cheese, ranch, whatever.

3. Caprese Salad
Fresh tomatoes, fresh mozzarella cheese, some basil and a drizzle of balsamic vinegar reduction. We did mention you should pace yourself, right?

4. Clam Chowder
The New England Clam Chowder is sure to hit the spot, especially as the nights get chillier in Las Vegas.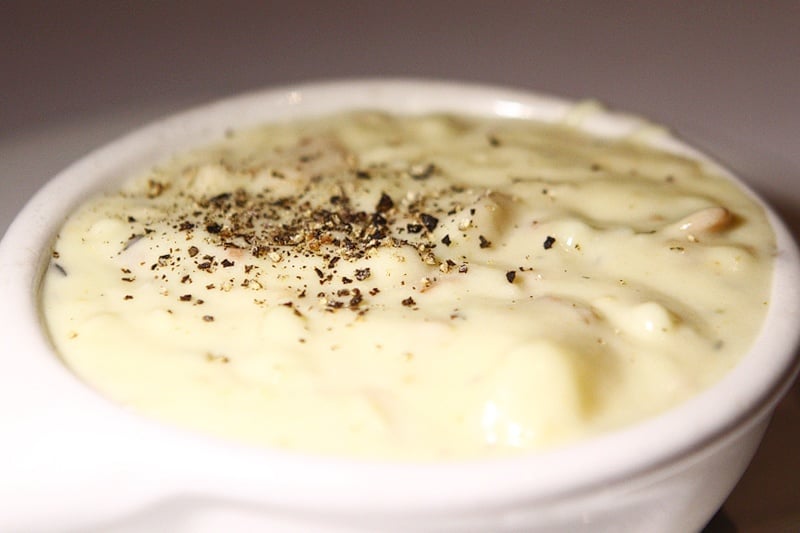 5. Shrimp Cocktail
Rounding out the appetizer course is a classic shrimp cocktail.

6. Charbroiled Salmon
Moving on to the entrees, we start with a charbroiled salmon. You can also get it blackened.

7. Chicken Saltimbocca
Perfectly-cooked chicken buried in prosciutto, sage, fresh mozzarella and Marsala mushroom sauce.

8. Chicken Parmesan
We've said it before, but Triple George's Chicken Parmesan is the best in Las Vegas, and we'll keep saying it until you try it, mostly because we like being right.

9. Filet Mignon
Served with a red wine reduction, the filet mignon is terrific, and priced at a very non-Strip value of $30.95.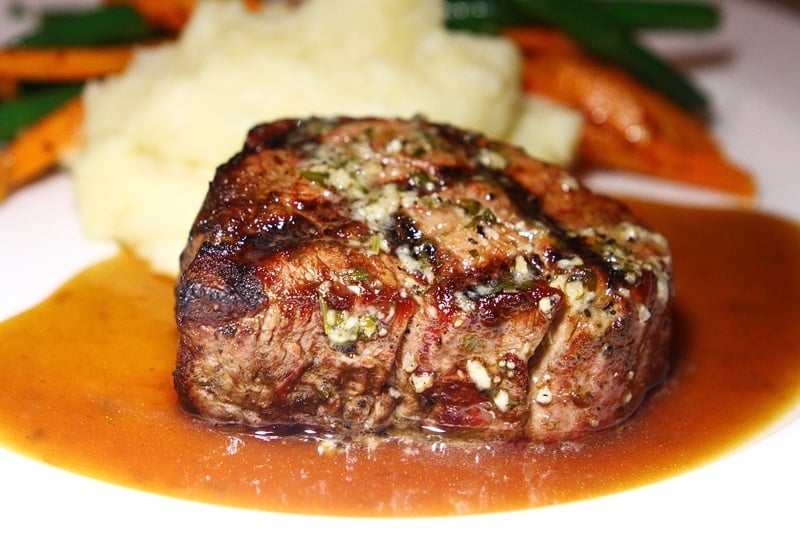 10. Spicy Shrimp & Scallop Linguine
We don't have to know what a Creole cream sauce is to recommend this dish. It's Triple George.

11. Crème Brûlée
It's time for dessert, and who doesn't not love a lovely crème brûlée? We certainly don't. Not. You know what we mean.

12. Cheesecake
It doesn't matter what kind. The one pictured below is the cherry cheesecake, but any cheesecake at Triple George is the perfect way to bring an exceptional dining experience to a bittersweet end. Emphasis on "sweet."

See the full menu on the Triple George site. If you're dining solo, or not in the mood for the full-blown dining experience, the full menu is available at the Triple George bar. (Bonus: You're that much closer to the liquor.)
Triple George is across from the newly-opened Downtown Grand, sandwiched between Pizza Rock and Hogs & Heifers.