Mexican Fighters Yair Rodriguez, Alexa Grasso in Toss-Up Bouts at UFC Fight Night 159
Posted on: September 21, 2019, 02:00h.
Last updated on: September 20, 2019, 10:16h.
Two of Mexico's top Mixed  Martial Arts (MMA) fighters will face tough challenges at Ultimate Fighting Championship (UFC) Fight Night 159 in Mexico City, with sportsbooks rating both fights as virtual coin tosses.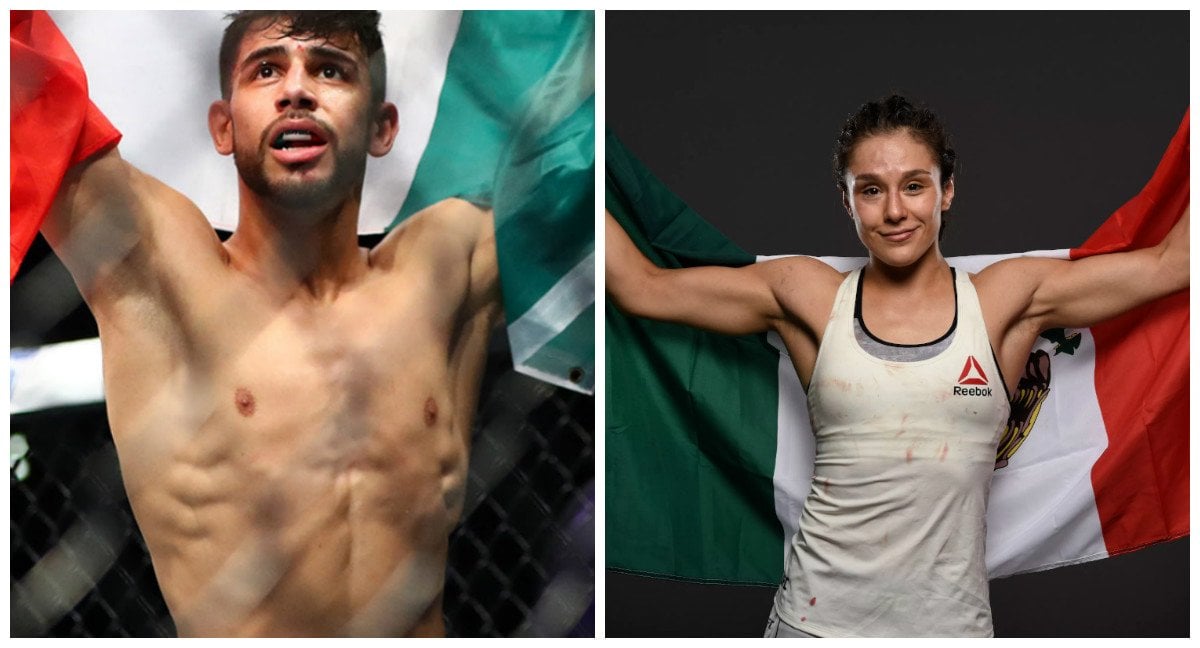 Featherweight Yair Rodriguez is seen as essentially dead even with Jeremy Stephens, with DraftKings Sportsbook listing both at -110 odds heading into their main event clash.
Flashy Rodriguez Will Look for KO
That's despite the fact that the two men come into the fight with very different skill sets. Stephens (28-16) is a veteran who has only improved with experience, using his strong wrestling skills and solid power to patiently stalk his opponents. Meanwhile, Rodriguez (11-2) is known for his spectacular finishes, often coming in unorthodox ways and nearly out of the blue – like when he finished Chan Sung Jung with only one second remaining in their fight last November.
But at this point in their careers, the two top-ten contenders are seen as more or less evenly matched, with both having avenues to victory. For Stephens, that probably means relying on his wrestling whenever possible, as he believes he has a major advantage in that arena.
Yair can't f—ing wrestle for shit," Stephens told MMA Junkie. "He's in trouble. I'm going to slam him on his head and cut him open."
On the other hand, if there's a finish in the fight, it's likely that it'll be Rodriguez getting the knockout in front of his Mexican fans. If Rodriguez wins in spectacular fashion again, he could easily be in line for a high-profile fight in his next outing, though that's something he's not willing to think about yet.
"How often have you seen a fighter talking about the next fight and he didn't win the fight he was in?" Rodriguez told Yahoo! Sports. "You have to take care of business first and then worry about everything else later."
Grasso Overcoming Slow Start to UFC Career
For the co-main event, Mexico's Alexa Grasso (11-2) will take on Carla Esparza (14-6) in a women's strawweight bout. As in the main event, these are two top-ten fighters – Grasso is ranked ninth, while Esparza is the No. 8 contender – with Grasso (-118) being given the slightest of edges over Esparza (-106) by bookmakers.
Esparza was the first strawweight champion in UFC history, but recently suffered a two-fight losing streak before getting a unanimous decision over Virna Jandiroba in April. According to Esparza, that victory gave her a much-needed boost as she looks to work her way back into the title picture.
"It felt so amazing," Esparza told MMA Junkie. "There's so much pressure going into a fight where you're on a two-fight losing streak, and I made a lot of adjustments in my camp and just in my mentality and just training and the situation."
For Grasso, this bout gives her the opportunity to finally become the Mexican star that the UFC envisioned when the promotion signed her in 2016. Unfortunately, Grasso has only gone 3-2 since jumping into the big leagues of MMA.
She's been someone we'd been watching for a long time," UFC President Dana White told ESPN in June. "Then she came in and didn't really live up to the hype."
But Grasso remains a talented boxer, and she was dominant in her last fight, a decision win over Karolina Kowalkiewicz in June. If Grasso can keep the fight standing and make this a striking contest, she'll likely be in line for the biggest win of her career. However, Esparza's ground game will be equally dominant. Just as in the main event, this is a bout that will come down to which fighter is able to impose their style on the other.
Also on the main card is a flyweight bout between Brandon Moreno (+138) and Askar Askarov (-177), a women's bantamweight tilt that pits Irene Aldana (-500) against Vanessa Melo (+350), and a featherweight clash between Martin Bravo (-112) and Steven Peterson (-112).