Wynn Resorts Buying New Frontier Site From Crown Resorts for $336 Million
Posted on: December 15, 2017, 09:00h.
Last updated on: December 15, 2017, 09:33h.
Wynn Resorts has reached a deal to acquire 38 acres of vacant land across Las Vegas Boulevard from its two Strip casino resorts, but the company isn't showing its cards as to what it plans to do with the property.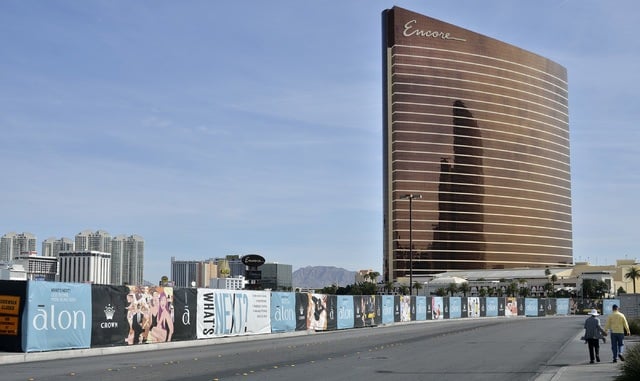 The seller is Crown Resorts, which had planned to build Alon Las Vegas, a multibillion-dollar resort, on the land. Those plans fell through amid the US recession, and Crown announced in 2016 that Alon was off.
Wynn Resorts confirmed in a statement that the land purchase price is $336 million, or $8.84 million per acre. Aside from announcing the land deal, Wynn kept readers in the dark as to what the future might hold for the property.
"The future development of the land will further change tourist visitation patterns in Las Vegas, drawing more visitors to the north end of Las Vegas Boulevard," a company press release stated.
Wynn detailed that its Las Vegas footprint now spans 280 acres, which extends from the Las Vegas Convention Center on Paradise Road from the east, to Industrial Road on the west.
Northern Exposure
The northern end of the Strip has struggled in recent years. One project after another has failed, from fiscally troubled properties like SLS Las Vegas and the iconic Riviera, the latter which has been demolished and now serves as a convention center parking lot, to stalled developments like Fontainebleau and Resorts World.
While the north side of the main Strip has endured years of difficulty, in recent months there's been a renewed sense of encouragement for the area.
Billionaire Carl Icahn, who certainly had no plans of finishing Fontainebleau, sold the tall blue reminder of the recession to a developer who seems committed to seeing it through. Resorts World also confirmed recently that major construction will soon begin on the $4 billion integrated casino resort, and SLS Las Vegas was sold in May.
And in addition to Wynn Resorts' land purchase this week, the company is investing $1.5 billion to build Paradise Park, a 38-acre water lagoon with sandy beaches, assortment of attractions, and new 1,000-room hotel tower and small casino.
Investors are betting on continued growth in convention traffic to support northern Strip development. The Las Vegas Convention Center is currently undergoing a three-part expansion, with the final phase involving a complete renovation of the main facility.
A New Frontier
When Wynn Resorts reveals its plans for its newly acquired 38 acres of Las Vegas real estate, it will write yet another chapter to the Strip location.
The New Frontier occupied the land from 1942 through 2007. Billionaire owner Phil Ruffin sold the aging resort for $1.2 billion in 2007 to Israeli real estate firm El-Ad, which owns New York City's Plaza Hotel.
El-Ad razed the New Frontier to make way for the $6 billion Plaza Las Vegas. But the US recession hit the following year, and El-Ad scrapped those plans.
El-Ad sold the land to Crown Resorts in 2014 for $280 million, and the rest is history.