Fontainebleau Sale Spreads Economic Optimism Across Las Vegas Strip
Posted on: September 19, 2017, 05:00h.
Last updated on: September 19, 2017, 04:05h.
Billionaire Carl Icahn sold the Fontainebleau Las Vegas in late August to a real estate investment firm that is reportedly going to waste little time in completing construction on the 3,815-room casino resort that for seven years has done little more than serve as an unfinished place mark on the Las Vegas Strip. The towering blue eyesore has been an imposing reminder of the global recession that brought construction to a halt, but plans to bring the property closer to its grand opening has delivered a sense of enthusiasm to the northern end of the Strip.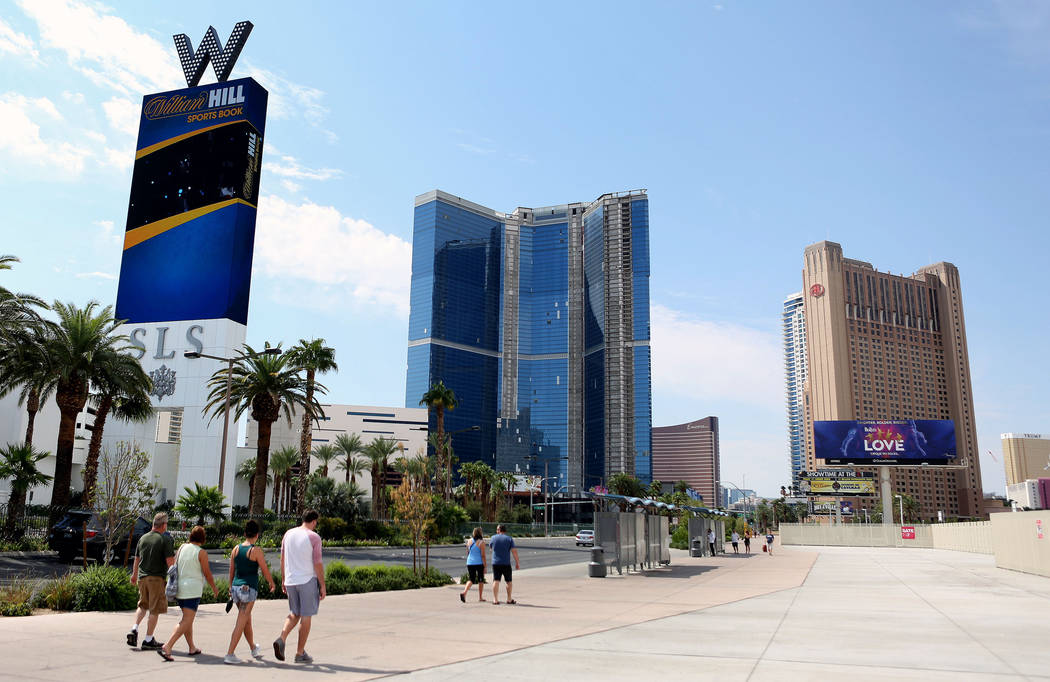 New York-based Steve Witkoff and Miami investment group New Valley acquired Fontainebleau for $600 million from Icahn, who made a $457 million return on his 2010 investment when he bought the property in bankruptcy. While owner Witkoff is staying quiet on the future of the 68-story building, there's plenty of speculation that once the resort is finished, Fontainebleau will be renamed and its operations will be leased to a major hotel chain such as Marriott or Hilton.
CBRE Group Executive Vice President John Knott estimates that it will cost $900 million to as much as $1.6 billion to finish Fontainebleau Las Vegas.
"The new owners definitely plan on keeping it as a casino and high-end hotel," Clark County Commission Chris Giunchigliani told the Las Vegas Review-Journal. "They did their due diligence, and the building is very structurally sound."
North Strip Resurgence
While it's unclear if the next chapter of Fontainebleau's story will write the property as a hotel-only facility largely geared towards the nearby convention center, its evolution is a positive development for the northern end of the Strip.
Properties and attractions north of Wynn to the Stratosphere have struggled in recent years, and haven't been as successful as the busier sections of South Las Vegas Boulevard in recovering from the recession.
The fiscally troubled SLS Las Vegas was sold in May to California-based holdings firm Meruelo Group, owners of the Grand Sierra Resort and Casino in Reno. The property is slated to be reconceptualized, and will possibly readopt its former Sahara brand.
Across the street just northwest, the Stratosphere also recently found a new owner. Golden Entertainment, Nevada's largest tavern gaming operator, acquired the Stratosphere and two Las Vegas-area Arizona Charlie's casinos, and the Aquarius Casino Resort in Laughlin, from American Casino & Entertainment for $850 million.
Finally, just south of Circus Circus, progress is finally being made at Resorts World. The Genting Group megaresort is on pace to open in 2020.
Room to Grow
When Fontainebleau and Resorts World open, they'll bring more than 6,000 additional hotel rooms to Las Vegas. With citywide occupancy rates at 90 percent in 2017 through July, including nearly 96 percent on weekends, analysts aren't overly concerned about saturation bringing down prices.
On the Strip, hotel rooms are occupied 91.6 percent of the time, on an average nightly rate of $141.91.
Phase One of the Las Vegas Convention Center District Project was completed in January with the demolition of the Riviera Hotel. Phase Two consists of constructing a new exhibit hall and ancillary spaces on the existing Las Vegas Convention Center lot and former Riviera acreage. Phase Three involves renovating the current Convention Center.
Economic studies predict that the 973,000 square feet of expanded exhibit and meeting space, expected to be completed by 2021, will bring 480,000 new convention attendees to Las Vegas each year. And that will will definitely put hotel rooms in high demand. 
Similar Guides On This Topic