Winning Millions Poker Tournament Stopped by DDoS Attack
Posted on: December 16, 2014, 01:36h.
Last updated on: December 16, 2014, 01:46h.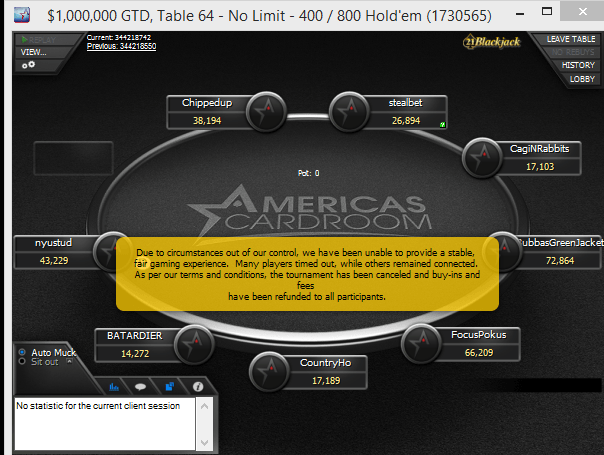 A $1 million poker tournament on the Winning Poker Network (WPN) was cancelled because of a distributed denial-of-service (DDoS) attack, making it the latest poker site to be victimized by such an assault on its servers.
The attack caused connectivity issues for players, leading company officials to eventually decide to cancel the tournament as a matter of fairness.
The cancellation may be a major blow to WPN, which was hoping to put together the largest poker event on a site that accepts American players in nearly four years, since the events of Black Friday forced PokerStars, Full Tilt Poker and Absolute Poker out of the United States market.
The event was still in its late registration period at the time it was canceled, meaning that all players were fully refunded in accordance with network policy.
Strong Turnout Despite Connectivity Issues
While skeptical players might sometimes see such a cancellation as a way to get out of a major guarantee, that doesn't appear to be what happened in this case.
At the time the tournament was cancelled, 1,937 players had already put up their $500 buy-ins into the prize pool. Combined with the $40 entry fee, the tournament had already covered its guarantee, and with 45 minutes left in the late registration period, it's possible that the field would have risen to over 2,000 players, enough to surpass the guarantee in buy-ins alone.
The competition began at 3 pm on Sunday afternoon, and the connectivity issues appeared to occur soon after that, with the tournament being suspended just minutes in and players complaining of server issues throughout the event. While WPN initially tried to allow the event to continue, as the site was still operational, CEO Phil Payton eventually decided that the situation simply wasn't fair for all players, particularly in such a major contest.
Cancellation Occurred After Most of Field Eliminated
The amount of time before the cancellation has been alternatively reported as anywhere between four and six hours. Based on time stamped posts in the Two Plus Two forums that were made as the event unfolded, it appears as though the tournament was finally canceled at around 8:30 pm, or 5.5 hours after it began. That followed hours of player complaints over being folded out of hands or being unable to connect to the site.
"Due to circumstances out of our control, we have been unable to provide a stable fair gaming experience," said a message that appeared on the screens of players in the tournament at the time of the cancellation. "Many players timed out, while other remained connected. As per our terms and conditions, the tournament will be canceled and buy-ins and fees refunded to all participants."
That decision didn't sit well with everyone, especially those who were still alive at the time the tournament was cancelled, who felt they should be compensated at least partially based on their chip stacks.
"Absolutely ridiculous," wrote Two Plus Two poster AdamHendrix. "Was still in with less than a third of the people left. And everyone gets refunded. You have to be kidding."
However, Payton defended his decision in a short Twitch.tv broadcast shortly after the cancellation.
"If it happened again tomorrow, I'd do the same thing," Payton said. "It doesn't matter if you like it or not, it was fair."
Most Read