William Hill US CEO Joe Asher Shares Insights as Iowa Sports Betting Kicks Off
Posted on: August 15, 2019, 06:28h.
Last updated on: August 16, 2019, 12:19h.
ALTOONA, Iowa – William Hill US CEO Joe Asher spoke 1-on-1 with Casino.org Thursday at the grand opening of the bookmaker's newest facility at Prairie Meadows Racetrack and Casino.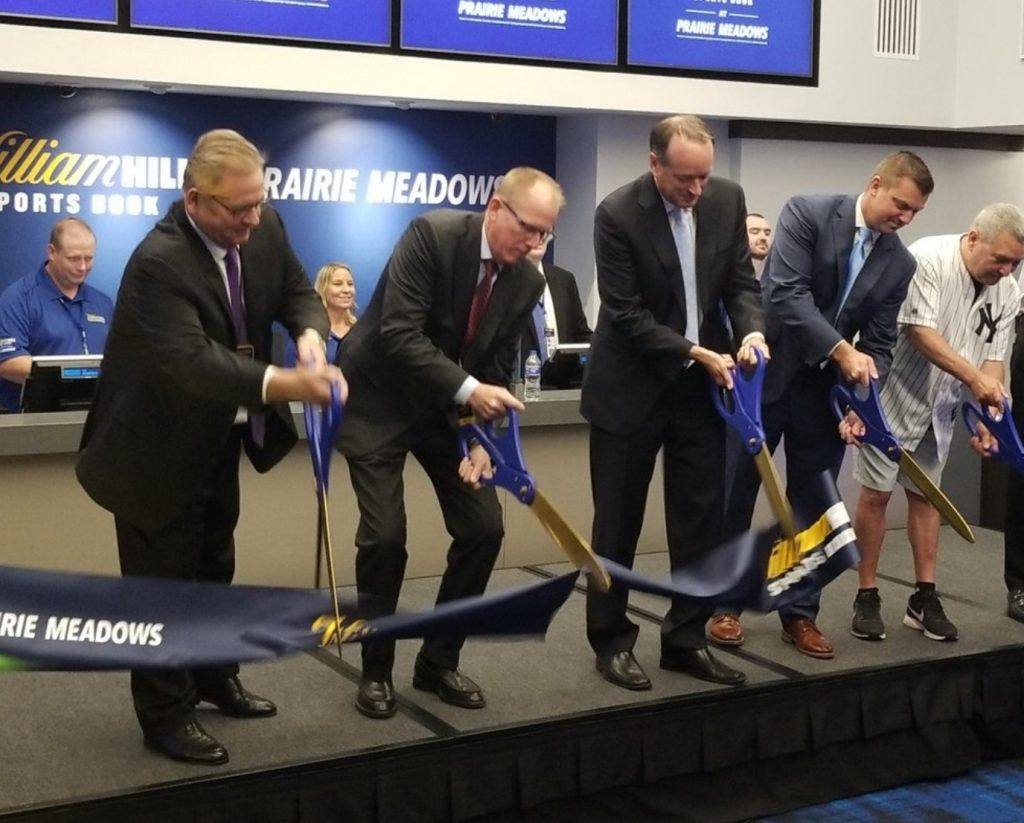 In addition to talking about William Hill's ability to quickly launch mobile sports betting in Iowa, other topics discussed included expanding mobile sports betting to other states, the upcoming launch in Indiana, interest in Eldorado Resorts' sportsbooks, and agreeing to use official data with major professional sports leagues.
The interview was transcribed and lightly edited for context and clarity
On Iowa and Its Current Markets
Casino.org: I know there's no such thing as a sure bet. But the construction was done on this in January or February. So, did you have a pretty good inclination that this was going to get passed?
Joe Asher: Yeah, we felt pretty good. We felt there's a pretty good chance, and we made a bet just like we did at Monmouth Park back in 2012. We bet on that one day sports betting was going to become legal in New Jersey. It took us a number of years to get to that point. But it came together and here, given the gaming industry here and where we thought the legislature was on sports, it was a bet that we were willing to make. We thought it was a pretty good bet.
Q: I know you're involved in other states, but is there a reason why you were able to go online quickly here as opposed to those other states?
JA: I think we feel good about the market opportunity here and we've just made it a priority and a focus to do it. Pennsylvania is going to be a tough market because of the tax rate. A lot of people, big state. Populous state. But the tax rate is so tough in Pennsylvania. It's going to be a tough, tough market for an operator to make money.
We do have plans to launch mobile in West Virginia. Obviously, it's about priorities and where you want to put your resources in a given time period. But we like West Virginia as a market as well, and we do intend to offer mobile in West Virginia.
Q: Is there a time frame, because I know there's a number of other states coming up as well. Are those states taking precedence?
JA: Obviously, Iowa has been a big focus of ours, and Indiana opens up in a couple of weeks. But we do intend to get West Virginia up and going.
Indiana On Deck
William Hill will open a sportsbook at the Tropicana Evansville. That casino is owned by Eldorado Resorts, which has a long-standing partnership with William Hill and is in the process of acquiring Caesars Entertainment and its portfolio of casinos.
Q: Speaking of Indiana, Sept. 1 is the live date there. Are you looking at opening there on Sept. 1?
JA: Whatever the date is the Indiana regulator sets, we want to open up on that day or very close to it. There's a lot of work. Things are in motion in Indiana. I've been finalizing my license application for Indiana, as have a number of others.
Q: Eldorado mentioned they're looking at spinning off the sportsbooks. Is there any interest from William Hill? Is that a possible acquisition target?
JA: I think what we've said on that topic is that we've had very preliminary discussions with our partners at Eldorado around how do we best highlight and create value around these assets.
Moving Forward in the Market
Iowa opening its sportsbooks wasn't the only news of the day, as FanDuel announced just prior to William Hill's ribbon cutting at Prairie Meadows that it secured an official data deal with Major League Baseball.
Q: Earlier today, FanDuel announced its official data agreement with Major League Baseball. Is there any interest from William Hill in doing any agreement with MLB or the other professional sports leagues?
JA: Well, we have a deal with the NHL, and they've just been an absolute pleasure to work with and very much focused on supporting the industry and helping the industry get off the ground. We've had very productive conversations with others. So clearly, we would like to work with the other sports leagues, as we're working with the NHL. But it's all about what's the deal and in the mutual exchange of value, where they're happy with the value they're getting from us and we are happy with the value we're getting from them.
Q: How big is it to go online, and what kind of transition has William Hill had to make from going from a retail, Nevada-centric sportsbook, to a nationwide sportsbook?
JA: That's a common misperception. In Nevada, two-thirds of our business is mobile. We have, obviously, a lot of retail presence, but we do two-thirds of our handle on mobile in Nevada. And we've had the leading mobile app in all the trade publications for quite some time.
Each market is different, and we're big believers in the confluence of retail and mobile. We think that, done right, they can support each other. Obviously, the world is going mobile and people are going to adopt and continue to bet mobile. But retail will still be an important part of the business. This idea that somehow retail is going to go away is just…I don't believe that at all. We're big believers in both and investing very, very heavily into both.