College Football Week 11 Odds: Undefeated Teams Collide in SEC, Big Ten
Posted on: November 9, 2019, 02:00h.
Last updated on: November 8, 2019, 11:17h.
Two of the biggest games to date in the 2019 college football season are scheduled for Week 11, as LSU visits Alabama and Penn State visits Minnesota on Saturday.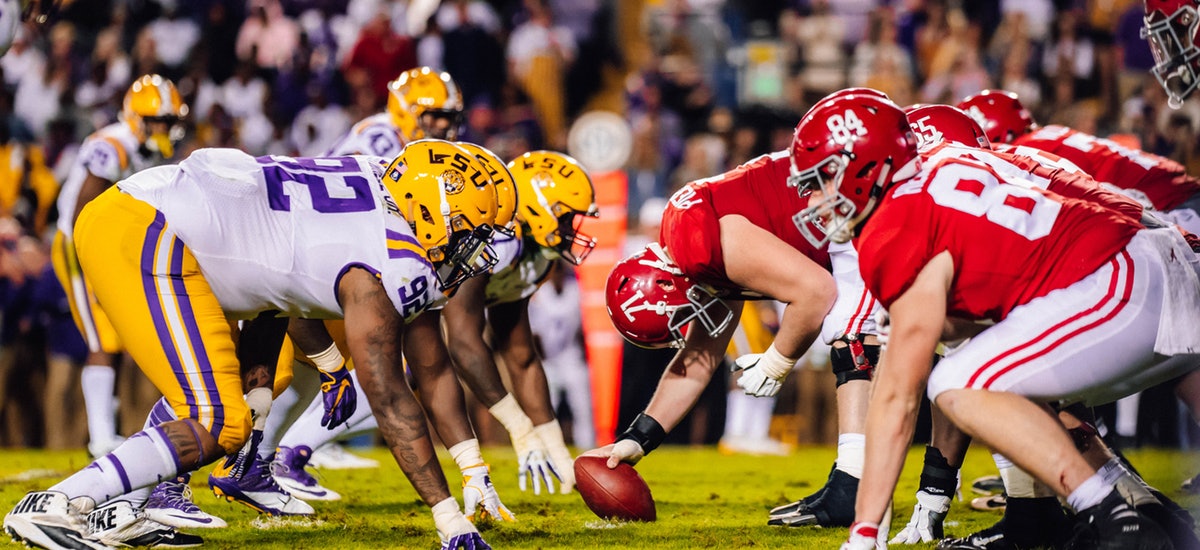 No. 3 Alabama is a six-point favorite over LSU, according to DraftKings Sportsbook, while Penn State is favored by 6.5 points over the Minnesota Gophers.
LSU Has Long Losing Streak vs. Alabama
The game between Alabama (8-0) and LSU (8-0) has the potential to be one of the best games of the college football season. At the moment, both teams are in position to make the College Football Playoff. But there's no guarantee that they'll keep that position with a loss, especially considering the number of high-profile teams that remain undefeated at this point.
For LSU, a win at home would be validation that they have truly returned to the ranks of college football's elite. But in order to do so, the Tigers would have to reverse an eight-game losing streak against the Crimson Tide, a streak that dates back to 2011, when LSU won a regular season game 9-6 before Alabama came back to win 21-0 in the national championship game.
A streak like that can be psychologically challenging to overcome. But LSU head coach Ed Orgeron says this is a new team that can't be bothered by what's happened in recent years.
"If we'd have won eight games in a row, I wouldn't say "Hey, we're going to win just because we've won eight games in a row," Orgeron told reporters. "It just doesn't happen that way. Is it motivation for the fans? Is it motivation for me? Yes it is, but we're not going to use that at all."
Penn State, Minnesota Still Undefeated in Week 11
The stakes are only slightly lower when the Penn State Nittany Lions (8-0) take on the Minnesota Golden Gophers (8-0). Penn State is beginning to think about reaching the College Football Playoff, but still has several tests ahead of them, including a looming battle at Ohio State in two weeks.
But for now, head coach James Franklin has the Nittany Lions thinking about going 1-0 in their next game, something he made abundantly clear on Twitter.
Minnesota, Minnesota, Minnesota, Minnesota, Minnesota, Minnesota, Minnesota, Minnesota, Minnesota, Minnesota, Minnesota, Minnesota, Minnesota, Minnesota, Minnesota, Minnesota, Minnesota, Minnesota, Minnesota, Minnesota, Minnesota, Minnesota, Minnesota, Minnesota, Minnesota!!!!!!!

— James Franklin (@coachjfranklin) November 6, 2019
Minnesota head coach PJ Fleck has taken a similar approach. Fleck just agreed to a seven-year contract through 2026 with the Golden Gophers, and isn't pretending that the Penn State game isn't a huge game for his program. But at the same time, he doesn't want his team treating this week differently than any other.
The big thing is you're playing a top opponent in the country," Fleck said on SiriusXM. "But what we keep talking to our players about is we've taken every week as a one-game championship season."
While those two games are by far the biggest matchups of the Week 1 slate, there is one other contest pitting top 25 teams against each other. No. 13 Wisconsin (6-2) will host No. 18 Iowa (6-2) in a battle that will likely eliminate the loser from contention in the Big Ten West. The Badgers are a 9.5-point home favorite over the Hawkeyes.