Phil Mickelson Severs Ties With Longtime Caddie Jim "Bones" Mackay
Posted on: June 21, 2017, 05:30h.
Last updated on: June 21, 2017, 05:31h.
Phil Mickelson, affectionately known as "Lefty," and caddie Jim Mackay, nicknamed "Bones," are going their separate ways after a 25-year partnership.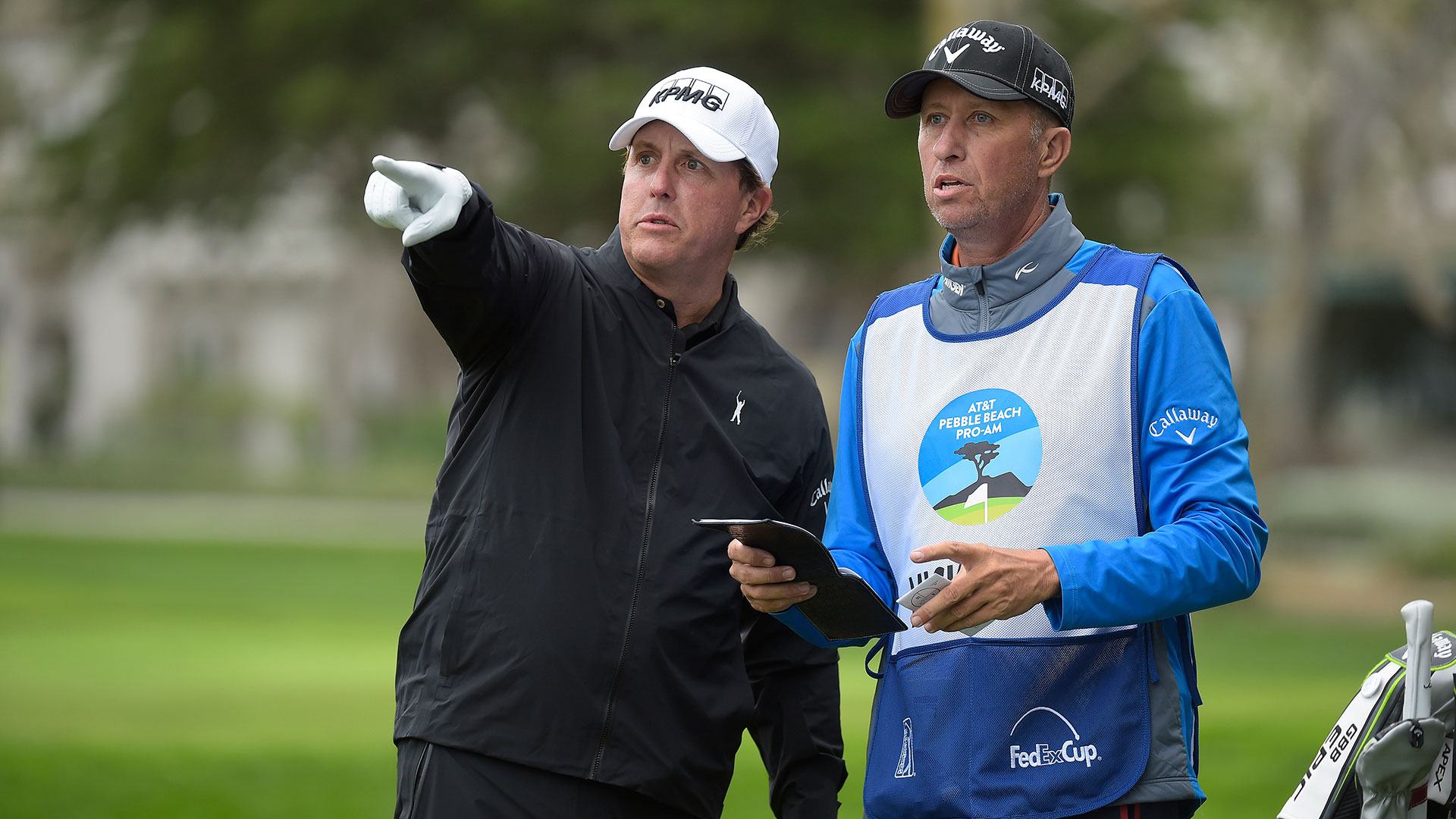 The announcement brings to an end one of the most famed PGA Tour player-caddie combos in the history of the game. The split was amicable, according to both parties.
"After 25 very rewarding and memorable years, Bones and I have mutually decided to end our player-caddie relationship," Mickelson explained in a statement. "Our decision is not based on a single incident. We just feel it's the right time for a change."
Mickelson's brother Tim will take over the bag duties.
Phil is still playing well at the age of 47, making the cut in all 15 events that he's entered in the 2017 wraparound season. However, he's in the midst of a winning drought, his last victory coming back at The Open Championship in 2013 at Muirfield.
Open Odds
The Open, sometimes erroneously referred to as the British Open by Americans, is the next major. Contested at Royal Birkdale in Southport, England, Lefty remains a betting favorite in Las Vegas.
The Westgate SuperBook currently has Mickelson at 40-1 to win the coveted Claret Jug, the 14th-best odds of any player in the field.
Despite missing the cut at the US Open last week, Dustin Johnson (8-1) and Rory McIlroy (12-1) are the favorites, along with Jordan Spieth (12-1). Jason Day, another player who missed the cut at Erin Hills, and Sergio Garcia, the 2017 Masters champ, are next at 15-1.
Mickelson's Storied Past
Mickelson has been one of golf's most popular players through his career.  Lefty has won 42 times on the PGA Tour and holds five major titles to his name. And those numbers would be substantially more had he not played in the same era as Tiger Woods.
He's presented as a jolly and friendly superstar that is a dedicated father and husband. He put his season on hold in 2009 as his wife Amy battled breast cancer, and skipped this year's US Open to be at his daughter's high school graduation.
But there's also a dark side to Mickelson. Never one to shy away from the seemingly impossible shot, Mickelson is also prone to taking large amounts of risk outside the ropes.
In 2014, Mickelson was linked to insider trading through his longtime pal and professional sports bettor Billy Walters. Phil made $931,000 from a stock investment in Dean Foods after getting a tip from Walters, but it was later revealed that the gambler had acquired confidential information on the company from its former chairman who was indebted to Walters.
Mickelson forfeited his profit after learning of the insider trading charges. Walters was found guilty on charges in April, and is now facing up to 20 years in prison.
Golf and Gambling
Gambling on the PGA Tour is banned, but regardless, Mickelson is well-known to engage his playing partners into placing side wagers on their rounds. With his earnings, endorsements, and other income totaling $665 million over the last two decades, Phil can afford to lose large bets.
Other professional golfers haven't been so fortunate, John Daly being the most notorious gambler the game's ever seen. The two-time major winner says he lost $55 million gambling throughout his life.
Daly is a 500-1 longshot for The Open next month.